The Hottest Day in Each State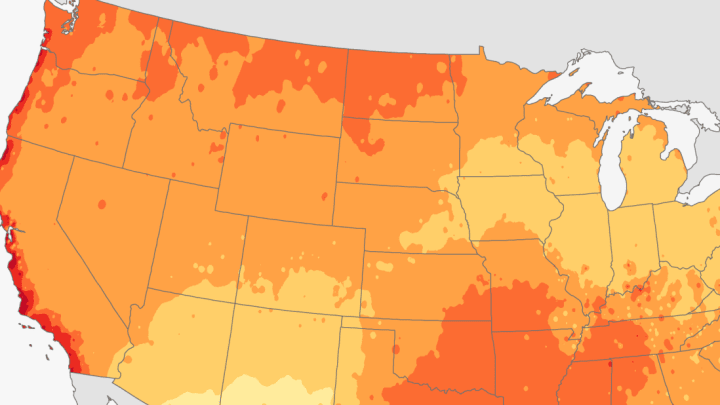 NOAA Climate.gov/NCEI / NOAA Climate.gov/NCEI
Here's the good news: By the end of July, most areas of the U.S. will likely have already experienced the hottest day of the year, Newsweek reports. But if you happen to live in parts of Texas, southern Florida, or the West Coast—where the hottest day typically occurs between August 1 and September 1—you're not in the clear just yet.
A map of the U.S. showing the warmest day of the year by location was created using climate data from the National Centers for Environmental Information.
It wasn't just temperature that was considered, either. According to the National Oceanic and Atmospheric Administration (NOAA), precipitation, snowfall, and frost and freeze dates from 1981 to 2010 were also taken into account to create climate normals, or averages of several climatological variables.
NOAA Climate.gov/NCEI
Looking at the different colors represented on the map, it's clear that the hottest day of the year varies greatly—from the beginning of June to the end of October—depending on the region.
Texas is an especially unique case because its hottest day varies from June 1 to September 1. One region bordering the Mexican state of Chihuahua tends to see its hottest day pretty early on, in the first half of June, while another region near Corpus Christi tends to heat up at the tail end of August. That's also the case for parts of coastal California, Hawaii, and Louisiana.
Different environmental factors are to blame for the disparity, such as the monsoon season's effect on temperatures in the Southwest. The hottest period in that region tends to be in June, right before the clouds and rain roll in, NOAA notes.
Although the map outlines a "normal window" for hottest temperature based on historical data, there are always exceptions to the rule.
[h/t Newsweek]