14 Secrets of Food Sample Demonstrators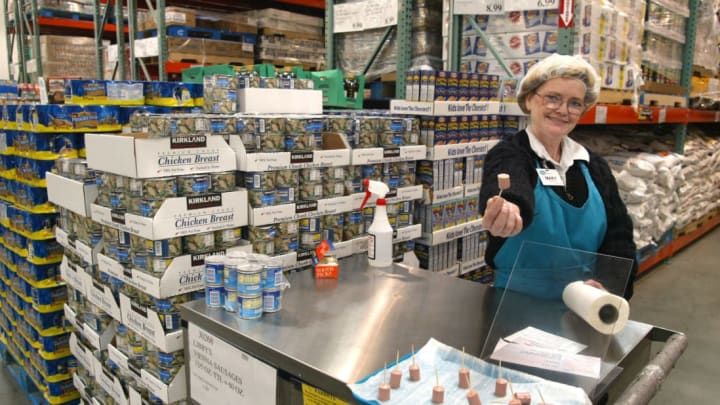 Tim Boyle, Getty Images / Tim Boyle, Getty Images
This article contains affiliate links to products selected by our editors. Mental Floss may receive a commission for purchases made through these links.
Ever turn a corner in your local grocery store or warehouse club and see the aisle backed up? You might be able to blame a food sample demonstrator, those stationary sales representatives who invite congestion in stores by offering up free bites of food products in an effort to raise sales. (The strategy works—one study found that samples can increase sales by as much as 2000 percent.)
The task might look easy, but it isn't. Sample demonstrators have to endure annoyed customers who can't navigate aisles due to the traffic, unattended kids, and more—all while adhering to food safety regulations. To get a better perspective on the job, Mental Floss spoke with two former demonstrators. Here's what we found out about life in the apron.
1. THEY'RE USUALLY NOT EMPLOYED BY THE STORE.
Food demonstrators are often mistaken for store employees, but they're usually not. The people working behind sample trays at Costco, for example, are often employed by Club Demonstration Services (CDS), a separate entity that hires sample representatives to present products endorsed by Costco and usually backed by the product manufacturer. (Companies can send their own reps out, too.) "CDS might have an office set up in the back of the store," says Jim, a former food sample demonstrator for Costco locations in California. "We'd sign in, go through the warehouse, and get a quick brief on the product we were demonstrating."
Though CDS is owned by Costco, CDS employees aren't technically store employees, and don't migrate to other work areas. But because customers figure the demonstrators work for the warehouse, they're often asked for directions. "People just assume you know where stuff is," Jim says. "I usually told them to find someone in a red vest."
2. THEY CAN SPEND HALF THEIR SHIFT PREPPING.
iStock
It may seem like a sample demonstrator is burning calories at the rate of a Queen's Guard, but they're usually very busy during the course of a six- or eight-hour shift. Food prep—including mixing ingredients for things like chicken salad or cooking steak strips—can take up as much as half of their time. It's worth it, as cooked food has a huge advantage over ready-to-eat samples like chips. "There's a kind of anticipation you build up when cooking something like steak," Jim says. "It could take a few minutes or 45 minutes, and people are standing there asking when it will be ready."
3. THEY NEED TO STAY WITHIN A 12-FOOT RADIUS OF THE CART.
Food sample demonstrators may sometimes work in a massive warehouse, but they don't have the run of the property. Once they've settled into their work area—typically near where the product they're demonstrating is stocked or wherever there's free space in the building—they're expected to never be more than 12 feet away from the cart. "The 12-foot radius has to do with the fact that you're responsible for maintaining your station and keeping customers safe," says Skyler, a former demonstrator for Costco. "If a kid sees an unattended station with a hot grill running and grabs a sample off of it and burns themselves, it's a liability." Demonstrators also need to make sure no one is grabbing a sample and then putting it back, which would be a gross (literally) violation of food handling safety. Once you touch it, it goes either in your mouth or in the garbage.
4. THEY FOLLOW AN ACRONYM FOR SALES SUCCESS.
Saul Loeb, AFP/Getty Images
Food sample pushers don't work on commission, but they can get bonuses if they sell through their inventory, so it benefits them to make sure people are consuming what they're offering. One method for enticing customers is what Jim describes as a corporate acronym called SITGA. "It stands for Smile, Invite, Talk, Give Sample, and Ask," he says. Demonstrators are also free to come up with their own strategy. "I liked to rhyme, like 'come on by, give it a try,' that sort of thing."
5. THEY HAVE TRICKS FOR STAVING OFF BOREDOM.
Speaking with the Yes and Yes blog, Sam's Club food demo specialist Jan said that the hours spent sporadically interacting with customers can require demonstrators to make up their own fun. "I deal with the boredom in several ways. I practice standing on one foot and count the seconds before I lose my balance ... I count and rearrange samples. I reorganize the equipment under my cart. I alphabetize equipment. I grab items off the shelves and read the ingredient and nutrition labels, read slogans on T-shirts, or I try to engage customers in conversation."
6. THEY GET TIRED OF HEARING THE SAME RESPONSES.
iStock
Sometimes it's hard to tell what's worse—going for long stretches without customers, or hearing the canned answers they love to give over and over (and over) again. "Customers make stock remarks about certain foods," Jan said. "If you serve sausage, they ask, 'Where are the pancakes?' If you serve a cold drink, they say it would be better with vodka. Coffee samples inevitably get, 'Now I need a donut.'"
7. THEY HAVE TO DEAL WITH "SAMPLE NINJAS" ...
There's usually no cap on the number of samples a customer can grab from a cart. Still, people can feel a degree of embarrassment going back for seconds—or thirds—and sometimes try to sneak a taste without being seen. Skyler calls these people "sample ninjas" for their attempts to go undetected. "People love free food," he says. "They don't want to be seen as freeloaders, they don't want to hear a sales pitch, they just want snacks."
8. ... BUT THAT SHAME CAN WORK IN THE STORE'S FAVOR.
iStock
When people are so addicted to a food sample they keep going back for more, they might opt to just buy the product rather than risk being perceived as a greedy shopper. "There have been cases where I've been shopping at Costco myself and went and bought something because my overwhelming shame kept me from grabbing a fifth sample," Skyler says. "The system works."
9. THEY HAVE A HEIGHT POLICY.
Kids represent a dilemma for demonstrators. If they're unaccompanied by a parent, it can be potentially problematic to offer up a baked good or other food that could contain an allergen. Fortunately, most kids are aware of their food sensitivities. According to Jim, the unofficial rule of thumb is to give out samples to unattended children if they're tall enough to see what's on the cart. "We can't really determine the age of a kid just by looking," he says. "They just need to be tall enough to see the sample and discern what it is."
10. THEY HAVE REGULARS.
iStock
Many Costco demonstrators stick to one store or district, making them a familiar face for people who shop there frequently. "There were definitely regulars," Skyler says. "I would see old teachers from school, old friends, new friends, and regulars who would know my sales pitch and always play along—for more free samples, obviously." Others were memorable for other reasons. "I was making cookies once and a woman grabbed the raw cookie dough and yelled at me because it was not cooked."
11. THEY DEMO NON-EDIBLE PRODUCTS, TOO.
While Jim estimates that 90 percent of his time was spent demonstrating food, CDS also handles accounts for a variety of indigestible products, like Ziploc bags. "I've done dish soap and laundry soap, which is hard to demonstrate on the floor," he says. "You have to give someone a sample and hope they try it and then come back." Another time, Costco charged him with selling prefabricated outdoor tool sheds. "No one is buying a $3000 shed on the spot. They take a flyer. We didn't get a sale the entire week."
12. THEY HAVE A PLAN TO MAKE SURE NO FOOD GOES TO WASTE.
iStock
Toward the end of their shift, demonstrators start to estimate how many more samples they'll need to meet remaining demand without setting out food that will wind up going to waste. "I do what I can not to waste anything," Jim says. "We'll usually make sure we're done cooking by a certain time so nothing is left over." Sealed food might go to a food pantry, depending on store policies, but prepared and unused food goes into the garbage. And no, it's not going to the demonstrators: They're prohibited from taking the excess home.
13. NOT EVERYTHING THEY MAKE IS APPETIZING TO THEM.
Sample demonstrators are usually expected to taste their supply so they can make informed comments when a customer presses for details. While most everything is intended to be delicious, it may not necessarily be the demonstrator's own personal preference. "[I served] horrifying steak chimichangas, microwaved," Jan told Yes and Yes. "When cut into bite sized pieces, [they] squirt out a nasty brown liquid. Worse yet, lots of people liked them."
14. THEY APPRECIATE A LITTLE CUSTOMER ETIQUETTE.
iStock
While free food can cause some of us to abandon civility and manners, food sample demonstrators always appreciate when customers acknowledge they have a job to do—and it's not to hand out free stuff. Listening to their sales pitch is the polite thing to do in exchange for the eats. "Just try to remember that it's a sales job and that final sale number is being held over the sample demonstrators' heads," Skyler says. "They're not just someone being paid to hand out food to boost customer morale."