Meet Beadnose: Alaska's New Fat Bear Champion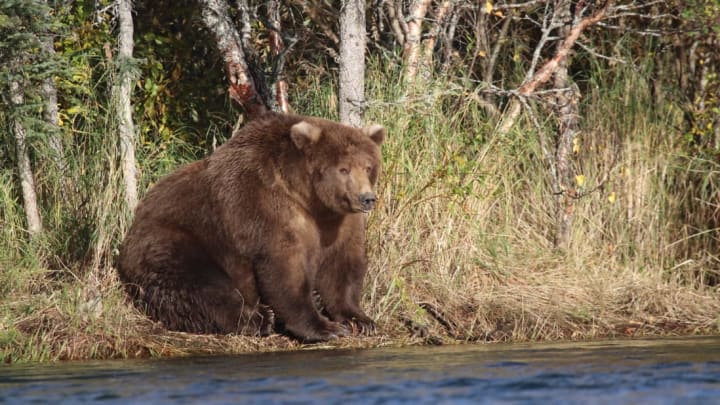 Beadnose is a mama bear who loves chowing down on sockeye salmon in Alaska's scenic Katmai National Park and Preserve. Now, thanks to her fondness for food, she's the champion of this year's Fat Bear contest, Smithsonian reports.
Each fall since 2014, the park has organized the competition on social media to highlight the gluttonous ways in which the preserve's 2000-plus brown bears start bulking up for winter. The bears eat everything they can get their paws on and swell to their heaviest weight in October to prepare for hibernation.
This year, Beadnose (who goes by the number 409) was the fan favorite, having received the most "likes" on Facebook when up against other bears in the bracket-style contest. As the new heavyweight champion, she receives "stronger chances of living through the winter," according to the park's social media accounts.
"Bears must eat one year's worth of food in six short months to survive hibernation, and 409 has excelled at that," the park writes. "Her radiant rolls were deemed by the voting public to be this year's most fabulous flab. Our chubby champ has a few more weeks to chow down on lingering salmon carcasses before she heads up the mountains to dig herself a den and savor her victory."
She beat out 11 other contenders chosen by park staff, including the aptly named Chunk and former fat bear champion Otis, whose body has been described as "walrus-shaped" by fans, according to Outside. The park says Beadnose "emancipated" her two cubs early in the summer, so she enjoyed the advantage of not having to share her food.
Want to see more of these BBBs (big beautiful bears) before they retreat into the nearby Dumpling Mountain caves to hibernate? Check out the park's live Bear Cams online.
[h/t Smithsonian]