5 Game of Thrones Characters Who Need to Survive the Final Season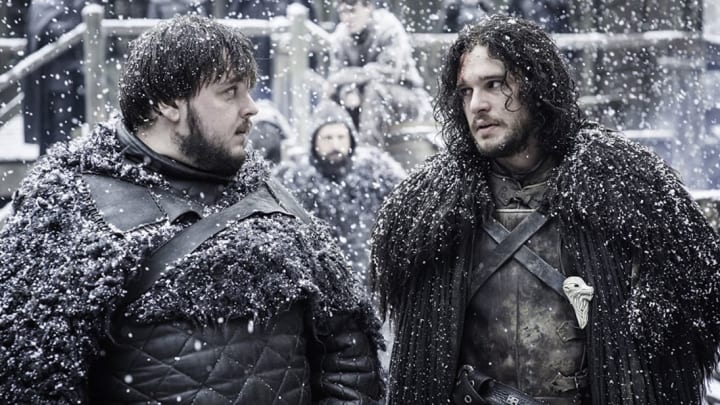 Helen Sloan, HBO / Helen Sloan, HBO
"When you play the Game of Thrones, you either win or you die."
These words have haunted Game of Thrones ever since Ned Stark, the assumed protagonist of the show, was killed off in the first season of HBO's fantasy epic. You either win or you die. Even if you're a main character, even if you're a likable character, even if you're a sympathetic character. Nobody is safe. With the eighth and final season on its way, the question everyone is asking is: Who will survive to see the end of the series?
While leaks, intentional and otherwise, have confirmed that Jorah Mormont will likely live, it can be safely assumed that someone as evil as Cersei Lannister will probably (hopefully) be killed off. Here are the people who will most likely tell the Many Faced God "Not today."
1. TYRION LANNISTER
HBO
Fans have literally threatened to riot if ​Tyrion Lannister dies. Undoubtedly the most popular character the show has presented, Tyrion's transformation wouldn't be complete if he were killed off. And at this point, watching him triumph against all odds and conquer his family's legacy is half the reason to watch the show. If anyone can win the Game of Thrones, he can—even if he has teased otherwise.
2. LORD VARYS
Helen Sloan, HBO
While even purely political players in the Game of Thrones can be killed off, Lord Varys has always kept a healthy distance between himself and anything even resembling action. He always plays on his own terms and makes sure he has an exit strategy at all times. If anything manages to kill him, it better be some huge, shocking event, because he's not going to die from just anything.
3. SAMWELL TARLY
Helen Sloan, HBO
​Many people have noticed how the loyal Samwell Tarly is more or less a self-insert character ​meant to represent author George R.R. Martin. While it's entirely possible Samwell might get a hero's death by sacrificing himself to save Gilly and Baby Sam, Martin still has huge sway over the show, and it's unlikely he'd let them kill "him" off.
4. JON SNOW
HBO
Not only has Jon Snow already died and come back from the dead, but he's been the de facto protagonist of the series since his not-daddy Ned Stark was killed off all the way back in season one. And while the series clearly has no qualms about killing off main characters, the huge reveal of his actual parentage is too big for the show to just kill him off right afterwards.
5. SANSA STARK
HBO
Of the three remaining Stark siblings, Sansa seems to be the most likely to get out of the show alive. Apart from actress Sophie Turner inadvertently giving away her character's fate with a tattoo, her survival is all but guaranteed because her special skill, a political instinct she learned from Littlefinger, is perfectly suited to allow her to maneuver herself into a secure position.