Some Scientists Suggest Chronic Anxiety Is a Learning Disorder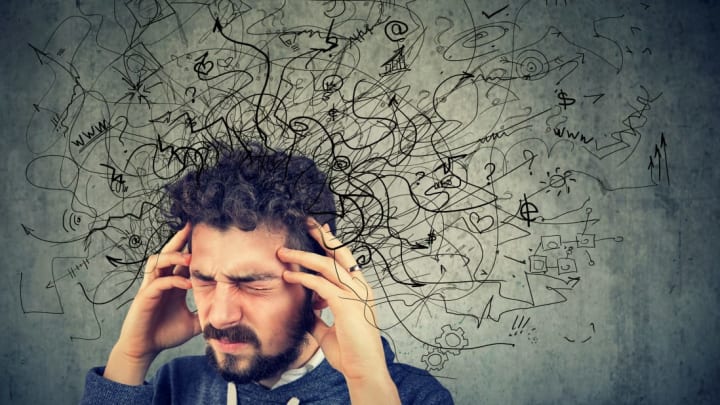 iStock.com/SIphotography / iStock.com/SIphotography
People with anxiety see the world a little differently, and some scientists have suggested that they learn differently, too. As Daniel Barron argues in Scientific American, recent research has raised an intriguing possibility: that chronic anxiety could be a learning disorder.
As evidence, he points to a 2015 paper that was penned by psychiatrist Michael Browning, of the University of Oxford, and several of his colleagues. Browning wanted to study how people learn—which historically has been pretty hard to do—so he designed an experiment that would test participants' learning rates in stable versus "volatile" situations. The idea that anxiety could be a learning impairment is a novel idea (though past studies have shown that people with certain learning disabilities are more susceptible to mental illness). There isn't much data to back it up just yet, but the theory could guide future research pertaining to anxiety and learning. "There's a lot of promise," Browning told Scientific American. "What there isn't is a lot of data."
Nonetheless, the results are worth noting. Titled "Anxious individuals have difficulty learning the causal statistics of aversive environments," the paper—published in the journal Nature Neuroscience—details the findings of an experiment that was adapted from a previous learning test. In the newer experiment, 31 subjects were asked to choose between different shaped patches. For each "incorrect" object chosen, the test subject received a "moderately painful" electric zap. In the first block of the experiment, the outcome was stable, meaning that one of two patches delivered a shock with a probability of 75 percent. The second leg of the experiment was more unpredictable, and the shape that had previously delivered the most shocks "reversed on five occasions."
"The difference in participants' learning rate between the stable and volatile task blocks provided a measure of participants' ability to adapt their learning to changes in environmental volatility," researchers write. "To perform the task optimally, participants had to integrate the information about shock magnitude and shock probability, the latter needing to be inferred from the outcome of previous trials."
Researchers discovered that non-anxious people were able to adapt their strategy when the game got more volatile, while anxious people who tested higher on the State-Trait Anxiety Inventory showed a "deficit" in adjusting and responding to the changes.
As Scientific American notes, this study needs to be expanded and replicated before we draw any definitive conclusions about the ways in which people with anxiety learn.
[h/t Scientific American]