The Most Popular Kid-Friendly Scary Movie In Each State, Mapped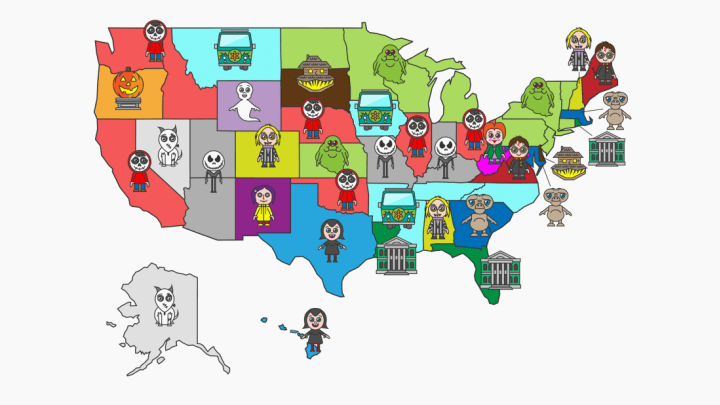 Frontier / Frontier
If you're settling down on the couch to watch 1993 classic The Nightmare Before Christmas this Halloween season, you're not alone. It's one of the most searched-for kid-friendly Halloween movies in the U.S. this year, according to data compiled by telecom company Frontier. As Fatherly reports, Frontier looked at Google Trends data from all 50 states to see which PG- and G-rated movies are most popular across the country.
The list draws on data from the entire year and includes 15 different movies, not all of which you would automatically consider Halloween movies. (Harry Potter films may involve ghosts, but they're not what you typically sit down to watch immediately after carving jack-o-lanterns.) It does feature spooky standbys like Beetlejuice (1988), Hocus Pocus (1993), Casper (1995), and Halloweentown (1998), as well as kids' favorites from the past few years like 2012 movies Frankenweenie and Hotel Transylvania.
Frontier
The data shows there's variability from state-to-state when it comes to which ghosts and goblins kids prefer to see onscreen, and it's not always regionally specific. Ghostbusters (1984) tops the list in 10 different states, mostly throughout the northern part of the nation. Coco (2017) is beloved by Californians (no surprise there—it's also the state's favorite Pixar movie, according to similar data) but it's also the top movie in Washington, Idaho, Nebraska, Illinois, and Ohio. Beetlejuice is a hit in Colorado, Alabama, and New Hampshire.
Did your favorite make the list?
[h/t Fatherly]