Lost Night of the Living Dead Sequel Being Filmed, 50 Years Later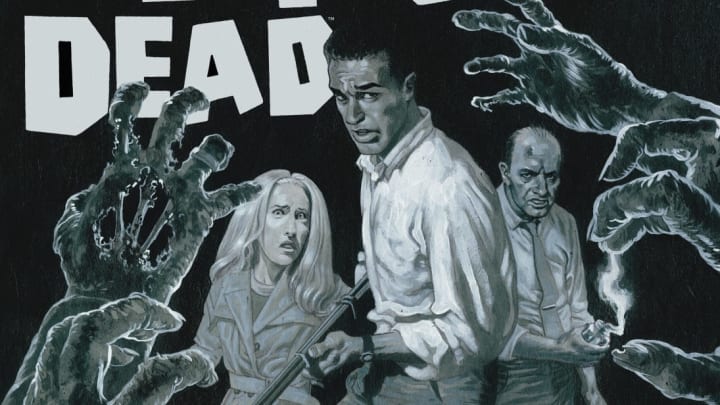 Fifty years after Night of the Living Dead first terrified audiences with flesh-eating zombies, it looks like this cult classic will be getting an official sequel. Empire Online reports that a company called Living Dead Media has unearthed a "lost" script for a sequel and plans to develop it for the big screen.
Although the original 1968 film was written and directed by George A. Romero, it's unclear how much of the sequel, if any, was penned by the late filmmaker. The company only states that the script was written in the 1970s by "the original writers and producers of Night [of the Living Dead]."
In comments made to Bloody Disgusting, the company noted, "Living Dead Media has brushed away the dirt from this amazing follow-up to a classic and brought together a great team to produce the new film." Details on the film's plot are scant, but the company says it plans to release Night of the Living Dead Part II in 2019.
Romero died last summer at the age of 77, but he left behind nearly 50 unproduced scripts. Romero's Night of the Living Dead has already spawned a number of spin-offs—including Dawn of the Dead (1978), Day of the Dead (1985), Land of the Dead (2005), and a 1990 remake that wasn't especially well-received—but there has never been a direct sequel.
In celebration of the original film's 50th anniversary, Living Dead Media is selling exclusive merchandise on its website. The company has also launched a Kickstarter campaign for Night of the Living Dead-themed party materials, including playing cards, T-shirts, balloons, shot glasses, and even a Karen Cooper tiki mug.
More Night of the Living Dead-inspired films may also be forthcoming. Before Romero's death, he was planning to pitch his script for Road of the Dead. The plot centers around race car-driving zombies who are held captive and forced to entertain humans. He also reportedly wrote a script for a zombie comedy, which perhaps isn't all that surprising, considering that Dawn of the Dead satirized American consumerism and Day of the Dead parodied Cold War militarism, according to some film scholars.
[h/t Empire Online]