11 Fashion Trends of World War I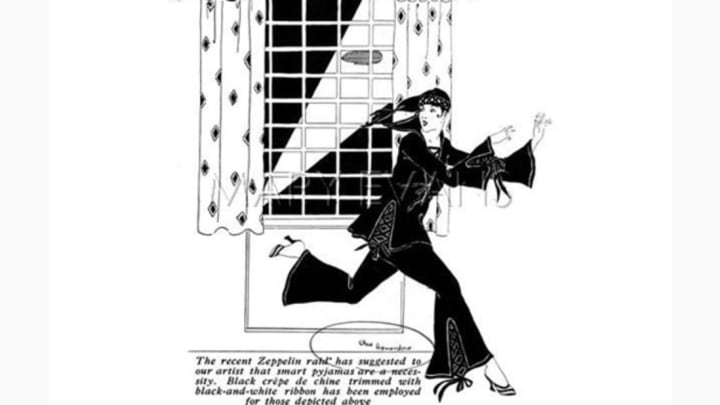 Lucy Adlington / Lucy Adlington
In Great War Fashion: Tales from the History Wardrobe, Lucy Adlington examines the story of women during the first World War as told by their wardrobes. The author gave us a few highlights.
1. ZEPPELIN FASHION
Appearances still counted, even when rushing out into the street during a night-time Zeppelin bomb attack. Magazines advertised newly popular silk pajamas instead of homey cotton night-gowns (above). One London woman attached a ready-curled hair fringe to her boudoir cap to save hair-dressing time during a raid.
2. WOMEN IN BREECHES
A war worker is proud to portrayed in trousers.
With so many men leaving industrial and agricultural employment to join the military, women had to step into the breach—and the breeches. Bifurcated garments for females were a startling innovation which some thought immodest (although women railway workers were described as "natty and workmanlike"). Society girl Vita Sackville-West loved the newfound freedom provided by breeches, while journalist Dorothy Lawrence struggled to work out how to put her new trousers on when she disguised herself as a British Tommy in order to report on front line conditions.
3. RADIOACTIVE HAIR
A fashionable padded hairstyle, before the bob became popular.
Cropped hair found favor in the war, particularly for nurses and ambulance drivers near the front line. It was easier to keep clean and free of lice. It also started the trend for bobbed and bingled hair in the 1920s. "Radium" hair tonic was also sold, (unconvincingly) claiming to contain real isotopes of radium, as used by scientist Madame Curie.
4. WAR CRINOLINE
A mid-war silk afternoon dress with wide petticoats.
Wartime economizing couldn't vanquish fashion. As a reaction to austerity and anxiety, skirts widened so exuberantly that they needed layers of petticoats, Victorian-style hoops known as the kriegskrinolin, or war crinoline. Hemlines also rose to allow more freedom of movement, and to show off neat boots and well-darned stockings.
5. CORSET CONTROL
A wartime corset and cotton combinations.
Most wartime women wore corsets in normal life and for war work. Made of silk, cotton, or denim jean, they sat just under the bust and inspired designs for bust-bodices to cover the bosom, as well as the famous 1914 patent for the Caresse Crosby brassiere.
6. COUTURE SURVIVES THE WAR
Getty Images
International couturier and Titanic survivor Lady Lucy Duff Gordon travelled to New York to promote her luxury styles—and to tell American women that economizing on fashion was unpatriotic. "After all," she said, "the men don't want to come home to frumps." In 1915, Gabrielle "Coco" Chanel (above) opened her second dress boutique in the South of France. She revolutionized the use of soft jersey fabric, and followed a wartime trend towards looser less-fitted clothes.
7. FEMALE SERGEANT-MAJOR
Yorkshire-born nurse Flora Sandes was the only woman officially to join an Allied army in combat. Highly decorated and respected, she rose to the rank of Sergeant-Major in the Serbian Army—wearing full male uniform. A Royal princess saw Sandes presented to Queen Mary and sighed, "I wish I could wear clothes like that."
8. BEST FACE FORWARD
Actress Gaby Deslys was said to have the perfect peaches-and-cream complexion.
Cosmetic pioneers Helena Rubinstein and Elizabeth Arden both opened beauty salons in New York in 1915. Rubinstein's marketing campaign in 1918 issues of Vogue promoted her products as antidotes to the wrinkles and gloom caused by wartime struggles.
9. BELLES OF THE (SOCCER) BALL
The first team photograph of the Dick, Kerr's Ladies soccer team in 1917.
Soccer was the most popular women's sport of the war in Britain. Munition workers raised huge sums of money for hospital charities, playing to packed-out stadiums. The most famous team were the Dick, Kerr's Ladies who played in shorts and jerseys like the chaps ... and without corsets. They toured North America in 1922, proving tough opponents for the top male soccer teams.
10. DEATH KNELL FOR MOURNING
It was said that a "tide of black" swept across Europe as the death toll mounted.
Full, traditional 19th-century-style mourning—requiring unremitting black and social exclusion—was impractical and depressing in wartime. Instead, everyday clothes were dyed black and black armbands were sold by city street vendors. Very few women wore widow's caps of black crape with sheer silk veils. Courtauld's, leading manufacturers of mourning crape, turned their attention to buying up patents for modern manmade fabrics such as rayon.
11. AN INTERESTING CONDITION
Maternity clothes made little concession to a changing body shape.
War enouraged a break-down in chaperonage for young women and a sharp "live-for-the-moment" ethos. Inevitably, maternity clothes were required. These were usually homemade smocks, worn over pregnancy corsets to support the bump. One young mother was too modest to tell her husband serving at the front that they'd had a baby daughter. Instead she wrote a discreet postcard saying, "Cushion Arrived Without Tassels."
All images courtesy of the author unless otherwise noted.