There's a Free Online Archive of Pre-1900 Watercolors From Around the World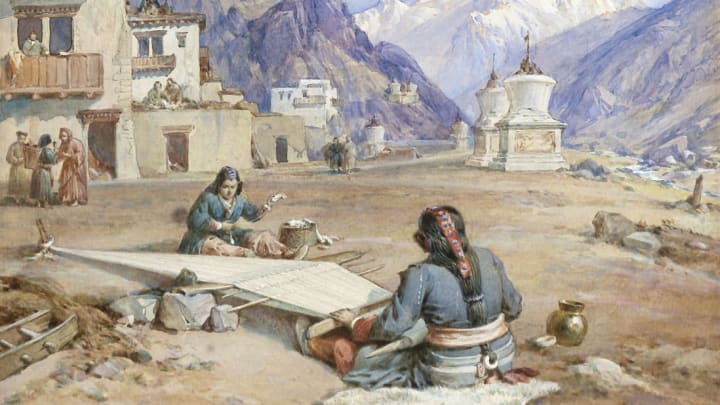 William Simpson, Private Collection / William Simpson, Private Collection
Watercolor paintings have long been a disparaged art medium. At one time, they were viewed as being less worthy than fine art, or were dismissed as a "ladies' medium" because they often dealt with flowers and pretty landscapes, which were considered trivial subjects.
A new digital archive of watercolor images from the 1400s through the 1800s is now painting a different picture of the art form's impact. Creating watercolors wasn't just a hobby for housewives; it was a way for scientists, architects, and explorers to document the world around them.
Run by a UK-based charity, The Watercolour World website culls these historic artifacts from both private and public collections, then uploads them for all to see. Users can browse the selection or narrow their search field by collection, category, country, artist, or date range.
The website boasts more than 80,000 images of "documentary watercolors" made before the year 1900. These depictions of people, animals, architecture, and landscapes from around the world were meant to capture moments at a time when portable cameras hadn't been invented yet. A Maori girl from New Zealand, Tibetan weavers, Egyptian tombs, and 16th-century images of Native Americans are among the many subjects featured. There are also plenty of flora and fauna, drawn up by artists and scientists alike.
"Watercolours are a priceless record of the world before photography," Javad Marandi, chairman of The Watercolour World's advisory board, said in a press statement. "Many of them would be of great interest to historians, scientists, and members of the general public, but are hidden from view and at risk of disappearing."
Here are just a few of the stunning images on view online.
Maria Sibylla Merian, Trustees of the British Museum
Maria Sibylla Merian, Minneapolis Institute of Art
Gideon Yates, Bishopsgate Institute
Thomas Girtin, Yale Center for British Art
William Payne, Yale Center for British Art