LEGO Is Releasing Five New Harry Potter Sets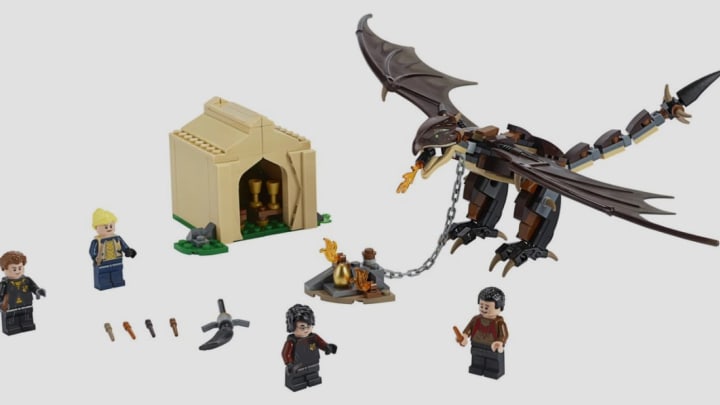 LEGO / LEGO
This article contains affiliate links to products selected by our editors. Mental Floss may receive a commission for purchases made through these links.
LEGO has given fans many opportunities to enter the world of Harry Potter, letting them explore the Great Hall of Hogwarts castle, play with the Hogwarts Express, and even build their own Harry Potter characters. Now, LEGO is expanding its Harry Potter universe with five new sets inspired by the books and movies.
Three of the new sets recreate scenes from Harry Potter and the Prisoner of Azkaban. One features the triple-decker Knight Bus, and another includes Harry, Ron, and Hermione rescuing Buckbeak the Hippogriff outside Hagrid's hut. LEGO fans will also be able to recreate the climax of Prisoner of Azkaban with a set that comes with Harry's stag Patronus along with minifigures of Harry, Sirius Black, and two Dementors.
LEGO
LEGO
The other two sets borrow imagery from Harry Potter and the Goblet of Fire. In the Hungarian Horntail Triwizard Challenge, Harry battles a dragon on his broomstick, with Cedric Diggory, Viktor Krum, and Fleur Delacour looking on. LEGO also recreates the Yule Ball with a set that includes the Hogwarts clock tower and the characters dressed up in formal wear.
LEGO
The five sets appear on shelves August 1, and they'll range in price from $20 to $90. Here are some more amazing LEGO sets you can build in the meantime.
LEGO