Not Sure When to Water Your Plants? This Soil Moisture Sensor Will Tell You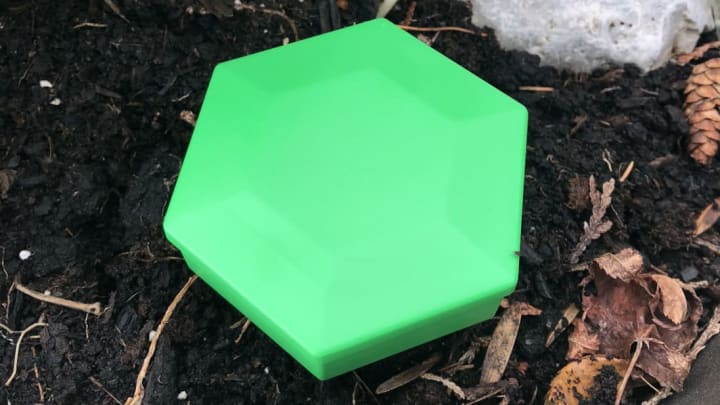 Verdmo / Verdmo
This article contains affiliate links to products selected by our editors. Mental Floss may receive a commission for purchases made through these links.
Unless you're a gardening guru or have a natural green thumb, the demands of daily life can make it easy to forget to water your plants. Over-watering can be just as deadly, and it's especially tricky if you're working with a variety of plants with different "feeding" schedules, whether it's daily, weekly, or semiweekly.
This is one case where technology can be a boon. A new soil moisture sensor called the Verdmo monitors your lawn, garden, or potted plant and tells you when it's time to break out the watering can. The hexagonal device contains three sensors that work together to measure the water content in the soil, as well as the temperature.
It wirelessly pairs with a smartphone app for both iOS and Android, so you can always keep tabs on your lawn or flowers, no matter where you are. You'll also get a notification when your plants are thirsty, which takes the guesswork out of gardening.
"When we set out we knew we wanted to make something that delivered accurate results, would last, look good, and be easy to use," said D. Kelly, the founder of Verdmo. "Throw in AA batteries, download the app, and connect it to your Wi-Fi. That's it. Verdmo is built to help you save your lawn, money, and water."
The app is capable of managing multiple Verdmo devices, in case you want to monitor different sections of your garden or a variety of potted plants. The sensor works for both indoor and outdoor plants, so you can stick it in a pot or directly into the ground.
Order the Verdmo online for $75, and use the code VERDMO10 to save 10 percent.
Mental Floss has affiliate relationships with certain retailers and may receive a small percentage of any sale. But we choose all products independently and only get commission on items you buy and don't return, so we're only happy if you're happy. Thanks for helping us pay the bills!