This Water-Repellent Umbrella Won't Drip All Over Your Bag When It's Closed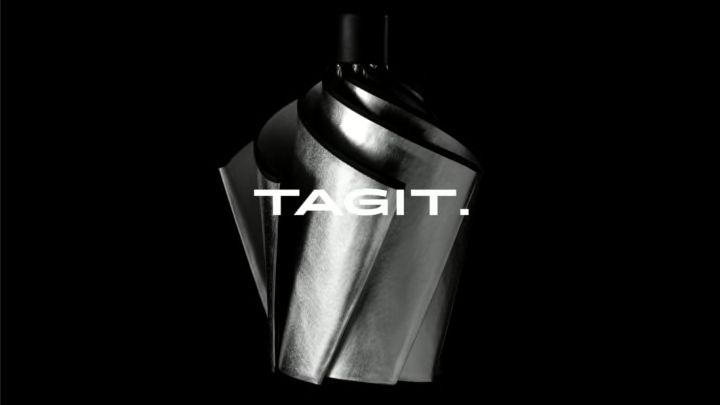 TAGIT / TAGIT
This article contains affiliate links to products selected by our editors. Mental Floss may receive a commission for purchases made through these links.
It's essential to be prepared when going outdoors on a rainy day. In addition to your raincoat and other products to help you stay dry, an umbrella is a necessity. However, once you head indoors, most umbrellas come with their own set of issues: They often stay wet for hours, dripping on shoes and soaking through bags. After a few uses, the fabric tends to become wrinkled and difficult to fold up.
A new umbrella aims to combat those commonplace issues. Now raising money on Kickstarter, TAGIT is designed to stay dry in even the harshest weather conditions, keeping you dry in turn. It's also engineered to fold up more neatly than the cheap umbrellas you buy on the street or at convenience stores.
The TAGIT umbrella, which is made with fabric from recycled down jackets, is treated with a water-resistant agent called Teflon EcoElite that keeps water from soaking through the fabric. After coming in from the rain, users can dry off their umbrella with just a few shakes. The umbrella also comes with a special cloth that allows users to wipe down any errant water droplets.
TAGIT™
With the TAGIT folding system, users no longer have to worry about wet fabric getting wrinkled or bunched up as they try to close their umbrella either. The patent-pending "smart patch" technology guides the fabric into place as the umbrella closes, making sure it folds neatly every time. The aluminum frame is designed to withstand the wind, and it has a magnetic buckling system that can be adjusted easily and won't wear out quickly like Velcro straps.
Each part of the umbrella is made with eco-friendly and recycled materials. The Teflon EcoElite hydrophobic coating, for instance, is made with 60 percent renewably sourced raw materials. In addition, since the umbrella is designed to last, it can prevent waste from people tossing out cheap umbrellas when they inevitably break.
TAGIT has already raised more than three times its original funding goal of $12,748. You can get your own water-repellant umbrella on Kickstarter by pledging $46 or more. Shipping is scheduled for November.