California Is Planning to Build the World's Largest Wildlife Crossing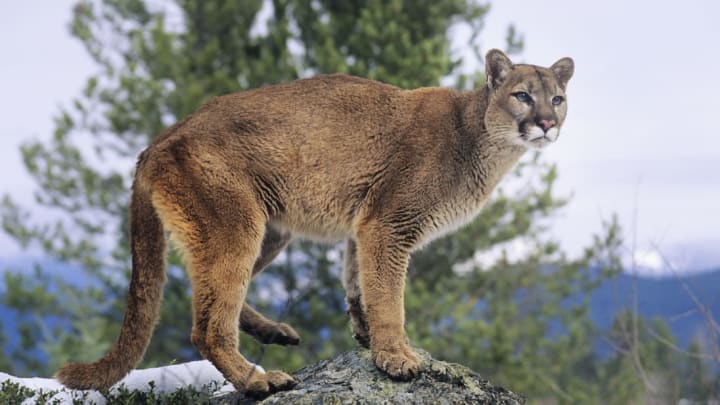 IPGGutenbergUKLtd/iStock via Getty Images / IPGGutenbergUKLtd/iStock via Getty Images
Mountain lion P-22, famed for crossing two Los Angeles freeways to live in Griffith Park, soon won't be alone anymore.
The Associated Press reports that by 2023, Los Angeles plans to complete an $87 million wildlife crossing, which will not only be the world's largest crossing but also the first of its kind located near a major metropolis, with 80 percent of the funding coming from private sources.
Sprawling development and freeways like the 101 have made it difficult for wildlife to find mates and safely cross freeways, shrinking the genetic diversity of animals in the region and turning them into roadkill. Hitting wild animals with a car can also create damages for the driver, ranging from an estimated average of $8190 for a deer to $44,546 for a moose, according to National Geographic.
Once finished, the wildlife crossing in Liberty Canyon—which will benefit mountain lions, deer, lizards, snakes, and coyotes—will stretch 200 feet above 10 lanes of highway and a feeder road 35 miles northwest of downtown L.A.
Currently, mountain lions like P-22 are trapped in the Santa Monica Mountains and unable to roam and find mates. They're inbreeding, which isn't good for biodiversity. If they don't diversify and find other mates, then they could be extinct within the next 15 years. "They can't get out of here to get dates, and cats can't get in to get dates. ... For those of us in L.A., having a romance prospect quashed by traffic is something we can all relate to," Beth Pratt of the National Wildlife Federation told The Associated Press.
Architect Clark Stevens is designing the crossing with eight acres of landscape and special hollows that will help block light and sound from the traffic below. He told AP that "the animals will never know they're on a bridge." Other countries, like Canada, already have wildlife crossings—one located in Banff National Park in Alberta, Canada, over the Trans-Canada Highway, caters to bears, moose, and elk. In Washington state, a wildlife crossing is currently under construction and animals have already started to use it.
[h/t Associated Press]