See What the Eye of Hurricane Dorian Looks Like From Space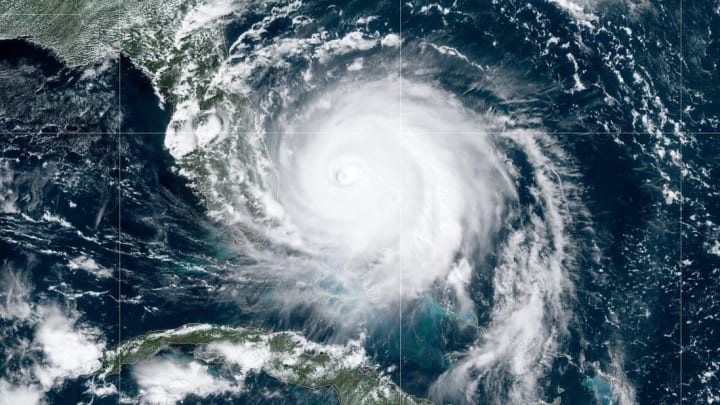 NOAA, Getty Images / NOAA, Getty Images
Hurricane Dorian has already caused damage on the ground, leveling houses and killing at least five people in the Bahamas earlier this week. For people who haven't seen Dorian's power up close, these pictures captured from space put the magnitude of the storm into perspective.
As Live Science reports, the photographs below were taken by European Space Agency astronaut Luca Parmitano aboard the International Space Station. They show the hurricane swirling over the Atlantic, its massive eye in clear view.
The storm has grown even more intense since it was photographed from space. According to a tweet from Parmitano on September 1, the pictures show Dorian as a tropical storm. By the time the system reached the Bahamas on Monday, September 2, it had upgraded to Category 5 hurricane with winds exceeding 185 mph. Dorian has since weakened to a Category 3, but that's still strong enough to cause significant destruction if it makes landfall over the U.S.
After preparing for a direct hit all week, it looks as though the southern U.S. may be spared from the worst of the storm. Projections now show Dorian hugging the Atlantic coast, starting off the coast of Florida and skimming Georgia, South Carolina, and North Carolina. The hurricane is still likely to drive powerful winds and storm surges along the east coast, so local governments are urging residents to take any necessary precautions and be prepared to evacuate if the order is given.
[h/t Live Science]