A Cthulhu Christmas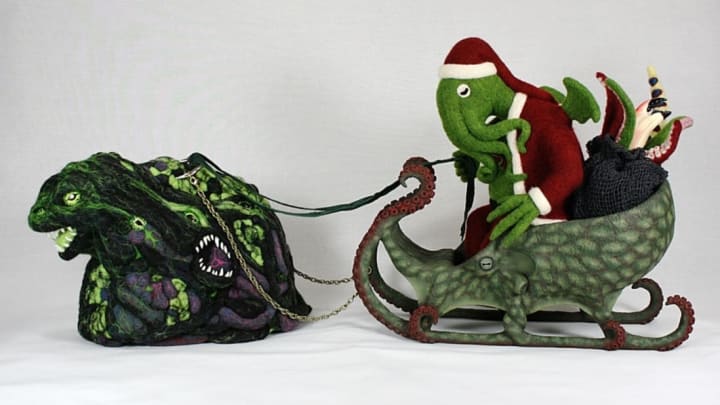 Amy L. Rawson / Amy L. Rawson
Some people like to combine their traditional Christmas holiday decorations and customs with their enjoyment of H.P. Lovecraft's dreaded elder god Cthulhu. Cthulhu's appearance is depicted as "part man, part dragon, and part octopus," and the incongruence of his image in the trappings of a joyous family-centered holiday is too precious to resist. Some refer to these mashups at Cthulmas or Cthulhumas, while others just simply say Cthulhu Christmas.
Santa Cthulhu Greeting Card
Do you have your Christmas cards sent yet? These from Sigh Co. Graphics feature Santa Cthulhu in all his hideousness.
Eldritch Horror doesn't get much more Christmas-y than this! This melding of the entities known as Santa Claus and Cthulhu has untraceable origins, but we suspect a connection between Cthulhu's telepathic powers and Santa's supernatural ability to watch you at all times.
If that isn't a horrifying thought, I don't know what is.
Cthulhumas Tree
Photograph by Flickr user (OvO).
Maika Keuben made a Cthulhumas tree with tentacle tree ornaments, googly eyes made for Christmas trees (slightly altered), blue lights, and homemade wings.
Cthulhumas Wreath
Photograph by Flickr user (OvO).
This year, Keuben is busy working on a Cthulhumas wreath. Note the festive tentacles and how they contrast with the red tinsel! You can see the finished wreath here.
Santa Cthulhu
Photograph by Amy L. Rawson.
For several years now, artist Amy L. Rawson has crafted a needle-felted Santa Cthulhu sculpture (often in collaboration with artist Brian East), changing the design each year. Shown here is the 2013 sculpture; you can see more pictures of it here. Previous projects show Santa Cthulhu filling stockings with sea creatures, enjoying a snack with Mrs. Cthulhu, and scaring little children. 
Cthulhu Ornaments
Photographs by Amy L. Rawson.
If you're not the do-it-yourself type, there are plenty of Cthulhu tree ornaments you can buy. A Google image search will show you dozens, although you may have to search a while to find some that are in stock and available. Amy Rawson has several at her Etsy store. An Etsy search reveals quite a few more. 
Scary Solstice Carols
The H. P. Lovecraft Historical Society produced a couple of albums of holiday music for fans of Cthulhu. A Very Scary Solstice came out in 2003, with songs like "It's the Most Horrible Time of the Year" and "I Saw Mommy Kissing Yog-Sothoth." A sequel followed in 2006 called An Even Scarier Solstice.
Festive Cthulhu Sweater
Everyone has an ugly Christmas sweater, but few have a dreadful Cthulhu Christmas sweater. Middle of Beyond sells this Cthulhu Lovecraft Knit Sweater in colors that will fit in with any Christmas party, but may have your family or co-workers scratching their heads and wondering about you. It will be well worth it.
Cthuken Feast
Photograph by Rusty Eulberg.
No proper Christmas celebration is complete without a feast. Your Cthulhu Christmas dinner could well feature a Cthuken. This dish is the brainchild of Rusty Eulberg of Lubbock, Texas.
According to Eulberg, he and wife Jennifer Robledo "wanted to do something unique for Christmas dinner with friends of ours. Jenny is a big fan of Cthulhu so we went and bought some crab legs and some octopus and bacon and cooked them all separate and slapped them together on a plate, and that was it. The next year I made a Cthicken; the same thing using squid instead of octopus and a chicken."
Each part is cooked separately in its normal manner and then assembled on the plate for presentation. Eulberg said it was delicious.
See also: Cute Little Cthulhu.