The Original Locations of 30 Famous Food Chains
Ever wonder where your favorite fast food chain first popped up? Look no further.
1. McDonald's (1398 North E Street, San Bernardino, California)
In 1940, Maurice and Richard McDonald moved their father's food stand "The Airdrome" from Monrovia to San Bernardino and renamed it "McDonald's Bar-B-Q." It functioned as a carhop drive-in until 1948, when the brothers restructured the business to focus on burgers and fries and changed the name to "McDonald's." While the North E Street location is no longer a functioning Mickey Ds, the building's current owner, Juan Pollo Restaurants, utilizes the space as both their corporate headquarters and an unofficial McDonald's Museum. The oldest operating McDonald's restaurant is in Downey, California.
2. Pizza Hut (503 South Bluff St, Wichita, Kansas)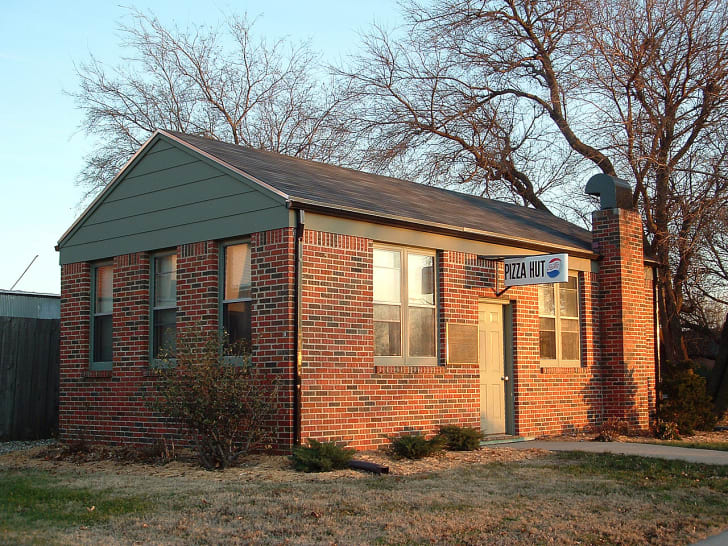 The first Pizza Hut was opened in 1958 by brothers Dan and Frank Carney in their hometown of Wichita, Kansas. The two knew they wanted to have "Pizza" in their new establishment's name, but didn't decide on "Hut" until they discovered the building's sign only had room for nine letters and that the structure itself looked like a hut. In 1986, the original hut was moved to the campus of Wichita State University—the Carney brothers' alma mater—where it is used by the International Business Student Association as a meeting place.
3. T.G.I. Friday's (1152 1st Ave, New York, New York)
Looking for a place to meet people—especially the eligible women he noticed in his Manhattan neighborhood—Alan Stillman took the initiative and founded a bar and restaurant. Before it opened in 1965, "singles bars" were a rarity. Friday's is even credited as being one of the first bars to use "ladies night" as a promotion. The original T.G.I. Friday's closed in 1994 and is now Baker Street Pub & Grill.
4. Waffle House (2719 East College Avenue, Decatur, Georgia)
Joe Rogers Sr. and Tom Forkner opened the first Waffle House in 1955 and remain involved with the company to this day. The original location is now the Waffle House Museum, where you can make your own waffles in its unchanged interior.
5. Dunkin' Donuts (543 Southern Artery, Quincy, Massachusetts)
Before America was running on Dunkin', it was a simple donut shop on Southern Artery—yes, like the heart—in Quincy, Massachusetts. The location opened in 1948 under the name Open Kettle, then a year later it became Kettle Donuts, then a year after that it finally became Dunkin' Donuts. While the building has been remodeled over the years, it still maintains the original aesthetic.
6. Starbucks (2000 Western Ave, Seattle, Washington)
The original Starbucks store began selling coffee beans and equipment from its 2000 Western Ave location in 1971, but by 1976, their building was to be demolished and they had to find a new place. In 1977, they opened the "1st and Pike" cafe, located at the mouth of the historic Pike Place Market, and the rest is highly-caffeinated history.
7. Chipotle Mexican Grill (1644 E Evans Ave, Denver, Colorado)
When founder Steve Ells opened the first Chipotle Mexican Grill just down the road from the University of Denver, he and his father figured that it would have to sell 107 burritos a day to be profitable. In a month's time, the store was selling over ten times that amount. You can still get a Chipotle burrito from its original location.
8. Nathan's Famous (1310 Surf Ave, Brooklyn, New York)
What began as a Coney Island hot dog stand in 1916 ... remains a Coney Island hot dog stand. Sure, in the years since Polish immigrant Nathan Handwerker used his life's savings of $300 to begin selling franks made with his wife Ida's recipe to hungry Brooklynites, Nathan's Famous has become a national chain with over 40,000 outlets. But for the Surf Avenue stand, little has changed in its physical appearance (which probably can't be said about most of those training for Nathan's Hot Dog Eating Contest, an annual competition held at the original location).
9. Wendy's (257 E Broad St, Columbus, Ohio)
Though Wendy's closed its original restaurant in 2007, the spirit of the company's first restaurant still lives on—in their flagship store in Dublin, Ohio, which boasts an entire "community room" full of company history and memorabilia. Some historians, such as Yelp user Jeffrey H., still found the original location's shutdown to be tragic, calling the day it closed its doors "one of America's darkest."
10. Hooters (2800 Gulf-to-Bay Blvd, Clearwater, Florida)
In 1983, six businessmen got together and changed the face (ahem) of chain restaurant history when they opened a "delightfully tacky, yet unrefined" dining establishment by the name of Hooters. Thanks to the "Hooters Six"—as they are referred to in the "Saga" section of the restaurant's website—never again would someone have to suffer through ordering food and beverages from a person wearing actual pants. While it has been subject to extensive remodeling projects, the original Hooters is still home to their trademark hospitality, wings, and weird uncle smell.
11. Blimpie (110 Washington St, Hoboken, New Jersey)
In 1964, three former high school classmates opened up the first Blimpie sandwich shop in Hoboken, New Jersey. One of the founders, Tony Conza, came up with the name after searching the dictionary for an alternative to sub and hoagie and coming across the word blimp, which he felt would sound enough like a sandwich with "ie" at the end of it. The original Blimpie is still functioning, so come on down—and, for the love of all that is piled on top of a hero, don't mention Jared.
12. Taco Bell (7112 Firestone Blvd, Downey, California)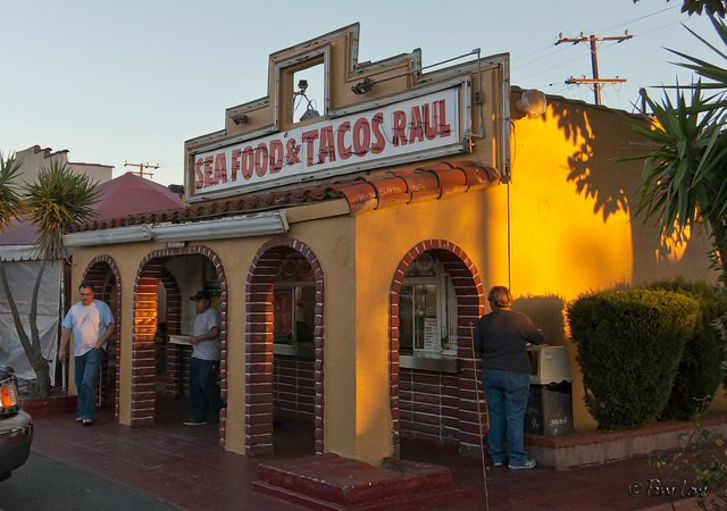 The building that was once the very first Taco Bell is now home to an unaffiliated Mexican takeout place, but if you "Yo quiero Taco Bell" and only Taco Bell, don't worry—there's one right across the street. There aren't many places where one can enjoy a Fourth Meal and admire history at the same time.
13. Burger King (7146 Beach Blvd, Jacksonville, Florida)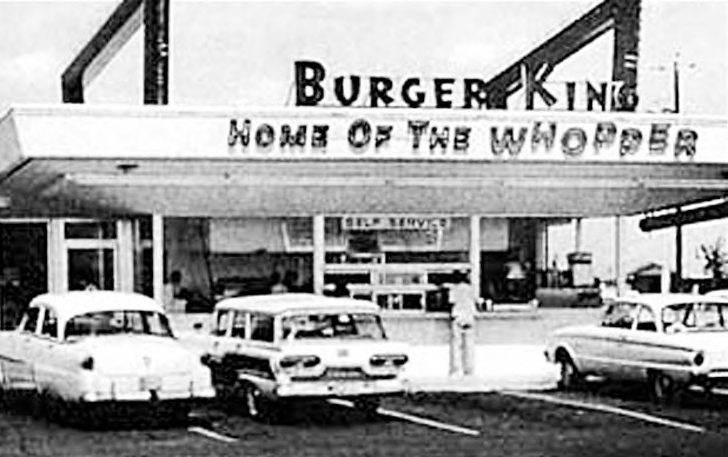 Originally called Insta-Burger, the first Burger King was founded by Keith J. Kramer and his wife's uncle-in-law Matthew Burns in Jacksonville, Florida. With the help of their "Insta-Broilers"— ovens capable of cooking 400 burgers per hour—the two went on to open multiple Insta-Burger restaurants and become a franchise. In 1959, Kramer and Burns sold the company to Insta-Burger franchisees James McLamore and David R. Edgerton, who changed the name to Burger King. A place called Stan's Sandwich now operates out of the original location.
14. Sbarro's (1701 65th St, Brooklyn, New York)
It may be difficult to imagine a Sbarro's that isn't steps away from a Spencer's Gifts, but the pizza chain began as a salumeria (or Italian grocery store) in the Bensonhurst neighborhood of Brooklyn in 1956. The original Sbarro's, where Gennaro and "Mama" Carmela set up shop after emigrating from Naples, is now a Japanese restaurant. You can still put the old adage about there being no such thing as bad pizza to the test at Kings Plaza Shopping Center, where they opened their first mall-based location in 1970.
15. White Castle (NW corner of First and Main St, Wichita, Kansas)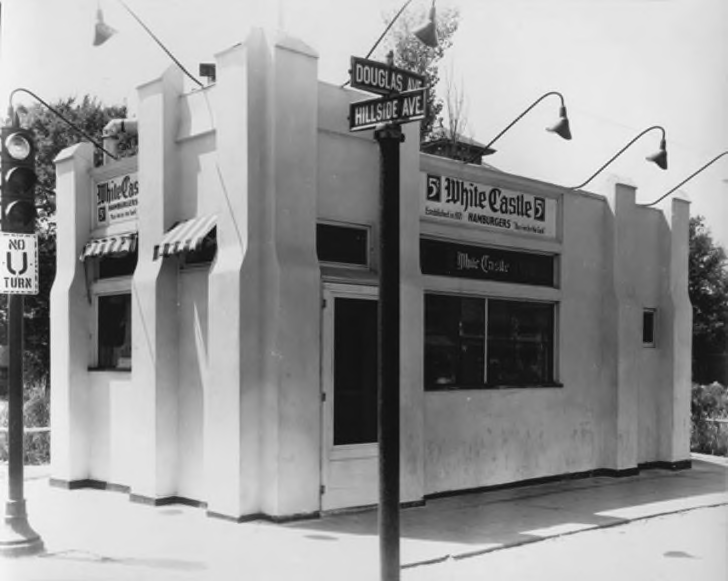 Where the first White Castle opened in 1921 now stands a multi-tiered parking garage. Today, the closest place to that original location to grab a case of sliders is all the way in St. Louis. Though seemingly content with depriving the people of Kansas, White Castle didn't forget where it came from: In 2011, the company celebrated its 90th birthday by making a special one-day only return to Wichita to grill up burgers as a fundraiser for the Kansas Food Bank.
16. Sonic (215 N Main St — Stillwater, Oklahoma)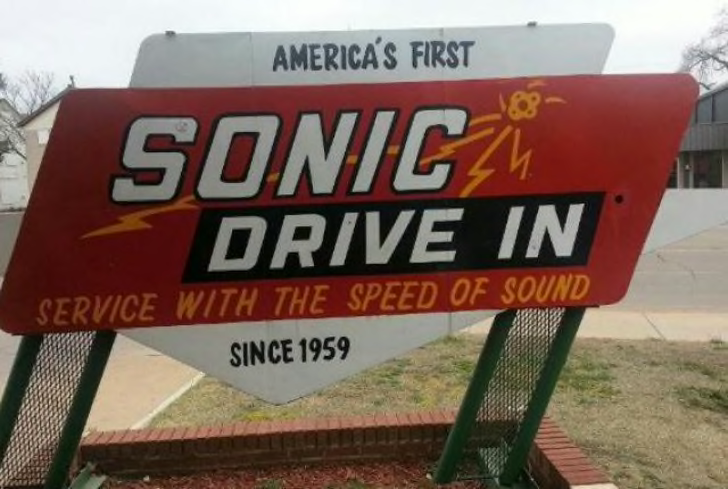 After discovering that his burger joint's name was already trademarked, Top Hat Drive-In owner Troy N. Smith Sr. renamed his Oklahoma chain "Sonic Drive-In" in 1959. Though it was not the original Top Hat location, the first Sonic sign arrived at the Stillwater restaurant and that's where it remains today. The service might not actually be "with the speed of sound," as the sign states, but you can drown that disappointment in half-price drinks and slushes from 2 to 4 PM each day.
17. Kentucky Fried Chicken (3890 S. State Street — Salt Lake City, Utah)
Colonel Harland Sanders began selling fried chicken made with his secret recipe from a roadside restaurant in Corbin, Kentucky during the Great Depression. It wasn't until 1952, however, that Sanders opened the first Kentucky Fried Chicken in Utah. The Salt Lake City location is still a KFC and boasts a display showcasing one of the Colonel's trademark white suits and a statue of him and Dave Thomas, an early franchise owner who came up with the "rotating bucket" sign (and founded his own fast food chain, Wendy's).
18. Panda Express (3214 Glendale Galleria — Glendale, California)
In 1973, Chinese immigrants Andrew Cherng and his father Ming Tsai Cherng opened the Panda Inn restaurant in Pasadena, California. After ten years of providing the Los Angeles area with upscale sit-down meals, management for the Glendale Galleria asked the Cherngs to consider creating a fast-food version of their restaurant. They agreed, and now no trip to the mall is complete without a delicious free sample of unidentifiable goodness.
19. Subway (North End — Bridgeport, Connecticut)
Looking for a way to pay for college, 17-year-old Fred DeLuca borrowed $1000 from Dr. Peter Buck and opened Pete's Super Submarines in Bridgeport, Connecticut. By 1968, just three years after the restaurant's inception, the two added four shops and shortened the name to Subway. DeLuca never became the doctor he set out to be, but he did receive an honorary doctorate from the University of Bridgeport in 2002. The original Subway is no longer there, but those looking to "Eat Fresh" have over 40,000 other locations to choose from.
20. Little Caesars (32594 Cherry Hill Rd — Garden City, Michigan)
In 1959, brothers Mike and Marshall Ilitch opened the first Little Caesars in a Garden City, Michigan strip mall. Mike wanted to call it "Pizza Cheap," but Marshall (and good sense) won out with Little Caesar's Pizza Treat. While the name was shortened, the demand for their "Pizza! Pizza!" has stayed strong. In 2008, Little Caesars filled an order from the VF Corporation for 13,386 pizzas. You can still pick up a "Hot-n-Ready" 'za from the original location, but as one Yelp-user remarked, "It should be 'hot and ready in 8 minutes.'" Et tu, Dave K?
21. Jamba Juice (17 Chorro Street, Suite C — San Luis Obispo, California)
Jamba Juice began as Juice Club in 1990 when Kirk Perron opened his first storefront in San Luis Obispo, California. In 1995, the name was changed to Jamba Juice and four years later the company went national with its acquisition of Zuka Juice, Inc. The first Jamba Juice is still up and running, in case you feel like a smoothie and some history next time you're in San Luis Obispo.
22. In-N-Out (The intersection of Interstate 10 and Francisquito Avenue — Baldwin Park, California)
The first In-N-Out was built in 1948 when Harry and Esther Snyder set out to "Give customers the freshest, highest quality foods you can buy and provide them with friendly service in a sparkling clean environment." The original location was demolished so Interstate 10 could be built, so you'll have to get your "animal style" fix at another location.
23. Tim Hortons (65 Ottawa Street N. — Hamilton, Ontario, Canada)
The first Tim Hortons was founded under the name Tim Horton Donuts in 1964. The owner, a professional hockey player, was a member of the NHL's Toronto Maple Leafs. Despite being an active athlete, Horton was able to juggle both careers thanks to his business partner Ron Joyce, a former Hamilton police constable. Tim Horton Donuts was eventually shortened to "Tim Horton's," which was eventually further truncated to "Tim Hortons" to maintain uniformity in the name of all their locations while also complying with the language laws of Quebec. The original location still operates as a Tim Hortons, but Ottawa Street N is now honorarily named "Tim Hortons Way." Also: Tim Horton originally sold hamburgers.
24. Five Guys (3235 Columbia Pike — Arlington, Va)
In 1986, Jerry and Janie Murrell, along with four other guys (their sons), founded Five Guys. The couple had advised the boys to "start a business or go to college." The first restaurant was located in the Westmont Shopping Center—which was also home to Brenner's Bakery, where the Murrells originally got their rolls. Five Guys no longer calls the Arlington, Virginia shopping center home, but they maintain a strong presence in Northern Virginia, where the first five Five Guys were opened.
25. Dairy Queen (501 N. Chicago Street — Joliet, Illinois)
Two years after they invented the revolutionary formula for soft-serve ice cream in 1938, father and son duo John Fremont "Grandpa" and Bradley McCullough opened the very first Dairy Queen along with a former customer, Sheb Noble. The three knew they were onto something when the ice cream store sold over 1600 servings of the McCullough's new treat in just two hours.
26. Jack In The Box (6270 El Cajon Boulevard — San Diego, California)
Robert O. Peterson opened the first Jack in the Box in 1951 when he converted his existing drive-in restaurant into a drive-thru. With its two-way intercom and pickup window, Jack in the Box made fast food even faster. Where the first Jack in the Box once stood is now Platt College San Diego. The private for-profit college does not have a mascot or an athletic program to go with it, but perhaps they can adopt the terrifying clown that once sat atop the location.
27. Benihana (47 W. 56th Street — New York, New York)
In 1964, 25-year-old Hiroaki "Rocky" Aoki took the money he made driving an ice cream truck in Harlem and opened the first Benihana. New Yorkers were initially wary of dining at the hibachi restaurant, but after it received positive reviews, people were much more open to the idea of sitting near a hot surface with strangers while their chef threw their food around. The Beatles, Muhammad Ali, and other notables have dined at the original location, which is still in business today.
28. Carrabba's Italian Grill (3115 Kirby Drive — Houston, Texas)
Johnny Carrabba and his uncle Damian Mandola opened the first Carrabba's Italian Grill in 1986. As they claim on their website, they're not real chefs, but rather "real eaters," and their restaurant was such a success that another location opened in Houston soon after. By 1993, Carrabba and Mandola were in a joint venture with Outback Steakhouse, Inc. (now Bloomin' Brands) and two years after that, Outback Steakhouse, Inc. purchased the rights to develop the chain nationwide. The first (and second) Carrabba's are still owned and operated by the Carrabba family.
29. Chick-fil-A (2841 Greenbriar Parkway SW — Atlanta, Georgia)
The first Chick-fil-A opened in Atlanta's Greenbriar Mall in 1967, six years after S. Truett Cathy, the chain's Chairman and CEO, invented the chicken sandwich while working at Dwarf House, his Hapeville, Georgia restaurant. At first, Cathy referred to his burger alternative as a "chicken steak" sandwich, but ended up replacing "steak" with "fillet," a word he found more appealing. Both the original Chick-fil-A and Dwarf House restaurants are still open for business—unless, of course, it's a Sunday.
30. Fuddruckers (8602 Botts Lane — San Antonio, Texas)
Philip J. Romano—the father of Romano's Macaroni Grill—founded Fuddruckers in 1979 because he believed, "the world needed a better hamburger." The restaurant began as Freddie Fuddruckers, and it opened in a former bank.