Get Cozy This Winter in a Harry Potter-Themed Tiny House on Airbnb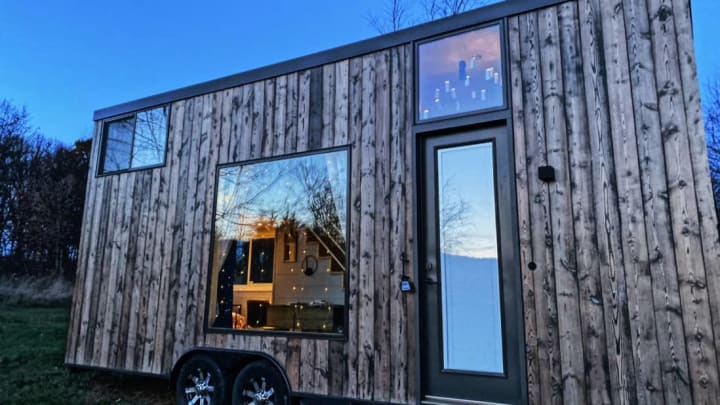 Airbnb / Airbnb
If you're in need of a magical getaway, look no further than this Harry Potter-themed listing on Airbnb. The tiny house packs all the magic of Hogwarts into a space slightly larger than Harry's cupboard under the stairs.
The "Harry Potter Fan's Magical Tiny House of Wizarding" is located in Marlboro, New York, about 90 minutes away from New York City. Though the 300-square-foot space is tiny, there's no shortage of whimsical details for Muggles to discover. Memorabilia from the wizarding world—like wands, a Sorting Hat, and a Goblet of Fire—are hidden throughout the home. Available reading materials include issues of The Daily Prophet and The Quibbler, as well as all seven books in the Harry Potter series. And whether, you're a Slytherin, Gryffindor, Ravenclaw, or Hufflepuff, you'll feel welcome: The crests of all four Hogwarts houses are hung on the walls.
The listing features plenty of perks guests can enjoy, regardless of their level of fandom. The tiny house sits on a 30-acre farm with a lavender field, a fire pit, and easy access to nearby vineyards and orchards. The Airbnb host writes that you should even expect to see some fantastic beasts during your stay. "Don't be surprised if you see coyotes, families of deer, and every type of bird you could imagine—not to mention more butterflies than you've ever seen, depending on the season," the listing reads. "This is a truly immersive experience into nature."
The Harry Potter tiny home is only available as a limited-run pop-up during the winter. You and up to three friends can book your stay for $159 per night today through Airbnb. And if you're looking for a slightly roomier experience that's just as magical, there are Harry Potter-themed rentals in Atlanta and the UK.
Airbnb
Airbnb
Airbnb
Airbnb
Mental Floss has affiliate relationships with certain retailers and may receive a small percentage of any sale. But we choose all products independently and only get commission on items you buy and don't return, so we're only happy if you're happy. Thanks for helping us pay the bills!