12 Gifts for Star Wars Fans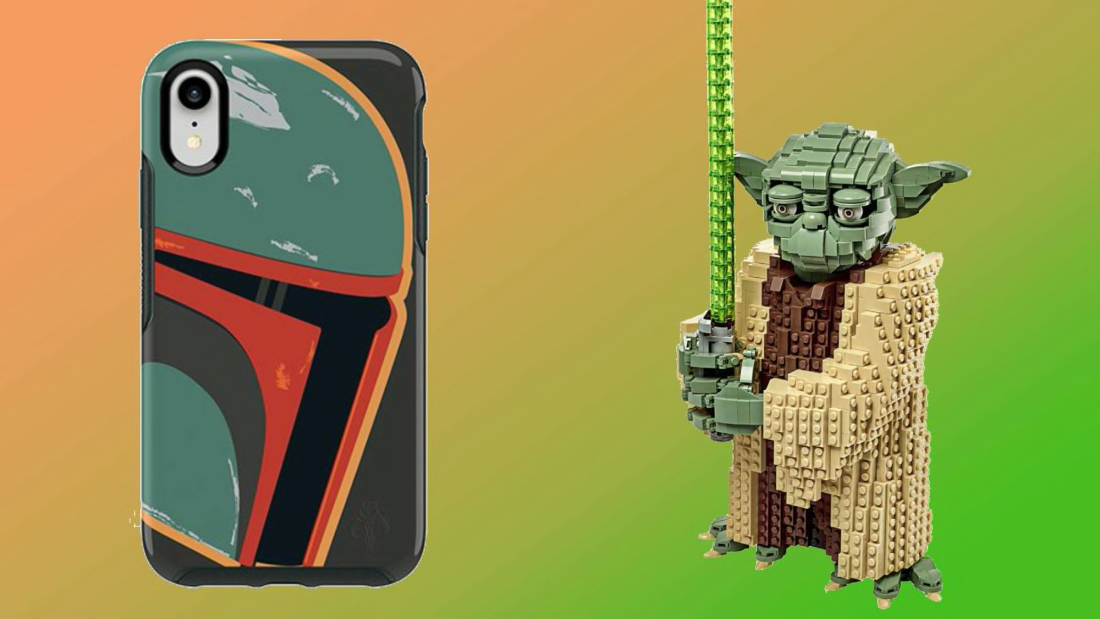 With The Mandalorian continuing to be a hit on Disney+ and The Rise of Skywalker set to break all sorts of box office records on December 20, there's plenty for Star Wars fans to be thankful for this holiday season. But new TV shows and movies pale in comparison to what the franchise is really known for: sweet, sweet merchandise. This holiday season, you're bound to have a Star Wars fan on your list, and here are some of the best gifts you can get them.
1. Star Wars Jedi: Fallen Order; $58 for Playstation and $60 for Xbox
With the awesome power of a lightsaber by your side and all the Force abilities you could hope for at your literal fingertips, Star Wars Jedi: Fallen Order is the ultimate piece of wish fulfillment for gamer whoever daydreamed about hacking and slashing their way through the Empire and matching blades against intergalactic baddies. But the game is about more than just mashing buttons: Players are also tasked with exploring planets, scouring for collectibles, and solving puzzles. Plus, for the lore obsessives out there, the story fills in some of the gaps for all three movie trilogies.
Buy It: Amazon (PlayStation 4, Xbox One)
2. Yoda Lego; $100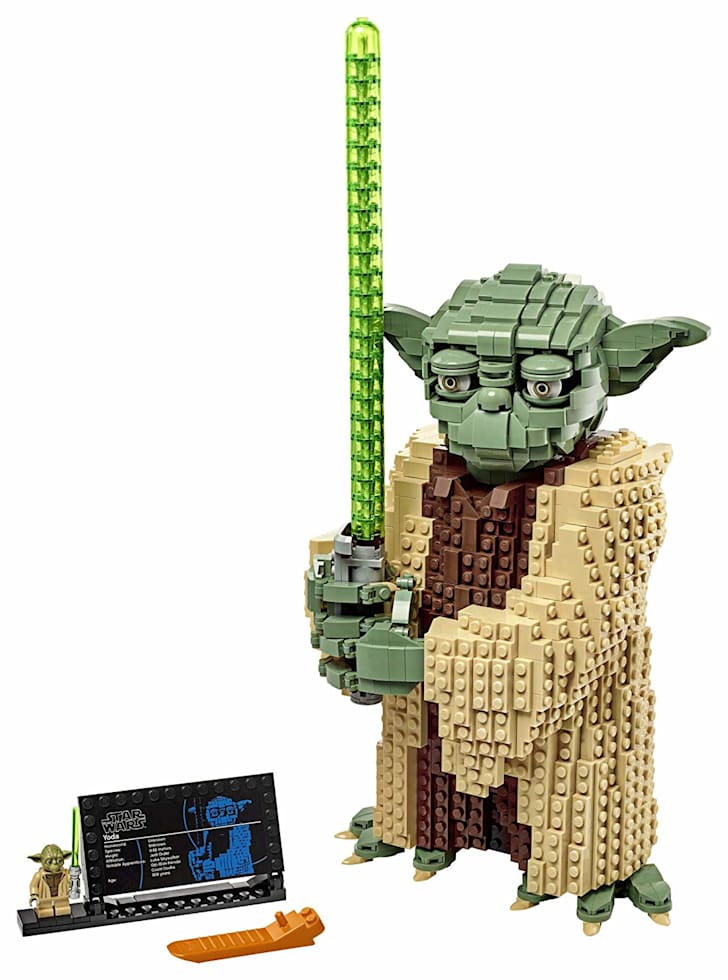 There's little doubt that a 1771-piece Yoda set is an exercise in pure excess, but therein lies the charm. From his wise eyes and shimmering green lightsaber, to his gnarly yellowed toenails, LEGO got every detail of the backward-talking Jedi Master down pat, and for Star Wars fans that like to put a little work into their collectibles, this set is well worth the $100. According to Wookieepedia, the real Yoda (well, the puppet) is about 26 inches tall, so this 16-inch set isn't quite life-sized, but it's more than big enough to be the centerpiece of any Star Wars display.
Buy It: Amazon
3. Chewbacca Slippers; $26-$30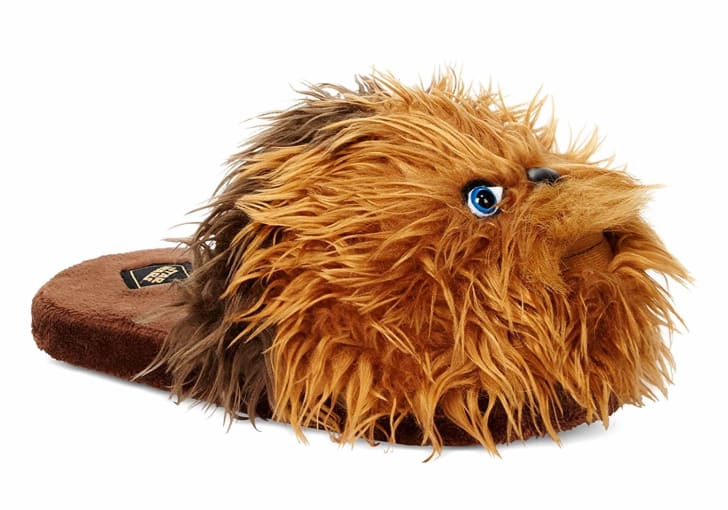 Chewbacca may be a fierce wookiee warrior, but his pelt looks like it would be pretty comfy to be wrapped up in. The pop-culture obsessives at Bioworld must agree, because they took that flowing Kashyyykian hair and turned it into a pair of extra-cozy slippers to lounge around the house in during the winter.
Buy It: Amazon
4. Phone Cases; $37-$56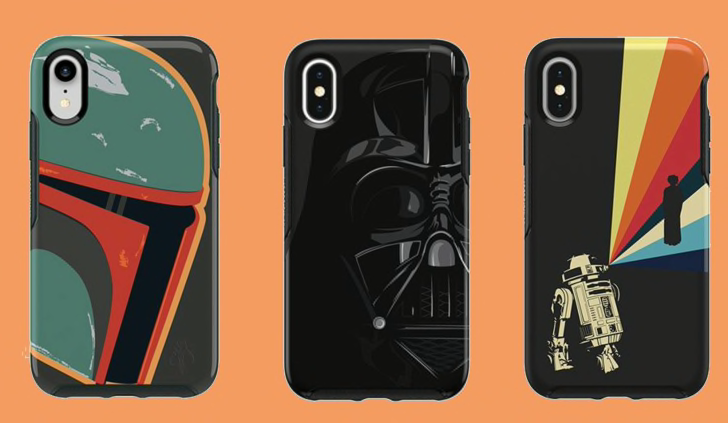 These phone cases from OtterBox stand out through their simplicity. The company's stripped-down Boba Fett, stormtrooper, and Darth Vader designs are bold, without being overcrowded or overwhelming. And their R2-D2 case has a bit of retro charm to it. These cases fit a variety of iPhone models, including the iPhone 7Plus/8 Plus, iPhone Xs, and iPhone XR.
Buy It: Otter Box
5. Star Wars Art: Ralph McQuarrie; $132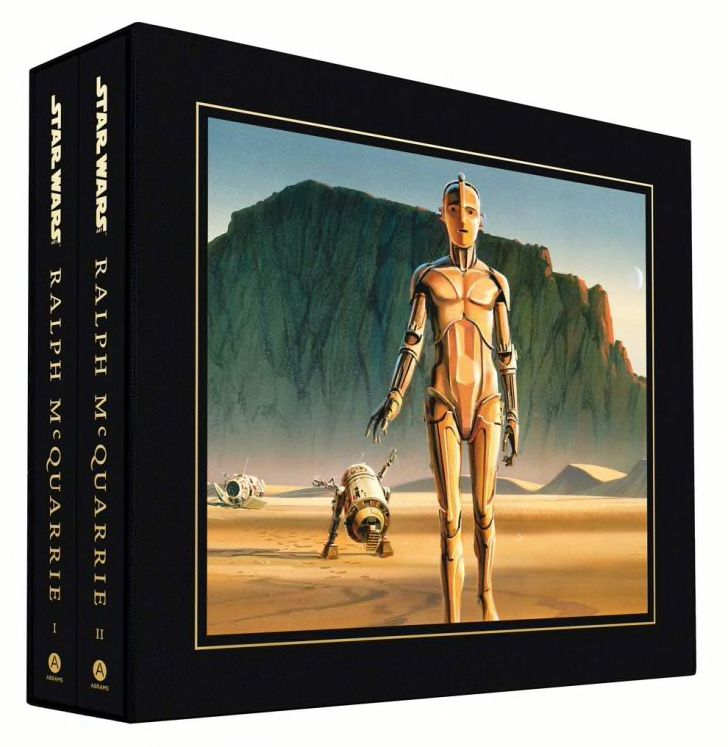 George Lucas may have been the man to put words to paper on the original Star Wars script, but someone had to figure out what all of these protocol droids and stormtroopers and jawas would actually look like on the screen. Luckily, Lucas had artist Ralph McQuarrie to visualize his quirky space Western decades ago, giving life to characters like C-3PO, Darth Vader, and a whole fleet of vehicles and planetary systems. This book reproduces McQuarrie's gorgeously painted contributions to the Star Wars lore, from the early concepts that were left on the cutting-room floor to the more finalized versions we'd see in the movies. If the book is out of your price range, Amazon also has a collection of postcards featuring McQuarrie's Star Wars art on them. You can order a box off 100 here.
Buy It: Amazon
6. Star Wars: The Original Topps; $18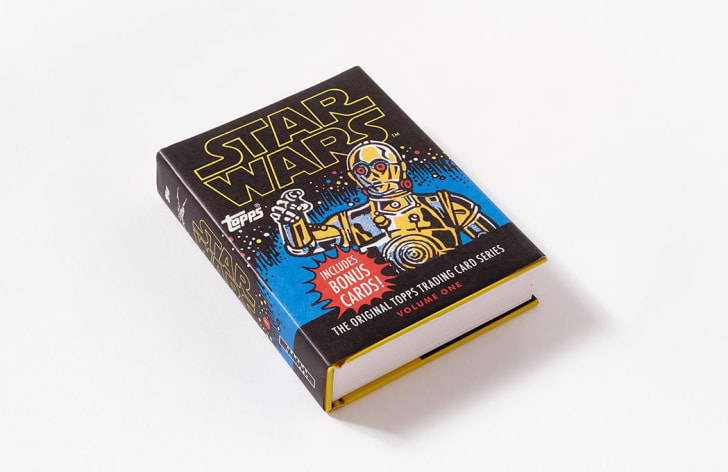 Trading cards may not have the relevancy they once did, but for Star Wars fans who couldn't wait to tear open pack after pack in the hopes of scoring a rare Darth Vader or an overly excited C-3PO, the unique experience has yet to be replicated. This book features high-quality reprints of the fronts and backs of all 330 cards and the 55 special-edition stickers from the original Star Wars line, which was produced by trading card juggernaut Topps in '77 and '78. Far more budget-friendly than the prestige art books on the market, this tiny-but-mighty conversation piece packs plenty of vintage wonder. Once you graduate from the original, you can snag books featuring the cards from The Empire Strikes Back and Return of the Jedi.
Buy It: Amazon
7. Star Wars: A New Hope Comic Adaptation; $20
This is the original comic book adaptation of the first Star Wars that Marvel published back in 1977 by writer Roy Thomas and artist Howard Chaykin. But for this new printing, the company went back and remastered the coloring to fit a more modern aesthetic. It's a rare look back at the landscape of Star Wars merchandise before there were any sequels, let alone two additional trilogies and a slew of television shows. Star Wars comics can be very hit or miss, but this one is essential reading simply for the historical value of it.
Buy It: Amazon
8. Star Wars Trivial Pursuit; $25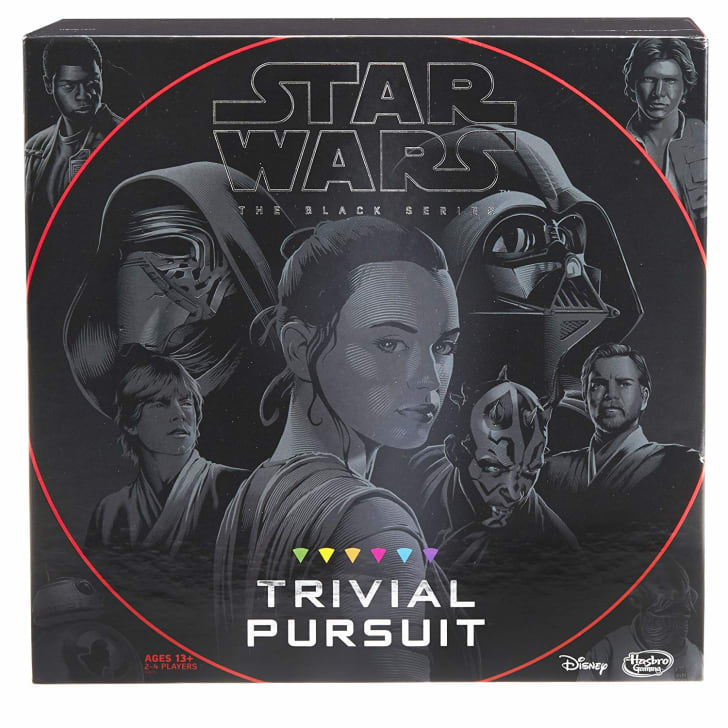 Does your loved one think they know more about Star Wars than you do? Put them in their place by getting them this special edition Trivial Pursuit game. Featuring 1800 question spanning all the movies in the saga, this game will prove who the real Jedi junkie is.
Buy It: Amazon
9. Le Creuset Porg pie bird; $25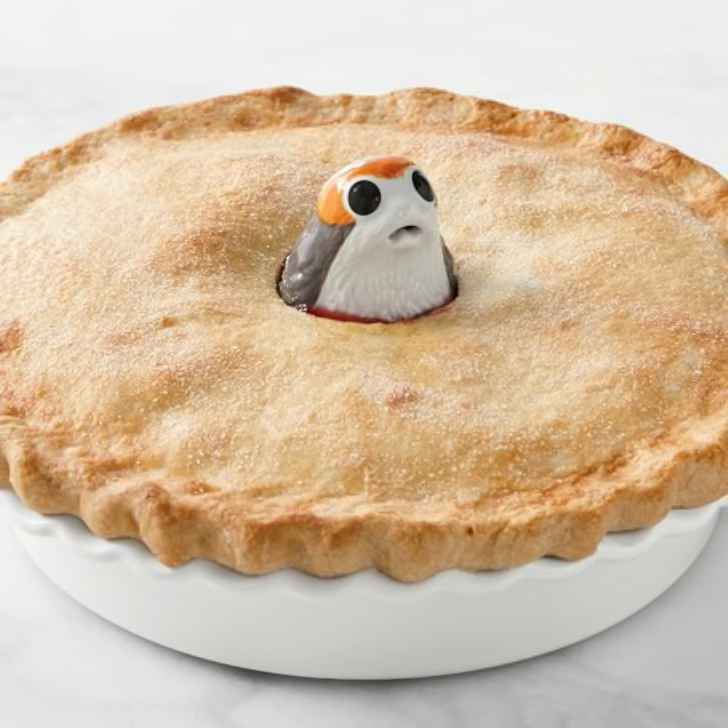 Le Creuset/William Sonoma
Introduced in 2017's Star Wars: The Last Jedi, the porgs are the latest challenger to the ewok throne of adorable alien animals brought into the franchise to sell boatloads of merchandise. And with collectibles like this Le Creuset porg pie bird, it's clear that the strategy is working. Coming exclusively from Williams Sonoma, this porcelain porg helps vent pies as they bake, allowing steam to escape from inside and preventing the filling from boiling over or leaking.
Buy It: Williams Sonoma
10. Boba Fett Christmas Sweater; $45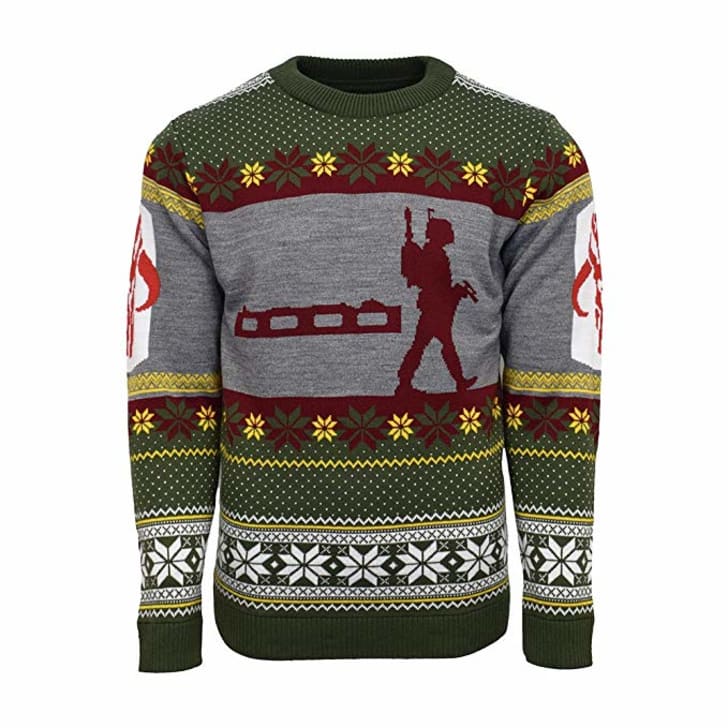 Ugly Christmas sweaters have evolved from embarrassing family tradition into an ironic cultural institution. And, of course, when there's money to be made, Star Wars won't be far behind. Flaunt your love of the original Mandalorian, Boba Fett, on this sweater that's ripped right from the frames of Empire Strikes Back.
Buy It: Amazon
11. Star Wars Sugar Skull Socks; $17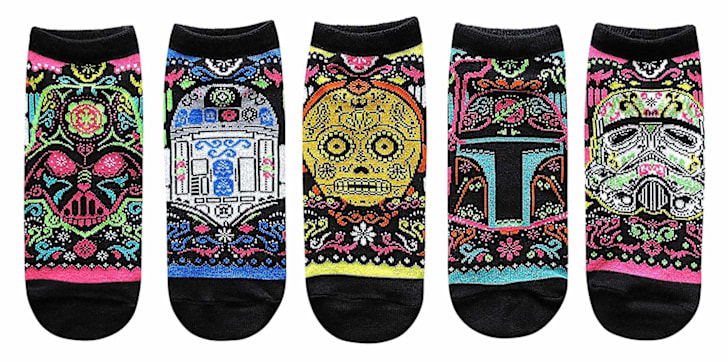 There are plenty of Star Wars socks to choose form, but how cool are these pairs based on the sugar skulls from the Mexican tradition of Día de Muertos (or Day of the Dead)? Brightly colored and intricately designed, these socks are a bit off the beaten path—in a good way.
Buy It: Amazon
12. Baby. Yoda. Everything.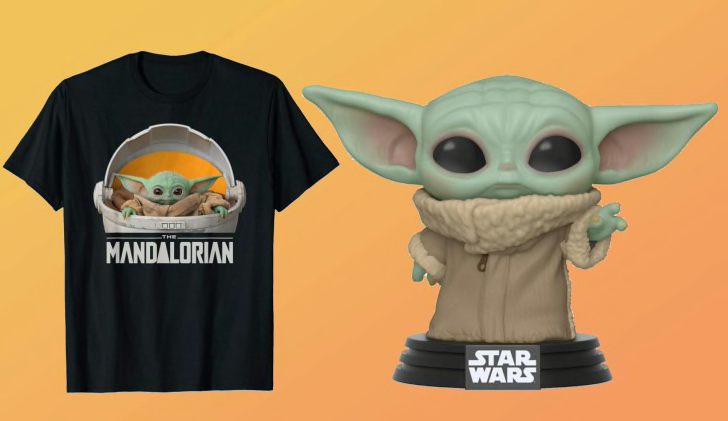 The initial offering of Baby Yoda (technically he's just "The Child") merchandise may leave a little to be desired, but think of it like pizza—even disappointing Baby Yoda merch is still pretty great. You can get T-shirts with plenty of designs that are ready to ship right now (this one is the standout), along with pre-orders on puzzles, plush toys, and the inevitable Funko Pop, due next year. It's a bit of a mishmash, and most of the merchandise won't be shipped for Christmas, but just look at that face. You're going to buy it all.
Buy It: Amazon
Mental Floss has affiliate relationships with certain retailers and may receive a small percentage of any sale. But we choose all products independently and only get commission on items you buy and don't return, so we're only happy if you're happy. Thanks for helping us pay the bills!