The 10 Most Intriguing True Crime Stories of the Decade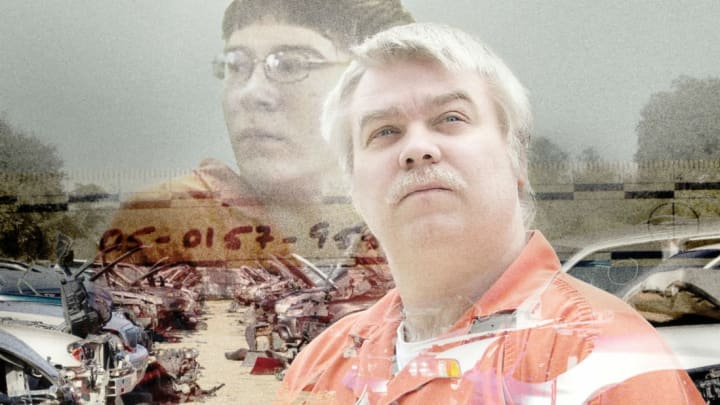 Netflix / Netflix
The public's fascination with true crime has never been stronger. Thanks to binge-worthy streaming docuseries, podcasts, books, and longform articles, tales of murder, deception, betrayal, and judicial intrigue often supersede fiction. With the decade winding to a close, take a look at 10 true crime stories that kept us obsessed with the darker corners of the human psyche.
1. Serial's subject: Adnan Syed

National Public Radio's Serial podcast debuted in 2014. Almost immediately, the plight of Adnan Syed became a topic of national conversation. In 1999, Syed, then a Baltimore high school student, was arrested for the murder of girlfriend Hae Min Lee, who had been found strangled in a local park. The following year, Syed was sentenced to life in prison based largely on the testimony of a friend, Jay Wilds, who claimed he helped Syed bury Lee's body. The case largely flew under the radar until Serial began excavating. The episodic series, which delivered reveals in near-real time—an eyewitness providing an alibi for Syed, Wilds's wavering confession—recruited listeners who were adamant Syed is innocent and others who were convinced he's guilty. Currently, Syed is still a murderer in the eyes of the law: The U.S. Supreme Court refused to hear his appeal in November 2019.
2. Reversal of Fortune: Robert Durst

When 2010's All Good Things starring Ryan Gosling was released, it was thought of as little more than a well-made true crime thriller. Gosling played real estate fortune heir Robert Durst, a man suspected in the disappearance of his wife, Kathleen. But the director, Andrew Jarecki, didn't let the Durst saga go. In 2015, he directed The Jinx, a multi-part HBO series that was unique in that it gave Durst himself a chance to speak out against the allegations that he was involved in his wife's disappearance or in the death of his friend, Susan Berman, among other suspicions. The eccentric Durst made for a captivating figure, and an ill-timed comment caught on tape proved to be incriminating. Durst is currently awaiting trial in Los Angeles for the murder of Berman. It's slated to begin in February 2020.
3. Netflix's Most Wanted: Steven Avery

Can a man once wrongly accused of assault and later exonerated be guilty of an unrelated murder? That was the question running through 2015's Making a Murderer, the Netflix docuseries that examined the case of Steven Avery, who was convicted of rape in 1985 at age 22 in Wisconsin and later freed by DNA evidence after spending 18 years of a 32-year sentence in prison. Just two years after getting out, Avery was charged with the murder of photographer Teresa Halbach, whose vehicle and charred remains were found on his salvage yard property. Avery's nephew, Brendan Dassey, confessed to aiding his uncle, but Dassey's age (16) and limited mental acuity put his words in doubt. The series kicked off Netflix's reputation as a go-to outlet for true crime and helped cement the popular true crime trope of putting prosecutors in the crosshairs. Dassey is currently seeking clemency from the state; Avery is appealing his 2007 conviction and awaiting a response from the state in order to move forward with the Court of Appeals.
More Articles About True Crime:
4. The Golden State Killer: Joseph James DeAngelo

His crimes may have been a generation ago, but justice was finally served in 2018, when Joseph James DeAngelo, a.k.a. the Golden State Killer or East Area Rapist, was arrested after evading capture for decades. From 1976 to 1986, DeAngelo terrorized the Sacramento area with a series of more than 50 rapes and 13 murders, though those numbers don't likely represent the true scope of his crimes. Both professional and amateur investigators remained on his trail, including Michelle McNamara, who authored the 2018 book I'll Be Gone in the Dark about the case, but passed away in 2016 before seeing its completion. The book was finished and published posthumously. Shortly thereafter, DeAngelo, a former police officer living as a retiree, was linked to the spree via his DNA. The case proved that it's never too late to make someone accountable. Prosecutors have said they will seek the death penalty if DeAngelo is convicted of any one of the 13 counts of murder. He's awaiting trial.
5. Text and Context: Michelle Carter

It was a love story for the digital age: Michelle Carter, 17, and boyfriend Conrad Roy, 18, were separated by only 35 miles in Massachusetts but rarely saw each other in person. Bonding with Carter via text, Roy expressed symptoms of depression. Carter was at first supportive, but eventually began to encourage him to take his own life. When he finally did, she was charged with and convicted of involuntary manslaughter in 2017. The semantics of the case—which hinged on whether someone can be culpable in a murder when they weren't even physically present—was married with the emotional implications of social media and illustrated in HBO's two part documentary, I Love You, Now Die, in 2019. Carter's 15-month sentence will be up in 2020.
6. The Matricide: Gypsy Rose Blanchard

It's hard to come up with a justification for matricide, but in the strange saga of Gypsy Rose Blanchard, anything is possible. In 2015, Gypsy Rose was accused of conspiring with a boyfriend she met online to murder her mother, Dee Dee Blanchard. Gypsy Rose's motive was unusual: She wanted Dee Dee killed because for years her mother had told her she was unwell and, believing her, Gypsy Rose allowed her mother to care for her in a Munchausen syndrome by proxy dynamic. Gypsy Rose was presented as having leukemia or muscular dystrophy, and endured multiple surgeries and medical procedures for her nonexistent ailments. As Gypsy Rose grew older, she became more cognizant of the delusion, finally enlisting Nicholas Godejohn to stab Dee Dee to death. The court, however, couldn't ignore the enormity of abuse suffered by Gypsy Rose over the years. Sentenced to second-degree murder in 2016, Gypsy Rose is serving 10 years in prison and will be eligible for parole in 2024; Godejohn received a life sentence. Gypsy Rose's story was told in the 2016 HBO documentary Mommy Dead and Dearest, then dramatized in the 2019 Hulu series The Act. Gypsy Rose has said that despite prison's oppressive environment, she has more freedom behind bars than she did under her mother's thumb.
7. The Silicon Valley Scam: Elizabeth Holmes

In a very different kind of bloodletting, start-up mogul Elizabeth Holmes took the tech world by storm in 2014 by promoting Theranos, which promised to revolutionize how blood tests were administered. Instead of large vials, blood could be analyzed in tiny amounts. But Theranos didn't have the science, validity, or technology to stand up to scrutiny. A 2018 Wall Street Journal article by John Carreyrou exposed Holmes's deception, which amounted to fraud in excess of $700 million. A 2019 HBO documentary, The Inventor: Out for Blood in Silicon Valley, added to her in infamy. She's currently awaiting trial in August 2020.
8. The Elevator Girl: Elisa Lam

In addition to being one of the most cryptic cases of the decade, the fate of Elisa Lam might go down as one of the most haunting in the history of the true crime genre. In January 2013, Lam was captured on surveillance footage acting erratically in the elevator of a Los Angeles hotel, waving her arms and pushing buttons seemingly at random. A month later, she was found dead inside a water tank located on the roof. Lam, a Vancouver native, was a 21-year-old tourist with no known ties to the area. The coroner declared it an accidental drowning, and Lam was known to have bipolar disorder. But other questions remain. To this day, how she managed to gain access to the roof—which was protected by a locked door—and what circumstances led to her being found in the water tank remain a mystery.
9. The Silk Road: Ross Ulbricht

The darker side of the internet was personified by Ross Ulbricht, who created and operated the Silk Road in 2011, the informal name given to an online black market where anything from drugs to weapons to murders-for-hire could be transacted. A Wild West of commerce, the Silk Road became notorious for its seedy inventories, all of it permitted by Ulbricht, also known as the Dread Pirate Roberts. After the site was shuttered by federal law enforcement in 2013, Ulbricht was convicted of trafficking in illegal narcotics, among other charges, and was also linked to attempting to solicit the deaths of people whose testimony might prove damaging. He's currently serving a life sentence. The "dark web," however, is still very much alive.
10. The Gentleman's Club Crime Ring: Samantha Barbash, Roselyn Leo, Karina Pascucci, Marsi Rosen

As dramatized in 2019's Hustlers starring Jennifer Lopez, a squad of adult entertainers decided to take the one-percent for a ride in a Robin Hood tale—presuming Robin wore extremely tall heels. The story first broke in 2014, when New York media reported on doctors and other white-collar professionals alleging they were drugged and had tens of thousands of dollars in credit card charges racked up during outings to the popular Scores club and others in the city. Law enforcement was already on the case, with evidence pointing to the scam originating after the financial crisis of 2008. An indictment was handed down that year charging four dancers—Samantha Barbash, Roselyn Leo, Karina Pascucci, and Marsi Rosen—with grifting more than $200,000 from their marks, with one of them admitting to the crime while being secretly recorded. Charges of forgery, conspiracy, grand larceny, and assault were handed down. The four negotiated plea deals; Barbash and Keo received probation and fines, while Pascussi and Rosen served 16 weekends each at Rikers Island. (Prosecutors predictably had trouble getting the men to admit they had been duped.) The film stemmed from a 2015 magazine profile by Jessica Pressler, which was heavy on the salacious details but short on actual remorse. "Don't tell me you love me," Leo said of her victims. "That means I know I can milk you for everything, and then some."