15 Charming Old-Fashioned Compliments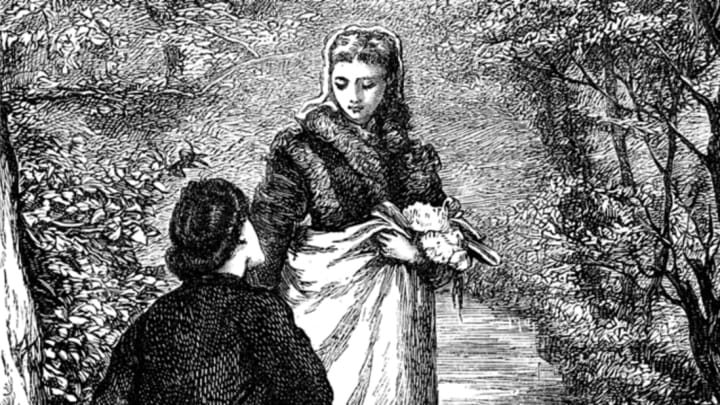 istock / istock
The only thing more rewarding than receiving a fine compliment is doling one out. Here are a few charming, cute, and kooky kudos from the days of yore, dating back through the past seven centuries, all sure to land you in good favor with those on the receiving end.
1. BELLIBONE
Even during the brutal Medieval period there were instances of delicacy: Romantic knights, well read royals, and love-struck troubadours all knew their way around some fancy words. For instance, we have this delightful term for a lady rich in personality as well as physical beauty.
2. POPLOLLY
A regular companion to "bellibone," this charming little term of endearment, which comes from a French word meaning "a sweet baby," has a more youthful, impish connotation.
3. PEERLESS PARAMOUR
If you're looking for a bit of Middle Ages jargon that feels a little more romantic, this phrase denoting unbeatable affection is the way to go.
4. TRUEPENNY AND STRAIGHT-FINGERED
During the 16th century, honesty became a characteristic of newfound acclaim in the English language. If you happen upon someone whose trustworthiness cannot go without commendation, try one of these.
5. BAWCOCK
While the Medieval and early Elizabethan periods boasted plenty of colorful colloquialisms, you'll no doubt want to advance to the height of William Shakespeare's career to get some of the really good stuff. This term for a gentleman of character and integrity, for instance, is pretty hard to beat.
6. WAG
If you spend your time among particularly humorous company, this diminutive designation will come in handy. After your funniest friend earns a particularly big laugh, champion him or her as the group's beloved wag.
7. BULLY
This is a bit of a confusing one, considering the word's modern connotation. You'll probably want to explain to your friend that you're intending to point out his good nature and strong moral fiber before calling him a bully.
8. FAIRHEAD
Say you just caught a glimpse of an attractive stranger across the room—this assessment of him or her as one brimming with physical allure should win you due favor.
9. LIQUOROUS ROLLING EYES
In 1663, English author John "J.G." Gough made a living off the art of niceties by publishing The Academy of Complements, in which he offers a wide variety of options for laying some charm on a romantic partner. Along with the above line, Gough included the likes of "cheeks like Punic apples," not to mention the designation of one as a "fit subject for the pleasant songs of youthful poets to acquaint the world with."
10. YOUR VIRTUES HAVE SO STRANGELY TAKEN UP MY THOUGHTS
More than a century later, The New Academy of Complements was published in New York. It offered a few more long-winded gems: "Your virtues have so strangely taken up my thoughts, that therein they encrease and multiply in abundant felicity," and "As you are fair and beauteous, be generous and merciful to him that is your slave."
11. BRICKY
The Victorian era brought things back to basics. Here we have an adjective you can use to laud a friend for his or her bravery, likening the tough and unyielding nature of the party in question to—what else?—a brick.
12. JAMMIEST BITS OF JAM
Granted, it sounds a bit like a compliment you'd pay to a nice piece of toast, but this old slang superlative actually signifies "absolutely perfect young females."
13. PIPPIN
While this moniker has conflicting records of origin, bearing premiere attribution to the 17th, 18th, and 19th centuries, it is consistent in its definition as a person of high esteem and admiration. Granted, it's also a type of apple, but context clues should clear things up in conversational use.
14. SNUGGERY
It's always appropriate to pay notice to a friend's living quarters when stopping by, too. If a warm, cozy, or otherwise pleasant little abode wins your notice, make sure to remark on what a fine snuggery your chum has managed to land.
15. ELEPHANT'S ADENOIDS
All of these words and phrases are great, but what need have you for any other compliment when you can tap into the wide variety of zoological possessive couplets that earned popularity in the 1920s? You've got your choice of "caterpillar's kimono," "bullfrog's beard," "clam's garter," "eel's ankle," "sardine's whiskers," and "butterfly's book"—and our favorite, "elephant's adenoids."