How Houston's Neighborhoods Got Their Names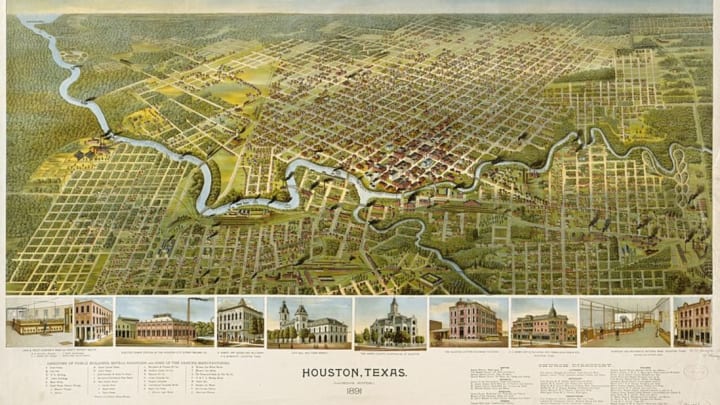 Wikimedia Commons / Wikimedia Commons
Houston is a city that prides itself on having no official zoning, and Houston neighborhoods have a decidedly freewheelin' feel. Management districts butt up against municipalities and unincorporated areas, which overlap with wards, which are part of super-neighborhoods, which are often referenced by other names.
Looking at the origins of those names gives a glimpse at the movers and shakers (and Quakers) of Houston's past. It's a past populated with farmers, industrialists, ministers, soldiers and philanthropists, not to mention a postmistress, a murderer, and a saloon-owning Prohibitionist.
This list is extensive but incomplete. The origins of some neighborhood names are long forgotten, and with others it's probably safe to assume a developer just mashed a few bucolic words together for marketing purposes. (Here's looking at you, Glenbrook Valley and Woodland Trails.)
I've included some communities outside of Houston proper, because a sprawl city doesn't have borders so much as subtle transitions into ruralness. And we all know everyone in Katy claims Houston anyway.
Marks Hinton's Historic Houston Streets: The Stories Behind the Names was a big help, as was The Handbook of Texas, and I'd definitely recommend both for further reading.
ACRES HOMES
Wikimedia Commons // Public Domain
Originally marketed as country life with city access, Acres Homes was often divided by the acre instead of the plot, giving homeowners enough room for a garden and maybe even a few chickens.
ALDINE
Aldine was a stop on International-Great Northern Railroad in the 1890s. It was named after a family who owned a nearby farm, although not much information about that family is known.
ALIEF
In 1894 this community was surveyed and named Dairy, Texas. But there already was another town in Texas named Dairy, so the postal service started calling the town Alief in honor of its first postmistress, Alief Ozella Magee.
ALVIN
In 1872, the Santa Fe Railroad hired Alvin Morgan to supervise its cattle operations in the area, and he built the community's first house. The town originally was called Morgan, but Texas already had a Morgan, so Alvin was the next best thing.
ATASCOCITA
This area is named for what is probably the oldest road in the Houston area, a military highway laid out in the 1700s.  Even though the name is old, construction didn't begin in the area until the 1970s.
BAYTOWN
Baytown is home to Burnet Bay, Crystal Bay, Scott Bay, Mitchell Bay, Black Duck Bay, San Jacinto Bay, Tabbs Bay, and Galveston Bay. That's a lot of bays.
BELLAIRE
Wikipedia Commons // Public Domain
Burlington Railroad executive William Wright Baldwin founded Bellaire after purchasing the Rice Ranch in 1908. Promotional materials in 1909 claimed Baldwin named the community for its fresh breezes, although it might've just been named for Bellaire, Ohio, a town on his railroad.
BRAESWOOD PLACE
The word "Braes" is commonly seen on signs around Houston, and Marks Hinton notes in Historic Houston Streets that it's the Scottish word for hillside. Scotland's hills are significantly steeper than Houston's, but accuracy isn't as important as aspiration when it comes to naming subdivisions. This spelling is sometimes confused with that of Brays Bayou, which is named for James Bray, a surveyor for the Mexican government who was one of the area's first Anglo settlers.
CHANNELVIEW
Channelview is located on the northern side of the Houston Ship Channel.
DENVER HARBOR
Wikimedia Commons // Public Domain
Denver Harbor's original subdivisions were Denver, Harbor, Harbordale, and Liberty Heights, and the name "Denver Harbor" was used to describe the whole community. The place is also known as Podunk, in reference to that word being written on a local water tower in 1939. Authorities repeatedly covered the graffito, but it would usually reappear after a few days.
FRIENDSWOOD
Wikimedia Commons // CC BY-SA 3.0
At the turn of the last century, a group of Quakers bought 1,500 acres of land along the county line between Harris and Galveston. For 60 years they called this wooded area home. Quakers are also known as the Society of Friends.
FREEDMEN'S TOWN
Freedmen's Town is Houston's oldest black community. It was established after the Civil War when 1000 freed slaves settled on inexpensive swampy land along Buffalo Bayou.
FIRST WARD, SECOND WARD, ETC.
Wikimedia Commons // Public Domain
After John Kirby Allen and Augustus Chapman Allen founded Houston in 1836, they divided it into four geographic territories called wards. These wards were divided without regard to population, using geographic boundaries such as streets and the bayou. The first four wards intersected at Congress Street and Main Street. As Houston's population grew, the Fifth Ward was carved out of parts of the First and Second in 1866, and the Sixth Ward was created a decade later from a cut of the Fourth. Each ward elected two aldermen, with the mayor receiving votes citywide. The ward system was abolished in 1915, but that hasn't stopped members of the community, including the Geto Boys, from using the designations.
GARDEN OAKS
Wikimedia Commons // Public Domain
Developer Edward Lillo Crain Sr. loved gardens. True story.
HARRISBURG
Harrisburg is older than Houston. It was given its name in 1826 by a New York entrepreneur named John Richardson Harris. He didn't look far for inspiration.
HEDWIG VILLAGE
In 1906, Hedwig Jankowski joined her sister and other German immigrants in what is now the Spring Branch Memorial area. She met and married Henry Schroeder, and the two set up a farm in what would become Hedwig Village.
HOUSTON HEIGHTS
Wikimedia Commons // Public Domain
The Heights is 23 feet higher than downtown.
HUMBLE
Humble was founded by Pleasant Smith Humble, a ferryboat operator on the San Jacinto River who arrived before the Civil War.
JERSEY VILLAGE
Wikimedia Commons // Public Domain
Jersey Village began in 1953 when a dairy farmer named Clark W. Henry decided to develop the area. One story is that he named the neighborhood after his Jersey cows.
KATY
There are two theories: Either Katy was named for the Missouri, Kansas and Texas Railroad, which was called the KT by railroad officials, or it was named for a barkeeper's wife. Which theory you choose to believe probably says something about you.
KINGWOOD
Kingwood was created by the Friendswood Development Company in 1971. The land was previously held by the King Ranch, which lent its name to one delicious chicken casserole recipe and owns enough acreage to cover Rhode Island. Take "King Ranch" and add "Friendswood," and you've got "Kingwood."
MEMORIAL
Camp Logan Development outside the Interstate 610 loop began in the 1950s along Memorial Drive. That arterial road was named in honor of the men who served in Camp Logan, a WW1 emergency training center, which is now the site of Memorial Park.
MEYERLAND
Wikimedia Commons // CC BY-SA 3.0
Meyerland was developed by George Meyer.
MIDTOWN
Wikimedia Commons // Public Domain
In 1995, the City of Houston established the Midtown Tax Increment Reinvestment Zone. The area is located between downtown and the Museum District, and before revitalization it showed serious signs of urban blight. The name "Midtown" was no doubt seen as a better lure for young urban professionals than "that sketchy area around the Greyhound station."
MONTROSE
Wikimedia Commons // Public Domain
Montrose was named after a historic town in Scotland by J.W. Link of the Houston Land Corporation.
MUSEUM DISTRICT
Wikimedia Commons // Public Domain
The Museum District is home to the Museum of Natural Science, the Children's Museum, the Holocaust Museum, the Museum of Fine Arts, and the Contemporary Art Museum, among others.
OAK FOREST
Wikimedia Commons // Public Domain
Frank W. Sharp developed this community after World War II, presumably inspired by its trees. Sharp is also the man behind Jacinto City, Royden Oaks, Lamar Weslayan, and Sharpstown.
PASADENA
Wikimedia Commons // Public Domain
Pasadena, California is named for the Chippewa Indian word for "valley." The Texas town's pre-industrial lushness apparently reminded early developers of the California community.
PEARLAND
Wikimedia Commons // CC BY-SA 3.0
This community was originally established as Mark Belt in 1893, but within a year the name was changed to account for the pear trees in the region (which was probably a good call).
RICE MILITARY
Wikimedia Commons // CC BY-SA 2.0
The Rice family owned a section of land near Camp Logan. Put those two together and you've got Rice Military.
RICE VILLAGE
Speaking of the Rice family, its most famous son was William Marshall Rice, a Massachusetts-born businessman who endowed Rice University in 1891 before being murdered nine years later in New York City by his butler and attorney. His ashes are underneath a statue on the campus, and the adjacent neighborhood also bears his name.
RIVER OAKS
Wikimedia Commons // Public Domain
River Oaks is named for the trees that line the banks of Buffalo Bayou.
SHARPSTOWN
Sharpstown was developer Frank W. Sharp's biggest project, so he went ahead and gave this one his own name.
STAFFORD
William Stafford was among the first settlers to receive land grants in Stephen F. Austin's colony. In 1835 he killed a man and fled to the United States, but three years later was granted clemency on the grounds that the man he killed was "destitute of character" and "much addicted to brawls." Stafford returned to his plantation and died two years later.
SOUTH PARK
South Park is south of MacGregor Park.
SPRING BRANCH
This community is named for the creek that intersected Buffalo Bayou at the spot where German farmers began settling in 1830. How that creek came to be called Spring Branch is unknown.
SUGAR LAND
Wikimedia Commons // Public Domain
This community has been home to sugar mills since at least 1843, and it became a company town of the Imperial Sugar Company in the early 1900s.
TANGLEWOOD
Wikimedia Commons // Public Domain
Tanglewood was developed by William Giddings Farrington. Nathaniel Hawthorne's Tanglewood Tales for Boys and Girls was one of his daughter's favorite books.
TOMBALL
Originally called Peck, Tomball was renamed in honor of Thomas Henry Ball, a big supporter of the Houston Ship Channel. In 1914, Ball ran for governor on the Prohibitionist ticket, but his quest was sidelined by his opponent who hired people to take photos of him in saloons and turned Woodrow Wilson's endorsement of Ball into Washington interfering in Texas.
UPPER KIRBY
Wikimedia Commons // Public Domain
This district is named for its location on Kirby Drive, which in turn is named for John Henry Kirby, a businessman whose lumber company dominated more than 300,000 acres of East Texas pines.
WEST UNIVERSITY PLACE
Wikimedia Commons // Public Domain
This place is west of Rice University.
THE WOODLANDS
Wikimedia Commons // CC BY-SA 3.0
In 1972, the Mitchell Energy & Development Corporation created this community among the pines north of Houston. The area had been the site of timber mills for years.