11 Incredibly Valuable DVDs That Could Be Hiding In Your Movie Collection
When digital video discs, or DVDs, were first introduced in 1996, consumers were impressed. The CD-sized format allowed for better picture quality for movies, improved sound, and greater storage capacity for things like bonus scenes and other extras. While streaming services have lowered the demand for disc-based media, a number of titles can still command premium prices owing to their scarcity. Take a look at 11 DVDs that could fetch a considerable sum on the collector's market.
1. War and Remembrance (1988-1989)

This epic World War II television miniseries sequel to 1983's The Winds of War stars Robert Mitchum and Jane Seymour and first aired on ABC. It was so ambitious in scope that, at a cost of $110 million, the network actually expected to lose $20 million on the project. The 2008 DVD set is difficult to find and can sell for $299 or more on the secondary market.
2. Rock & Rule (1983)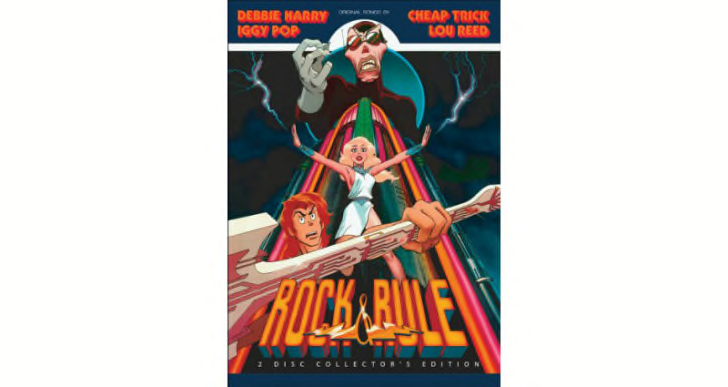 Debbie Harry, Iggy Pop, Lou Reed, and others lent their talents to this cult classic animated film with an adult bent. In Rock & Rule, a villain named Mok tries to summon evil for his own benefit, triggering a rock and roll fantasy fable. The 2005 DVD sells for $59 and up, though you can now catch the entire movie (legally) on YouTube.
3. The Real Ghostbusters: The Complete Series (1986-1991)
This popular animated series based on 1984's Ghostbusters won over a generation of younger fans. Nostalgic viewers and Ghostbusters collectors don't mind paying $450 for the 2008 box set that features all 134 episodes as well as 13 episodes of Slimer! packaged in a fire station box.
4. A Soldier's Daughter Never Cries (1998)
This hard-to-find Merchant Ivory drama stars Kris Kristofferson and Barbara Hershey as a couple raising their children in France after World War II. The family has trouble adjusting after heading back to America. Fans of the film can spend $125 and up for a copy that was originally released in 2002.
5. Hysterical (1983)
This obscure horror spoof about a haunted lighthouse stars the Hudson Brothers and Charlie Callas, as well as Richard Kiel, who portrayed Jaws in the James Bond films. Finding a copy of the 2001 DVD release will set you back about $125 or more.
6. The Heavenly Kid (1985)
This little-seen comedy stars Lewis Smith and Jason Gedrick, with Smith playig a hip 1960s car enthusiast who dies in a wreck and is sent back to Earth to help a nerdy '80s teen (Gedrick) find his groove. The 2005 DVD sells for $85 and up.
7. Faster, Pussycat! Kill! ... Kill! (1965)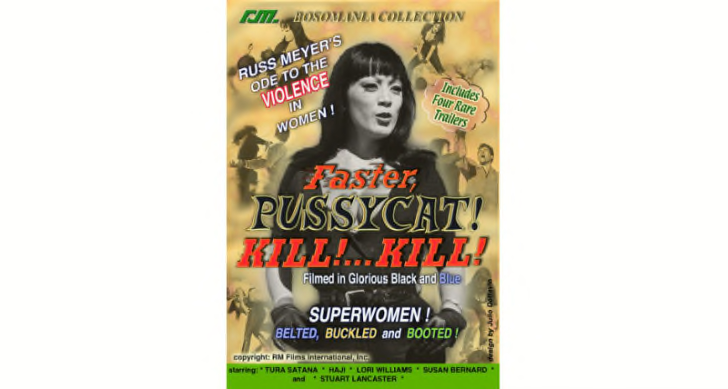 Director Russ Meyer's legendary exploitation feature follows a group of go-go dancers who go on a crime spree. Film critic Roger Ebert, who collaborated with Meyer as a screenwriter for Meyer's 1970 film Beyond the Valley of the Dolls, was a fan and gave it three stars. The rare 2005 DVD can fetch $60 and up.
8. The Criterion Collection: The Third Man (1949)
The Criterion Collection of curated classic and culturally impactful films has a number of titles that command high prices on the secondary market. One such title in high demand is director Carol Reed's The Third Man, with novelist Holly Martins (Joseph Cotton) searching for the killer of his friend Harry Lime (Orson Welles) in postwar Vienna, Austria. The 1999 two-disc release will set you back $70 or more.
9. Hardware Wars (1978)
This 2008 special-edition DVD of the ultra-low-budget Star Wars spoof short is sought after by fans of the long-running space opera. In the 12-minute film, toasters are used in place of spaceships. Copies go for around $120 or more.
10. The Minnesota Twins 1991 World Series Collector's Edition (1991)
Twins fans relish this comprehensive set from 2011 that features all seven games of the celebrated 1991 World Series in which the Twins triumphed over the Atlanta Braves. It sells for $275 and up.
11. Daddy and Them (2003)
A real curiosity, this Billy Bob Thornton-directed comedy about a family eccentric (Jim Varney of Ernest P. Worrell fame) and his extended clan (Thornton, Laura Dern, Brenda Blethyn) who are forced together after Varney is jailed for attempted murder received virtually no attention upon its release and was relegated to a premiere on Showtime. If you're intrigued, the 2004 DVD of the film—which also features Jamie Lee Curtis and Ben Affleck—can be had for $40 and up.