ENTERTAINMENT
12 Regular Human Facts About What We Do in the Shadows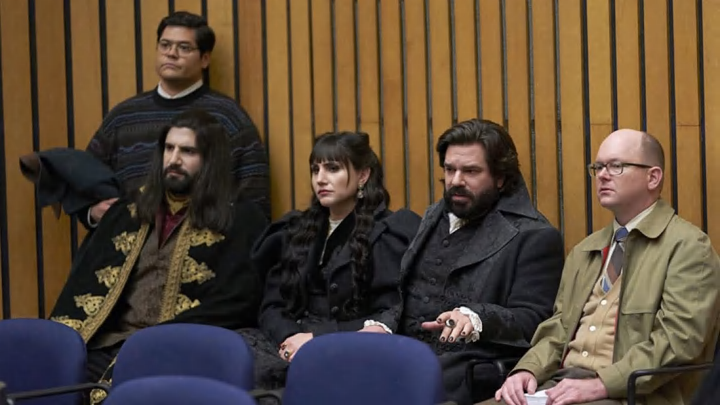 Harvey Guillén, Kayvan Novak, Natasia Demetriou, Matt Berry, and Mark Proksch in What We Do in the Shadows. / FX Networks
If you're looking for laughs in your next binge-watch, you'd be hard-pressed to find something better than FX's What We Do in the Shadows, a mockumentary horror-comedy TV series about four vampires living a mostly mundane life in Staten Island. The series, which was born from the brains of Flight of the Conchords's Jemaine Clement and recent Oscar winner Taika Waititi, delivers an absurdist version of the worries vampires might face in their day-to-day (non)lives in 2020.
The series is dark and hilarious and feels like what might happen if the Dunder Mifflin team from The Office worked together for 1000 years ... and fed on humans. If you're not already watching it, you should start. Right now. For the rest of you, here are some things you might not have known about the Emmy-nominated series.
1. What We Do In the Shadows began as a short film, and has turned into a franchise.
Kayvan Novak and Harvey Guillén in What We Do in the Shadows. / FX Networks
A lot of people know that FX's What We Do in the Shadows is a small-screen spinoff of Taika Waititi and Jemaine Clement's 2014 movie of the same name. What fewer people realize is that that movie was an expansion of their 2005 short film, What We Do in The Shadows: Interviews With Some Vampires, which starred the same core cast as the feature. Nor do they know that the FX series isn't the movie's first small-screen spinoff: Wellington Paranormal, a series about a New Zealand police department dealing with otherworldly events of all stripes, was the first TV show to air as part of the What We Do in the Shadows universe. It premiered on New Zealand's TVNZ 2 in July 2018.
2. What We Do In the Shadows avoids CGI whenever possible.
What We Do in the Shadows treads a fine line of disbelief because it has to feature supernatural transformations while maintaining the authenticity of a documentary. That's one reason why the show's creators prefer to employ practical effects as much as possible and why there's no character created entirely from CGI. "One of the movies we really talked about a lot when we were conceiving the show was Francis Ford Coppola's Bram Stoker's Dracula, where he went back to really doing as many effects as possible in-camera and figuring out ways to do that," writer/executive producer Paul Simms told /Film of one of the series's inspirations.
3. Taika Waititi's disdain for shaving is one reason he doesn't star in What We Do In the Shadows.
The cast and creators of What We Do in the Shadows at SXSW. / Robby Klein/Getty Images
Fans of the 2014 What We Do in the Shadows movie have asked why the series doesn't follow the same group of vampires we met there: Viago (Waititi), Vladislav (Clement), Deacon (Jonny Brugh), and Petyr (Ben Fransham). The answer, according to Waititi, was partly due to finding a creative reason to explain why that particular group of vampires would have moved to America. But it was also partly motivated by Waititi's disdain for shaving.
"I don't like shaving, clean shaving, my face," Waititi told Thrillist. "I had to [do] that every day for that character. I don't like putting makeup on. I don't like the feeling of it on my skin. I know that sounds insane, but that was one of the reasons I was like, 'I don't want to be in the show.' I hate shaving."
4. What We Do In the Shadows follows The Lost Boys's rules.
If you find yourself wondering what the boundaries are for the vampires featured in What We Do in the Shadows—What happens if they're exposed to daylight? Do they have to be invited into someone's home? What's the deal with garlic?—look no further than The Lost Boys, Joel Schumacher's iconic '80s vampire flick. "We stay pretty basic '70s/'80s vampire rules, with a little bit of '30s," Clement told IGN. Unfortunately, one of Waititi's favorite rules—about banishing a vampire from your village by stealing its socks, filling them with garlic, and tossing them into the river—somehow didn't make the cut.
5. The comedy in What We Do In the Shadows relies as much on moments of silence as it does on jokes.
Matt Berry, Natasia Demetriou, and Kayvan Novak star in What We Do in the Shadows. / FX Networks
The script for each episode of What We Do in the Shadows is a starting point for lots of improvisation, which is something the actors take full advantage of, whether that's with a funny line or an awkward look. "This show has taught me a lot about often saying nothing," star Natasia Demetriou, who plays Nadja, told Collider. "It's not about one person. It's about a room full of people, and making all of that balance and bounce off of each other. Actually, the best stuff comes from silence sometimes."
6. What We Do In the Shadows films during "vampire hours."
The irony of filming characters that can only exist at night is that the cast and crew end up working vampire hours to get the work done, too. Since the show is also largely improvised and requires a lot of footage, it can be an exhausting process. "We'd nap all the time," Waititi told The New York Times of the show's late-night schedule. "I'd see a couch and be like, 'There's my couch.' Matt Berry is also a huge napper. On the sets, we'd scope out the beds. And I'd be, 'Oh, that's mine.' And then I'd come in and Matt would be in it."
The main issue with Waititi and Berry's love of naps, according to Clement, is that beds aren't always easy to find on the set of What We Do in the Shadows. "Usually when you have a house set, there's bedrooms with beds. But there's no beds on this, because it's coffins," Clement told The New York Times in the same interview. "There's nowhere to sleep. So everyone's got to really search."
7. Colin Robinson's "Energy Vampire" came out of an inside joke—and is one way to sneak some daylight shots into What We Do in the Shadows.
Though What We Do in the Shadows sticks to many already-established pop culture rules, one way it innovates the vampire myth is with Colin Robinson—Mark Proksch's day-walking "energy vampire," who feeds on sucking the life out of a room. The idea for including this new kind of workplace-loving creature came from Clement, who told The Hollywood Reporter that "energy vampire" is "a term I've heard used to describe people who are difficult to talk to, and I've definitely been cornered by these people at parties. Those people that you feel you need to be saved from, and the longer you're in [the conversation] the more difficult it is to get away. It was just taking that to the supernatural level."
Colin Robinson's presence also brings some literal light to the show by allowing for daylight scenes. "It's a great way of having things set in the day, because it's one of the things that drove us nuts during the film is it was night shoots and never seeing the daylight," Waititi told Thrillist. "You end up feeling like a vampire."
8. Mark Proksch improvises much of Colin Robinson's dialogue.
Proksch has embraced his role as What We Do in the Shadows's resident bore—and much of the character's dialogue comes courtesy of the actor directly. "The shame of it is that we have so much more stuff with him that we couldn't fit in," Clement told The Hollywood Reporter about the extra footage of Proksch that doesn't make it into the show. "A lot of it's not on the page, he can just do that endlessly. We were like, 'Just say boring things to this person,' and we never got to a point where he'd run out. He's such a funny guy, but I do wonder how this is gonna affect parties for him."
9. What We Do In the Shadows hosted an epic gathering of pop culture vampires.
"The Trial," from season 1 of What We Do in the Shadows, is a glorious, cameo-packed episode featuring an all-star lineup of actors who have previously played iconic vampires on TV and in movies. Tilda Swinton (Only Lovers Left Alive), Evan Rachel Wood (True Blood), Danny Trejo (From Dusk till Dawn), and Paul Reubens (Buffy the Vampire Slayer) are among the episode's guest stars—all of whom make up the Vampiric Council, which decides the fate of their fellow bloodsuckers. Wesley Snipes chimes in via Skype as well, playing his Daywalker character from the Blade movies (and is even accused of being a vampire hunter).
10. Cate Blanchett wanted to make a cameo in What We Do in the Shadows, but Taika Waititi and Jemaine Clement had to turn her down.
While preparing for "The Trial," Waititi and Clement tossed out a dream list of actors they wanted to convince to make cameos, without really believing they'd get any of them to say yes. Somehow, Cate Blanchett's name ended up on the list, and she was apparently game to be involved. But Waititi and Clement only wanted known pop culture vampire actors, so they had to say no, with Waititi telling her: "But you can't, because you haven't been a vampire. Those are the rules!"
11. Arj Barker's jacket in What We Do In the Shadows is a nod to An American Werewolf in London.
Arj Barker stars in What We Do in the Shadows. / FX Networks
"Werewolf Feud," the third episode in season 1, sees the foursome get into a low-key battle with neighboring werewolves (not swearwolves), which is when we meet Arjan (Arj Barker), the leader of the local werewolf crew. If something about Arjan's puffy jacket looks familiar, that might be because it's a nod to An American Werewolf in London, John Landis's 1981 classic horror comedy. Barker, with his feathery haircut, even looks a bit like American Werewolf star David Naughton.
12. What We Do In the Shadows constantly reminds us that vampires are humans, too.
The source of comedy in What We Do In the Shadows is obvious, but the depth is a bit more subtle. For one, it features people who are so old that they're cosmically and tragically bored. Beyond that, it's constantly mining both humor and sadness from the fact that these are all people: They were once humans, and now they're something less romantic than we think.
"Humans are so [expletive] stupid and boring and lazy, that given the gift of immortality, you'd never get around to doing anything," Waititi told The New York Times. "You'd just put off everything. People that have been alive for 5000 years, going: 'I've got forever to learn how to play violin. Why start now?' Humans, they still carry on human nature into being an undead creature. All those hang-ups stay with you."