11 Toys and Games From the '80s and '90s You Can Still Buy Today
Pop culture trends often find themselves coming and going in cycles—a toy can be the hottest item on shelves one year and be a punchline the next. But if you wait long enough, sometimes they're given new life years or decades later once the pendulum of nostalgia swings back their way. And right now, childhood favorites from the '80s and '90s are finding themselves relevant again as adults try to share their most beloved toys and games from the past with the current children in their life.
That's exactly why we've rounded up some of the most popular toys and games of the '80s and '90s that are still being made today. Some of them are newly revived, while others never really left—either way, whether you're looking for a sentimental gift for yourself or someone else, try these memories from your childhood.
1. Tamagotchis; $20-$60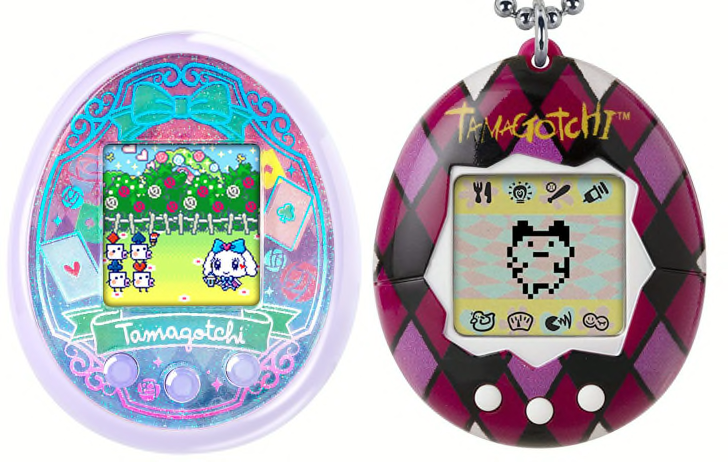 Even though they've been around for more than 20 years, Tamagotchis are still everyone's favorite virtual pet. But in the digital age, they're a bit more sophisticated. Instead of just looking after your pet's health, the new full-color Tamagotchi On ($60) model allows you to bring your digital companion shopping, help it make friends, get married, and even start a family. If that sounds exhausting, don't worry: the company also puts out the Tamagotchi Original ($20), which faithfully recreates the original 1997 version you remember from childhood, complete with the same sound effects, black-and-white pixel display, and poop-scooping tasks.
If you really want to relive that vintage flavor, though, you can still find authentic models from the '90s from third-party sellers on Amazon or through eBay auctions. No matter which model you go for, you can enjoy all the perks of having a pet without any of the responsibility.
Buy it: Amazon (Tamagotchi Original, Tamagotchi On)
2. Furby Connect; $80
Furby, the must-buy toy of 1998, might look less like a creepy gremlin and more like an adorable duckling these days, but it's still that same weird toy you chatted with after school (or accidentally revealed national secrets to). Although you can still communicate with today's Furbies by teaching them English, you can also download an app that lets you explore a digital world together. If you'd prefer to keep it old school, you can still find secondhand versions of the original Furbies online (like this one on Amazon).
Buy it: Amazon
3. Fashion Plates Deluxe; $29
Who needs Project Runway when you can be your own designer? Much like a vintage purse or an Italian leather jacket, this Fashion Plates kit (which originally hit the market back in 1978) only gets better with time. All you have to do is select three different plates, snap them into the drawing tablet, and color away! The plates may be more fashion-forward than when you were a kid (shoulder pads aren't exactly all the rage these days), but they'll still let you express your inner fashionista—so long as you color inside the lines.
Buy it: Amazon
4. Pound Puppies; $16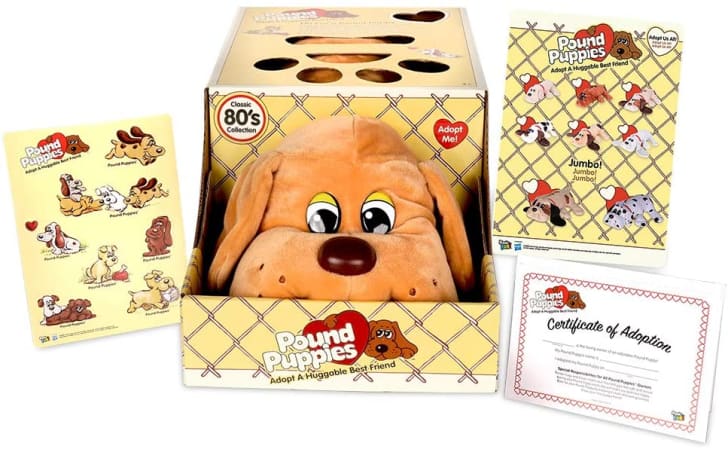 Before Tamagotchis were a thing—and if you wanted something better than a pet rock—you had Pound Puppies. Invented by a Ford automobile assembly worker, these soft and squishy toys came in a cardboard box from the "pound" with your very own certificate of adoption. Today's Classic '80s Collection features puppies modeled after the original line from decades back, complete with a sticker sheet, name tag, and those signature floppy ears. Even if you don't have a living, breathing pet of your own, you can still take care of your beloved pound puppy: no poop-scooping required.
Buy it: Amazon
5. Magna Doodle; $28
Easier than Etch A Sketch but just as cool, Magna Doodle was originally invented by Japanese engineers as a "dustless chalkboard" for businesses—lucky for us, they eventually realized it was much better off as a toy. Many years and millions of copies later, Magna Doodles are still beloved by kids today. This retro version comes with an "magic" doodling pen and stamps so you can let your inner Picasso run free. And when you're ready to start a new creation, you can simply wipe the screen away for a (literal) clean slate.
Buy it: Amazon
6. and 7. Sega Genesis and Super Nintendo Mini Consoles; $50-$297
Though Sega is known strictly as a software provider now, the company came to mainstream prominence in the U.S. with its signature line of video game consoles in the '80s and '90s, led by the Sega Genesis. This miniature replica of the original Genesis, complete with two era-accurate controllers, may be smaller than the one you originally played with, but it's no less powerful. Featuring 40 classic titles, including Sonic the Hedgehog, Golden Axe, and Earthworm Jim, all you have to do is plug it into your TV's HDMI port to get your retro gaming fix.
If you're more of a Nintendo fan and are willing to pay a tidy sum to third-party sellers to stomp through Super Mario World again, there's the Super Nintendo Classic Edition. This mini console comes with 21 games, including Super Mario Kart, Super Metroid, and Street Fighter II. If you want the real deal, though, Amazon actually sells certified-refurbished Super Nintendo ($230) and Sega Genesis ($70) consoles from the '90s on its website.
Buy it: Amazon (Sega Genesis Mini, Super Nintendo Classic Edition)
8. Mall Madness; $25

Mall Madness has captured the hearts of bargain shoppers ever since it hit the market back in 1988. Even though the game has been met with some controversy over the years—critics thought it encouraged reckless spending—it's resonated with tweens so much that the fourth generation of Mall Madness will hit stores in October 2020. If you can't wait that long, you can still buy the original game or the 2004 version from third-party sellers.
Buy it: Amazon
9. Street Fighter II arcade cabinet; $300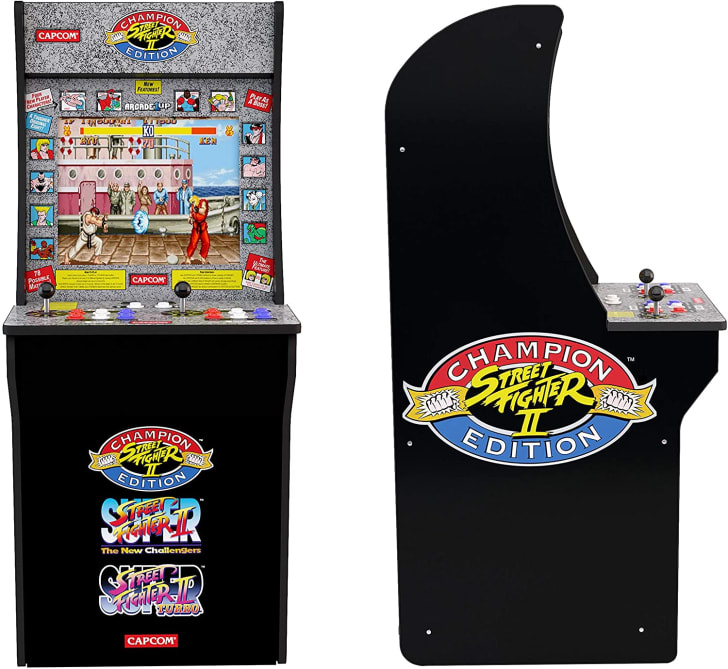 Street Fighter II arcade cabinets gobbled up the quarters of competitive gamers to the tune of billions of dollars in the '90s, and with these replicas from ARCADE 1UP, you can finally relive your joystick-twisting heyday. The cabinets themselves feature the exact artwork you'd find on the original Street Fighter II machines, but the real highlight is that it comes with three versions of the game pre-programmed into it: Champion Edition, The New Challengers, and Turbo. Unlike the original version from the '90s, this has an upgraded 17-inch color LCD screen and can plug right into an AC outlet. And if Street Fighter II was never your thing, ARCADE1UP also offers a 4-in-1 Final Fight, a 3-in-1 Asteroids game, and a 2-in-1 Galaga and Pac-Man game.
Buy it: Amazon
10. Polly Pocket 30th Anniversary; $27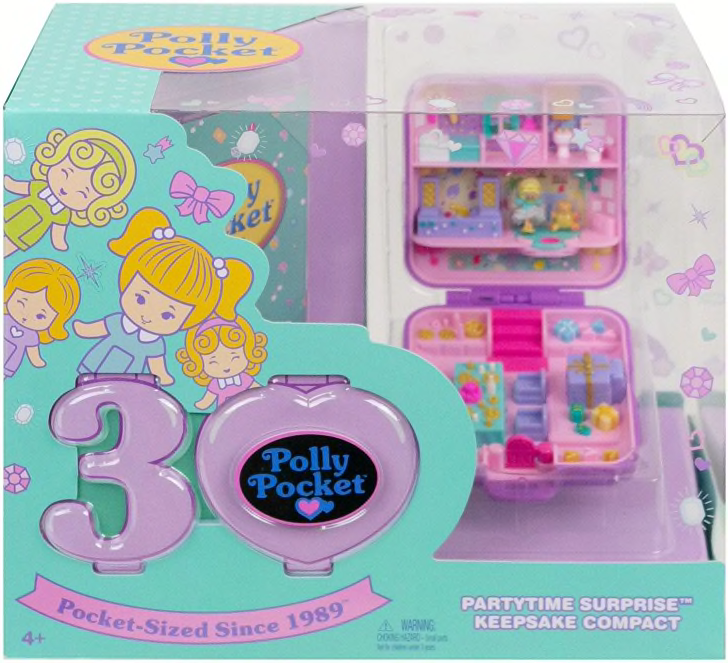 Polly Pocket was the brainchild of Chris Wiggs, a dad who wanted an on-the-go toy for his daughter that would fit in her pocket. Although Polly has changed a bit since she first hit shelves in 1989, this 30th anniversary edition pays homage to the original Partytime Surprise compact. With all of the details that made young millennials fall in love, like a spinning dance floor, tiny presents, and festive decorations, this commemorative edition is reason alone to celebrate. But if you're looking for something even more authentic, you can still find people selling the original Polly Pockets on Amazon, like this original 1989 World Fun Fair compact.
Buy it: Amazon
11. Bop It!; $28

The unique look of the original Bop It! helped it capture the wandering eyes of kids in an increasingly competitive toy market in the '90s. And while the newer versions have updated some features—the classic twist it/pull it/bop it commands are now joined by "sing it," "drink it," and even "selfie it"—the modern Bop It! still manages to retain the same charm some 25 years later.
Buy it: Amazon