12 Out-of-This-World Facts About Disney's Star Wars: Galaxy's Edge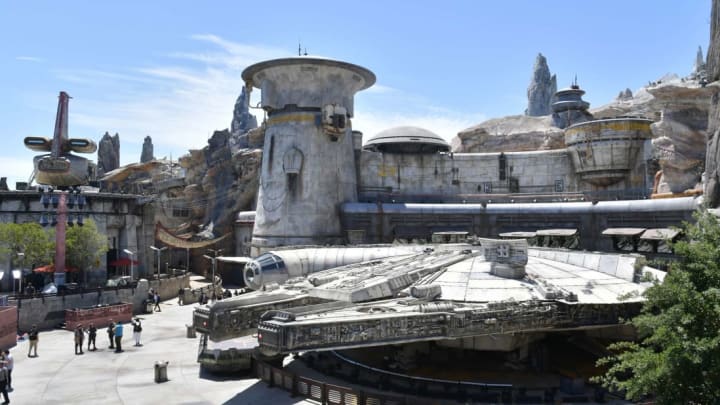 Star Wars: Galaxy's Edge. / Amy Sussman/Getty Images
Star Wars: Galaxy's Edge at Walt Disney World and Disneyland allows visitors to live out their very own Star Wars story with two attractions that blast you into hyperspace, tasty galactic eats, and encounters with fan-favorite Star Wars characters. Whether you've traveled to Galaxy's Edge or just ogled at it online, there are so many hidden details in the land to discover. Here are 10 things you may not know about Star Wars: Galaxy's Edge.
1. It took years of development to get to the opening day of Star Wars: Galaxy's Edge.
Disney announced it would be building a Star Wars-themed attraction at both Walt Disney World and Disneyland in 2015. After over six years of concept development and construction, the first guests were welcomed into Star Wars: Galaxy's Edge in 2019.
2. The backstory of Batuu is Star Wars canon.
When Walt Disney Imagineering first set out to build a Star Wars-themed land at the Disney parks, it had to decide between creating a new space or somewhere people had seen before in movies or TV shows. In the end, Disney settled on a completely new planet called Batuu, which is on the outer rim of the galaxy. The land is set in a single village called Black Spire Outpost. Villagers (cast members) go about their daily lives with their own language and money, and everything is canon.
3. Star Wars: Galaxy's Edge is set between the eighth and ninth movies.
The cast of Star Wars: The Rise of Skywalker (2019) previewing the Star Wars: Rise of the Resistance attraction in Star Wars: Galaxys Edge. / Handout/Getty Images
LucasFilm and Walt Disney Imagineering have both said Galaxy's Edge takes place between the eight and ninth Star Wars movies. You'll notice the main indicator for this timeline while riding Star Wars: Rise of the Resistance, where you can spot General Hux still taking orders from Kylo Ren. This suggests he has not been revealed as the spy in 2019's Star Wars: The Rise of Skywalker yet.
4. Toydarian Toymaker features retellings of the original Star Wars trilogy in toy form.
Inside Toydarian Toymaker at the Black Spire Outpost marketplace, you'll find mobiles and play sets situated on the walls and ceilings. These unique decorations actually retell the stories from the original Star Wars trilogy. Eagle-eyed fans will see these on the top shelves of the small store, with sets depicting Jabba's sail barge from 1983's Return of the Jedi, and Obi Wan Kenobi fighting Darth Vader.
5. Star Wars: Galaxy's Edge has a screen-used prop from The Mandalorian hidden in plain sight.
In the Resistance area of Star Wars: Galaxy's Edge, you'll find a gray and blue X-Wing ship. This ship was actually a screen-used prop from the über popular Disney+ series The Mandalorian (2019). In a the series, you see directors Dave Filoni, Rick Famuyiwa, and Deborah Chow make a cameo in the cockpit of the X-wing. After filming the short scene, the X-wing was shipped to Disney's Hollywood Studios for its iteration of Star Wars: Galaxy's Edge.
6. You can spot one of the most divisive characters from Star Wars inside Dok Ondar's Den of Antiquities shop.
You can spot a gold bust of Gungan Jar-Jar Binks inside Dok Ondar's Den of Antiquities. Look near the top display area of the store to see him nestled in with other artifacts from around the galaxy.
7. The droid tracks around Batuu are authentic to Star Wars.
Walt Disney Imagineering took every detail of Star Wars: Galaxy's Edge seriously. In fact, some of the smallest details, like droid tracks, are authentically Star Wars. The droid tracks are from an R2-D2 unit used in Star Wars: Episode IV - A New Hope (1977) and can be found throughout Batuu, leading through the marketplace, near the Millennium Falcon, and in the Resistance base.
8. Listen for Star Wars sounds throughout Star Wars: Galaxy's Edge.
When you walk in to Star Wars: Galaxy's Edge, you'll hear a new score created for the land by legendary composer John Williams. But once you get in the heart of Black Spire Outpost, you probably won't hear music outside. Instead, you'll hear ships flying overhead, or landing on the top of one of the buildings.
9. There's a tiny secret Millennium Falcon near the entrance to Millennium Falcon: Smugglers Run.
The Millennium Falcon: Smugglers Run ride at the Star Wars: Galaxy's Edge Walt Disney World Resort. / Gerardo Mora / Stringer/Getty Images
Walking up to a full-sized Millennium Falcon is enough to make any Star Wars fan's jaw drop. While admiring the fastest hunk of junk in the galaxy, you're going to want to get an up-close look at some of the smaller details of the ship because it hides a secret. Inside one of the crevices of the Millennium Falcon, there's a miniature version of the ship just waiting to jump into hyperspace.
10. Oga's Cantina has a few familiar droids.
Oga's Cantina is the local drink spot on Batuu, and even though Oga does not serve droids, she does have a few in her business. If you're standing around the bar, you might notice a few reclaimed IG-88 droid heads serving as the part of the drink dispensers. This specific type of droid is known as an assassin droid and has high-level tactical fighting skills.
11. Each Star Wars: Galaxy's Edge trash can has a special number on it.
Each trash can and recycling bin inside Star Wars: Galaxy's Edge has the number 3263827 on it. This number is a hidden reference to the sector number where Luke Skywalker, Han Solo, and Leia Organa were tossed into the trash compactor on the Death Star. The notice of the trash sector is written in the fictional Star Wars language Aurebesh.
12. The Droid Depot features battle droids.
Battle droids are the pesky droids from the second trilogy and a few of the Star Wars animated series like Clone Wars (2008) and Rebels (2014). Fans can spot these droids locked up in cages near the Droid Depot. Inside the Droid Depot, you can spot one of the battle droid's heads stacked with other droid parts.