Queen Elizabeth II's Sandringham Estate Is Becoming a Drive-In Movie Theater (For One Weekend Only)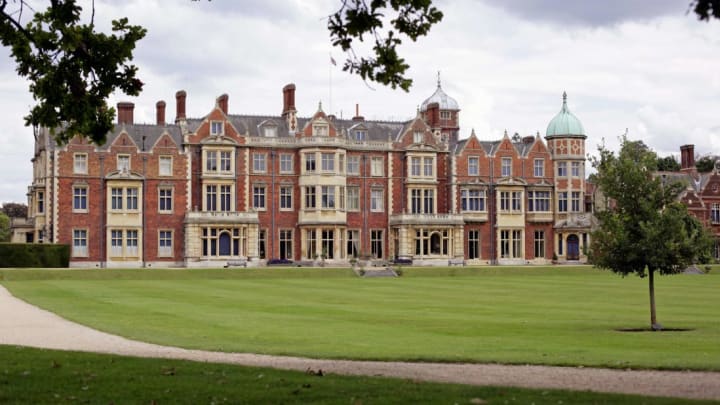 Imagine watching Lady Gaga belt out "Shallow" from A Star Is Born with Sandringham House in the background. / Indigo/Getty Images
To encourage safe socializing during the pandemic, the British monarchy is temporarily transforming Sandringham Estate into a drive-in movie theater.
Queen Elizabeth II inherited the Norfolk country home from her father, King George VI, after his death in 1952, and she usually spends the holidays there with Prince Philip and other members of the royal family. Though attendees probably won't see the queen herself—she's been staying at Windsor Castle throughout the pandemic—watching a movie on royal turf will still be an unforgettable experience.
According to The Hollywood Reporter, the drive-in series kicks off with a 5 p.m. BST screening of 1917 (2019) on Friday, September 25, and continues through Sunday, September 27. Overall, it's a music-heavy slate of films; in fact, 1917 is the only one that doesn't feature musical performances. The others include Rocketman (2019), Toy Story (1995), The Greatest Showman (2017), Bohemian Rhapsody (2018), Moana (2016), Grease (1978), and A Star Is Born (2018). Toy Story and Moana both air at 1 p.m. BST on Saturday and Sunday, respectively, presumably to accommodate young moviegoers with early bedtimes.
Each car will receive a transmitter that you can connect to Bluetooth or hook up with your aux jack to hear the film's audio, and attendants will ensure that cars are parked far enough apart that you can watch the film from outside, if you want to [PDF]. Tickets cost £32.50 (about $42) per car, and an additional £7.50 (nearly $10) per person will get you lawn chairs, popcorn, and extra space to move around. Sandringham will also install a pop-up bar where a different vendor will offer popcorn, snacks, drinks, and even alcohol for each film.
Happen to be in the area that weekend? You can purchase tickets here.
[h/t The Hollywood Reporter]