39 Surprising Things Queen Elizabeth II Owns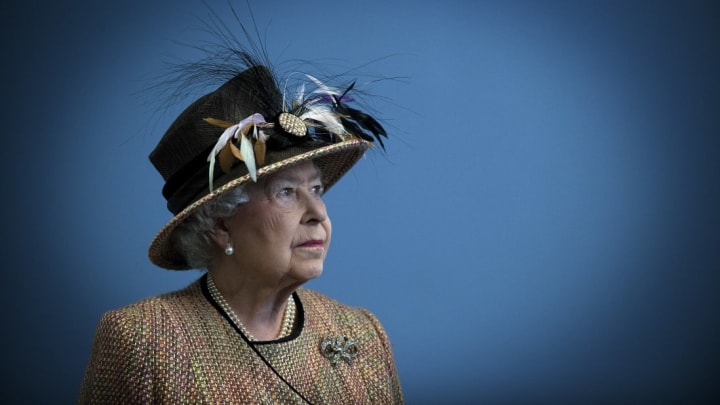 Eddie Mulholland, WPA Pool/Getty Images / Eddie Mulholland, WPA Pool/Getty Images
On June 13, 2020, Queen Elizabeth II will be feted as part of Trooping the Colour, an event that has marked the official birthday of the reigning British sovereign for more than 270 years. April 21, the Queen's actual birthday, is also celebrated as such. Of course, having two birthdays is just one of the many perks that come with being the head of the royal family. From bats to Bentleys, here are 39 surprising things owned by Queen Elizabeth II.
1. All the swans on the River Thames
Queen Elizabeth II, accompanied by Swan Marker David Barber (red jacket), watches from the steam launch 'Alaska' as a swan upper places a swan back into the river during a swan upping census on the River Thames on July 20, 2009 near Windsor, England / Sang Tan, WPA Pool/Getty Images
Though she's more of a Corgi lover, Queen Elizabeth II has quite the menagerie of pets—especially if you consider the fact that she technically owns (or at least co-owns) all of the unclaimed mute swans on open water in England and Wales, though she "only exercises her ownership on certain stretches of the Thames and its surrounding tributaries." She shares ownership of the birds with the Worshipful Company of Vintners and the Worshipful Company of Dyers, an arrangement that dates back to the 15th century (back when the animals were considered a delicacy).
So just how many swans does the Queen have? We'll know soon enough: each year, they're counted during a five-day event known as the Swan Upping. This year's event will take place from July 13 to July 17 on the Thames between Sunbury and Abingdon, England.
2. A pair of Dorgis
Queen Elizabeth II speaks with Prime Minister of New Zealand John Key at a audience held at Windsor Castle on October 29, 2015 in Windsor, England / Steve Parsons, WPA Pool/Getty Images
Speaking of Corgis: In April 2018, it was reported that Willow—the Queen's last Corgi—had passed away at the age of 14. It marked the end of a canine era for Elizabeth, who has regularly been photographed surrounded by members of her beloved breed over the past 75-plus years. (She and her sister, Princess Margaret, were gifted their first Corgi—whom they named Dookie—in 1933.) While Elizabeth confirmed in 2015 that there will be no more Corgis in her future (she doesn't want to leave any behind), she isn't dog-less. She still has two "dorgis"—a cross between a corgi and a dachshund—named Vulcan and Candy, who can regularly be found at her side.
More Articles About Corgis:
3. All the dolphins in the United Kingdom
A pair of dolphins / iStock
Dolphins and sturgeons and whales, oh my. Much like the aforementioned swans, the Queen's got a solid claim on many of the country's aquatic creatures. A statute from 1324, which originated during the reign of King Edward II, stated that, "… The king shall have wreck of the sea throughout the realm, whales and sturgeons taken in the sea or elsewhere within the realm, except in certain places privileged by the king." The law still stands today and covers not just whales and sturgeons but dolphins and porpoises, too, when they are captured within three miles of the UK.
Until recently the Crown also laid claim to the bulk of Scotland's wild crustaceans, but that now rests with Marine Scotland.
4. Nearly all of London's Regent Street
People, cars and double-decker bus passing by London's Regent Street / iStock
Located in the heart of London's West End, Regent Street is one of the world's most famous roads. Measuring approximately 1.25 miles in length, the street runs through both Piccadilly Circus and Oxford Circus and attracts more than 7.5 million visitors per year—and it's all part of the Crown Estate, meaning it legally belongs to Her Majesty. (Though she's not entitled to any of the royalties from the many storefronts that inhabit it.)
5. Half of the UK's shoreline
Red telephone box illuminated at sunrise on seaside beach in England / iStock
Cityscapes aren't the only real estate in the Queen's portfolio. The Crown Estate also owns "just under half of the coastline around England, Wales, and Northern Ireland."
6. Six royal residences
A photo of Windsor Castle / iStock
One thing the royal family is not lacking in is places to call home. While Buckingham Palace—and its 775 rooms—is the Queen's main abode, her portfolio of lavish properties also includes Windsor Castle (the world's largest occupied castle); Holyrood Palace, a 12th-century monastery-turned-royal palace in Edinburgh, Scotland; and Hillsborough Castle in Northern Ireland, which sits on 100 acres. The Sandringham Estate, where the royal family spends Christmas, and Balmoral Castle, her favorite summer estate, are two of the Queen's personal possessions (she inherited them from her father).
7. More than 200 Launer handbags
Queen Elizabeth II holds her Launer black handbag during a reception following the King's Troop Royal Horse Artillery during their 70th anniversary parade at Hyde Park on October 19, 2017 in London, England / Hannah McKay, WPA Pool/Getty Images
The Queen is rarely seen without a handbag, which she actually uses to send signals to her staff. But she doesn't carry just any old bag: She prefers purses from luxury London designer Launer—the Royale (appropriately) and Traviata styles are her favorites—and the brand's CEO estimates that she has about 200 of them. At approximately $2500 a pop, that's a mighty pricey purse collection.
8. A private ATM
Person getting cash from an ATM. / iStock
It's doubtful that the Queen has much need to dig through her Launer purse in search of a tenner. But if the need for cash arose, there's a private money machine in the basement of Buckingham Palace, courtesy of Coutts bank, that's specifically for members of the royal family.
9. The best seat in the house at Wimbledon
The Duke of Kent (L) and Queen Elizabeth II watch Andy Murray of Great Britain in action against Jarkko Nieminen of Finland on Day Four of the Wimbledon Lawn Tennis Championships at the All England Lawn Tennis and Croquet Club on June 24, 2010 in London, / Oli Scarff, WPA Pool/Getty Images
In 2010, Her Majesty stunned the crowd at Wimbledon when she showed up to watch Andy Murray play. It was the first time she had attended the world-famous tennis tournament in more than 30 years. She may not be a regular spectator, but she still commands the best seat in the house: the Royal Box, which is tucked just behind the court's south baseline.
"There is a view, among those who have attended the royal box, that it is one of the most special experiences in sport," Alexandra Willis, the head of communications, content, and digital at The All England Lawn Tennis Club, told The New York Times in 2017. "It's because of the fact that it's by invitation only—you can't just decide it's something you want to attend." Though the Queen may not be the biggest fan, the Duchess of Cambridge is a frequent fixture in the Royal Box.
10. The Tower of London
The Tower of London / iStock
Her Majesty's Royal Palace and Fortress of the Tower of London—better known as simply the Tower of London—is yet another one of the Queen's possessions in right of the Crown. The property, which dates to the 11th century, has played an enormous role in royal history and is still one of the city's most visited tourist attractions. And it all belongs to Queen Elizabeth—including the Crown Jewels and, by extension, the Tower's famed flock of ravens.
11. 150,000 works of art (many of them priceless)
A member of staff at the Queens Gallery views a painting in the Royal Collection on March 13, 2012 in Edinburgh, Scotland / Jeff J Mitchell, Getty Images
The Queen's position puts her in charge of The Royal Collection, one of the world's largest and most impressive art collections (though she doesn't own it personally, it is held in trust by her). Of the million-plus pieces included in the collection are approximately 150,000 artworks from some of the great masters (think Rembrandt, Rubens, and Raphael). While some of these pieces are displayed in museums or otherwise made available for public viewing, many of them hang in royal palaces and estates.
12. Queen Victoria's sketchbook
In addition to priceless works of art, The Royal Collection also features many personal artifacts from kings and queens past. Among the most impressive: Queen Victoria's sketchbook. (Elizabeth is Queen Victoria's great-great-granddaughter.)
13. A winning team of race horses
Queen Elizabeth II, Princess Margaret, Countess of Snowdon (1930 - 2002), and Prince Edward, Duke of Kent, riding at Ascot Racecourse, UK, 27th June 1968 / Evening Standard/Hulton Archive/Getty Images
Horses have long been one of the Queen's great passions—though it goes beyond riding them. She's also a savvy investor when it comes to race horses, and is said to have approximately 30 horses in training. As of late 2017, according to , her impressive roster of race horses have earned the Queen close to $9 million over the past three decades with their 451 race wins. Her first victory came in 1949, when Monaveen—a horse she co-owned with her mom—won at Fontwell Park.
14. A car collection worth more than $10 million
Queen Elizabeth II, Captain-General of the Royal Regiment of Artillery, oversees a Royal Review from an open-top Range Rover on the occasion of their Tercentenary at Knighton Down on May 26, 2016 in Lark Hill, England / Chris Jackson, Getty Images
Given that she served as a truck driver and mechanic during World War II, perhaps it's unsurprising that the Queen is a bit of a gearhead. While she's most often seen tooling around in her beloved Land Rover Defender—she's owned about 30 of them so far—her collection of cars goes way beyond that and is estimated to be worth about $10 million. Among some of the models in her collection: three Rolls-Royces, two Bentleys, and a custom Range Rover LWB Landaulet that features the royal flag and an open-air top (so that she can wave to her adoring public).
15. A tiara covered in 1333 diamonds
The Diamond Diadem is displayed in an exhibition in Buckingham Palace celebrating the 60th anniversary of Her Majesty The Queens Coronation on July 25, 2013 in London, England / Oli Scarff, Getty Images
Any Queen worth her castle has got a great tiara, but Elizabeth has a lot of them. Among the many pieces of glittering headgear she inherited is the Diamond Diadem, which might be her most famous piece of jewelry. It's set with 1333 diamonds, including a four-carat yellow diamond in the center. While the Queen has worn it to every State Opening of Parliament since 1952, the piece was originally made for George IV to wear at his lavish 1821 coronation.
16. A massive Fabergé collection
Queen Elizabeth II and Prince Philip, Duke of Edinburgh are presented with a gold musical Faberge style egg by the Sultan of Oman, before a State Banquet at his Palace on November 26, 2010 in Muscat, Oman / John Stillwell, Pool/Getty Images
While you may be content to amass Beanie Babies or Precious Moments figurines, the Queen has a much more befitting collecting habit: Fabergé eggs and accessories. Also part of the Royal Collection, the collection was started by Queen Alexandra and Edward VII around the turn of the century and is now estimated to include 600 pieces. Many of the pieces have been put on display to the public, including a blue cigarette case that was given to Edward VII by one of his many mistresses, Alice Keppel. Following the king's death, his widow, Queen Alexandra, returned the item to Keppel.
17. Westminster Abbey
London's Westminster Abbey / iStock
Westminster Abbey has played an integral part in some of the most important moments in royal history. In addition to being the setting for every coronation since 1066, it has hosted more than a dozen royal weddings and hundreds of royal funerals, memorial services, and beyond. Westminster Abbey is known a "royal peculiar," meaning that it belongs directly to the monarch, not a diocese.
18. Hyde Park
Italian Gardens at Hyde Park in London / iStock
With so many royal residences to choose from, the Queen is probably set in terms of green space. But if she ever wanted to stretch her legs a bit and mingle with some commoners, she owns some of England's most famous wide-open spaces, including Hyde Park, Kensington Gardens, The Regent's Park and Primrose Hill, and The Green Park.
19. A gold record
Rod Stewart (L) Ozzy Osbourne (2nd L) sing with Cliff Richard (2nd R) and Paul McCartney (R) sing together during 'Party at the Palace' in London 03 June 2002 / ADRIAN DENNIS, AFP/Getty Images
We may never know if the Queen's got vocal chops, but we know that HM is the recipient of at least one gold record. In 2002, the royal family marked Elizabeth's 50th year on the throne with a Golden Jubilee celebration, complete with a star-studded concert dubbed the "Party at the Palace."
EMI later released a CD of the concert, which sold 100,000 copies within its first week in release. The Queen was sent a golden record in honor of this achievement, making her the only member of the royal family to earn that rock star accolade.
20. A bat colony
A colony of bats / iStock
The Queen is obviously a devoted animal lover, which might explain why she doesn't mind sharing Balmoral Castle with the colony of bats that has taken up residence in the property's main hall. She apparently likes to catch them with a butterfly net as they dart around her summer home.
We'd rather learn about bats instead of own them, but to each her own!
21. The world's largest clear-cut diamond
Weighing in at 530.2 carats, the Great Star of Africa—properly known as Cullinan I (after South African mining magnate Sir Thomas Cullinan)—is the world's largest clear-cut diamond, worth somewhere in the region of $51 million. In 1910, it and several other stones cut from a gigantic diamond unearthed in South Africa five years earlier were presented to Mary of Teck (the consort of George V and Elizabeth II's grandmother).
Back in the UK, the diamond was incorporated into the Sovereign's Sceptre with Cross, the three-foot-long staff held by the monarch during their coronation. As such the diamond is now part of the Crown Jewels, which technically remain under the ownership of the Crown.
22. Three Crown dependencies
The Queen is the head of state of the United Kingdom, of course, as well as 14 overseas territories (including Gibraltar and the Falkland Islands) and the 16 so-called Commonwealth realms (including Canada, Australia, and New Zealand). But as the current reigning monarch, the Queen also technically owns three British island territories—namely, the Isle of Man, and the two largest of the Channel Islands, Jersey and Guernsey—which together comprise her "Crown Dependencies."
The islands are all self-governing, so the Queen's role in each one is largely ceremonial. Nevertheless, the arrangements linking these islands to the British Crown are ancient ones—so ancient, in fact, that their legislature has never been updated to make an allowance for a female monarch, and as a consequence the Queen technically holds the titles of Lord (not Lady) of Mann in the Isle of Man, and Duke (not Duchess) of Normandy in Jersey and Guernsey.
23. An Aberdeen angus cow
While on an official visit to Canada in 2005, the Queen was presented with an Aberdeen Angus cow at the Calgary Stampede agricultural show. Sadly, she wasn't able to bring her new gift back home to Buckingham Palace, so the cow remained in Calgary as the founding member of the Stampede's own herd of cattle.
24. Two tortoises from the Seychelles
One gift the queen was able to bring home with her from her foreign travels was a pair of native Aldabra giant tortoises, presented to her during an official visit to the Seychelles in 1972. Originally housed at London Zoo, the zoo has since rehomed the animals—which, given that they can reportedly live to more than 200 years old, will likely outlive the queen herself.
25. Her own flag
The queen has her own coat of arms of course, and various rules and regulations govern the use of the Britain's Union Jack and the Royal Standard flag in her presence. But she also has her own personal flag—depicting a crowned letter E in a circle of roses, on a navy blue background—which the royal household can opt to use on any building or vehicle in which the queen is staying or traveling. Reportedly, the flag was designed in 1960 at the queen's own request to symbolize her as an individual, separate from her role as sovereign or head of state.
26. Four Guinness World records
The Queen has been presented with and currently holds four Guinness World Record titles: she is officially the world's longest reigning queen, the world's oldest reigning monarch, the world's wealthiest queen, and appears on the money of more sovereign countries than any other person.
The Guinness World Record book is created every year, and 2021 releases October 6th, 2020!
27. A gold Blue Peter badge
In case you've never heard of it, Blue Peter is a long-running BBC children's television program that, unbelievably, has been broadcast practically every week in the UK since 1958. As such, it's now something of a cornerstone in British culture—not to mention the longest running children's television program in the entire world.
As absolutely anyone from Britain will know, the show awards badges (bearing its famous sailboat logo) for all sorts of achievements, ranging from viewer competitions to fundraising activities, sporting achievements and conservationism. But in 2002, the program awarded its highest honor—a gold Blue Peter badge—to Queen Elizabeth II to celebrate her 50 years on the throne. Other gold badge honorees include JK Rowling, Steven Spielberg, Sir David Attenborough, and both the Duke and Duchess of Cambridge, who were awarded their gold badges in 2017 in recognition of their work raising awareness of children's mental health.
28. The British seabed
Probably the weirdest thing on this list (and that's saying something), the queen technically owns all of the UK's territorial seabed through the British Crown Estate, from the mean low water mark out to a distance of 12 nautical miles.
29. An offshore wind farm
Because the queen owns the British seabed, she also owns an offshore wind farm. Specifically: Thanet Offshore Wind Farm, which is located seven miles off the coast of Kent in the North Sea and, upon its opening in 2010, was the largest offshore wind farm in the world. In fact, the Crown owns quite a few offshore green-energy projects, including Europe's largest tidal power plant, which is currently under construction in the Pentland Firth off the far northern tip of Scotland.
30. The UK's continental shelf
The 1964 Continental Shelf Act decreed that the Crown, as an extension of its ownership of the seabed, could lay claim to the UK's continental shelf, up to a distance of 200 nautical miles in some places. The queen ultimately bears rights to the subsoil and minerals that lie in the UK's marine shelf, while the government lays claim to the coal, oil, and gas deposits.
31. All of Scotland's gold mines
The Queen also owns the rights to all of Scotland's gold mining activities. Which is potentially very bad news for the anonymous prospector who discovered Britain's biggest ever gold nugget—worth at least $65,000—in a Scottish river in 2018. It remains unclear whether he sought permission to remove the gold from the river in which he found it; without it, the gold should legally automatically pass into the ownership of the Crown.
If you're going to do some gold mining of your own, you'll need some of this equipment.
32. 25,000 acres of forest
The Crown Estate also owns around a quarter of a million acres of rural land across the UK, most of which is used or leased for agriculture and mineral extraction. Around 8 percent of the Crown's rural holdings are forested, however—meaning the queen owns and controls roughly 25000 acres (or 95 square miles) of British woodland.
33. Trafalgar Square
As well as owning much of Regent Street, Trafalgar Square—home to Nelson's Column and the British National Gallery—is also owned by the Crown. Why? The site now occupied by one of London's most famous landmarks was originally the location of the royal stables and falconry mews.
34. Queen Victoria's wedding dress
As a part of the Royal Collection, the Queen also owns Queen Victoria's wedding dress—a cream and white silk, satin, and lace ensemble that proved so popular it helped to establish white as the customary color of bride's gowns.
35. Henry VIII's armor
Another item from the Royal Collection, the queen owns an impressive suit of armor produced sometime in the 1540s, and once owned by Henry VIII. To accommodate the king's increasing waist size, the armor was at some point widened with a 2-inch section of plate metal, inserted and riveted into the back piece.
36. Queen Elizabeth II's own tartan
Thanks to their Scottish roots, the British royal family as a whole has their own style of tartan—named "Royal Stewart"—which has apparently been the official tartan of members of the current British royal line since the late 11th century. As the reigning monarch, however, the queen herself is the sole owner of a grey, black, and red pattern of tartan—named "Balmoral"—that was designed by her great-great-grandfather Prince Albert in 1853. Even fellow members of the royal family technically have to ask the queen's permission to wear it.
37. Millions of square feet of retail space
Through the British Crown's real estate empire, the queen owns or part owns 14 retail parks and three shopping centers—totaling some 4.3 million square feet of retail space.
38. A baptismal font
In 1840, Queen Victoria commissioned a silver-gilt font for the baptism of her first child, Princess Victoria, the Princess Royal. The Lily Font, as it is known, is now part of the Royal Collection, under the ownership of the Queen, and has been used at the baptisms of almost all members of the royal family ever since.
39. A national collection of mulberries
The site now occupied by Buckingham Palace was once (partly) a vast mulberry grove planted by James I in the 17th century in a failed attempt to rear his own silkworms. King James might have been unsuccessful, but the palace's connection to these notoriously difficult-to-cultivate fruits lives on: in 2000, the Queen personally requested that the head gardener at Buckingham Palace plant a definitive collection of mulberry bushes—some 29 different species in total—that now comprise the plant's official British National collection.
Not many people can claim to have an autograph from Queen Elizabeth, but you can still get them at Ebay.