Mental Floss's Three-Day Sale Includes Deals on Apple AirPods, Sony Wireless Headphones, and More
During this weekend's three-day sale on the Mental Floss Shop, you'll find deep discounts on products like AirPods, Martha Stewart's bestselling pressure cooker, and more. Check out the best deals below.
1. Apple AirPods Pro; $219
You may not know it by looking at them, but these tiny earbuds by Apple offer HDR sound, 30 hours of noise cancellation, and powerful bass, all through Bluetooth connectivity. These trendy, sleek AirPods will even read your messages and allow you to share your audio with another set of AirPods nearby.
Buy it: The Mental Floss Shop
2. Sony Zx220bt Wireless On-Ear Bluetooth Headphones (Open Box - Like New); $35
For the listener who likes a traditional over-the-ear headphone, this set by Sony will give you all the same hands-free calling, extended battery power, and Bluetooth connectivity as their tiny earbud counterparts. They have a swivel folding design to make stashing them easy, a built-in microphone for voice commands and calls, and quality 1.18-inch dome drivers for dynamic sound quality.
Buy it: The Mental Floss Shop
3. Sony Xb650bt Wireless On-Ear Bluetooth Headphones; $46
This Sony headphone model stands out for its extra bass and the 30 hours of battery life you get with each charge. And in between your favorite tracks, you can take hands-free calls and go seamlessly back into the music.
Buy it: The Mental Floss Shop
4. Martha Stewart 8-quart Stainless-Steel Pressure Cooker; $65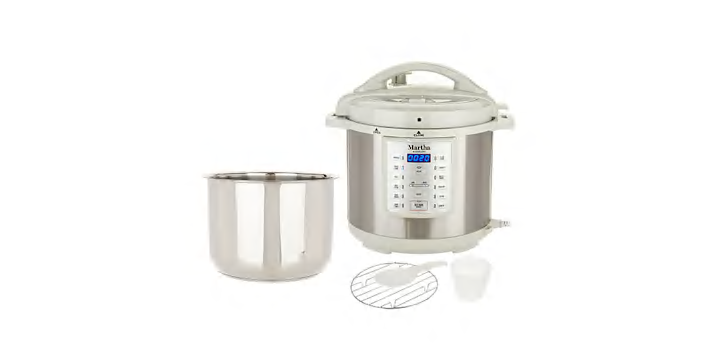 If you're thinking of taking the plunge and buying a new pressure cooker, this 8-quart model from Martha Stewart comes with 14 presets, a wire rack, a spoon, and a rice measuring cup to make delicious dinners using just one appliance.
Buy it: The Mental Floss Shop
5. Jashen V18 350w Cordless Vacuum Cleaner; $180
If you're obsessive about cleanliness, it's time to lose the vacuum cord and opt for this untethered model from JASHEN. Touting a 4.3-star rating from Amazon, the JASHEN cordless vacuum features a brushless motor with strong suction, noise optimization, and a convenient wall mount for charging and storage.
Buy it: The Mental Floss Shop
6. Evachill Ev-500 Personal Air Conditioner; $65
This EvaChill personal air conditioner is an eco-friendly way to cool yourself down in any room of the house. You can set it up at your work desk at home, and in just a few minutes, this portable cooling unit can drop the temperature by 59º. All you need to do is fill the water tank and plug in the USB cord.
Buy it: The Mental Floss Shop
7. Gourmia Gcm7800 Brewdini 5-Cup Cold Brew Coffee Maker; $120
The perfect cup of cold brew can take up to 12 hours to prepare, but this Gourmia Cold Brew Coffee Maker can do the job in just a couple of minutes. It has a strong suction that speeds up brew time while preserving flavor in up to five cups of delicious cold brew at a time.
Buy it: The Mental Floss Shop
8. Townew: The World's First Self-Sealing Trash Can; $90
Never deal with handling gross garbage again when you have this smart bin helping you in the kitchen. With one touch, the Townew will seal the full bag for easy removal. Once you grab the neatly sealed bag, the Townew will load in a new clean one on its own.
Buy it: The Mental Floss Shop
9. Light Smart Solar Powered Parking Sensor (Two-Pack); $155
Parking sensors are amazing, but a lot of cars require a high trim to access them. You can easily upgrade your car—and parking skills—with this solar-powered parking sensor. It will give you audio and visual alerts through your phone for the perfect parking job every time.
Buy it: The Mental Floss Shop
10. Liz: The Smart Self-Cleaning Bottle With UV Sterilization; $46
Reusable water bottles are convenient and eco-friendly, but they're super inconvenient to get inside to clean. This smart water bottle will clean itself with UV sterilization to eliminate 99.9 percent of viruses and bacteria. That's what makes it clean, but the single-tap lid for temperature, hydration reminders, and an anti-leak functionality are what make it smart.
Buy it: The Mental Floss Shop
Sign Up Today: Get exclusive deals, product news, reviews, and more with the Mental Floss Smart Shopping newsletter!
This article contains affiliate links to products selected by our editors. Mental Floss may receive a commission for purchases made through these links. If you haven't received your voucher or have a question about your order, contact the Mental Floss shop here.