It's Lit: Watch Almost 100 Years of Summer Olympic Cauldron Lightings in This Supercut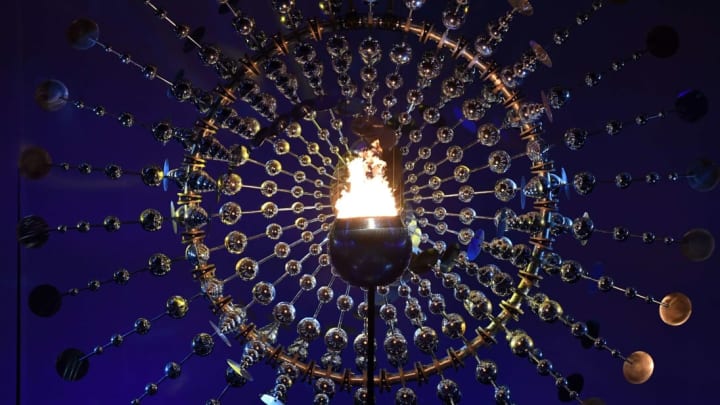 The fiery cauldron at the 2016 Olympic Games in Rio de Janeiro. / Gabriel Bouys/AFP via Getty Images
In 1928, the first modern Olympic flame was lit at the Summer Games in Amsterdam. The ritual, inspired by the flame kept burning during the ancient Olympic Games in Greece, was a hit, and it's been a mainstay at each opening ceremony ever since.
Today's version of the tradition traces its roots back to the 1936 Summer Olympics in Berlin, when the first Olympic Torch Relay was introduced—a problematic beginning, as those Games were overseen by Hitler and largely functioned as a way to spew Nazi propaganda to a global audience.
The flame is always lit in Olympia, Greece, as a nod to the Olympics' origin, and then a series of torchbearers will hand off the flame (which does accidentally get extinguished sometimes) until it reaches the location of the current Games. The last torchbearer then lights the Olympic cauldron at the opening ceremony.
The cauldron lightings, like the opening ceremonies themselves, have gotten progressively more extravagant and impressive over the years. And in the supercut below, you can watch them back to back. The video also includes footage of all the opening ceremonies prior to the first cauldron lighting, but you won't see a flame until you get to 1928. The 1936 ceremony is omitted completely, and other timeline gaps were caused by cancellations.
The final torchbearer responsible for setting the cauldron aflame is often a former or current Olympian from the host country. Muhammad Ali, for example, did the honors in Atlanta in 1996. And while the cauldron lighting is always a highly anticipated part of the proceedings, it doesn't always go according to plan. At the 1988 Seoul Olympics, doves released earlier had settled on the rim of the cauldron, and not all of them escaped when their perch caught fire.
You can watch that and other much less catastrophic cauldron lightings below.