The 20 Best Fall Vacation Destinations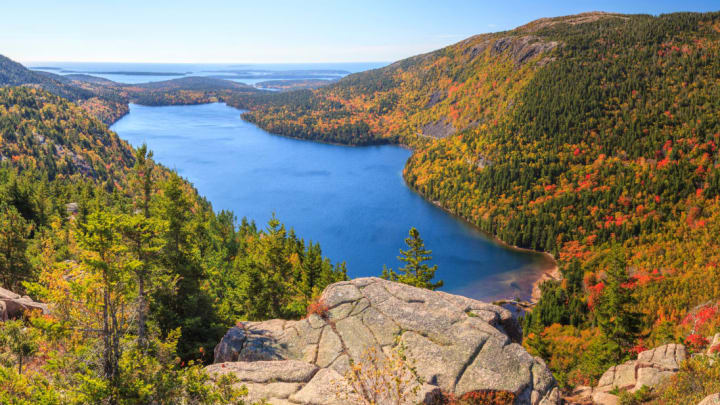 Jordan Pond in Maine's Acadia National Park. / PictureLake/iStock via Getty Images
While proximity to a beach might be the most important factor when planning a summer getaway (for many people, at least), autumn brings different selling points—like vibrant foliage, fewer tourists, and the opportunity to enjoy being outside without sweating buckets.
To help you decide where to go, U.S. News & World Report has released its annual rundown of the best fall vacation spots. Topping the list is Asheville, North Carolina, a city that boasts more than 20 breweries and plenty of scenic views, thanks to both the Blue Ridge Parkway and the Appalachian Trail. When it comes to scenic views alone, however, the runner-up really might have the edge: The Grand Canyon is hard to beat. And if you do choose to visit there this fall, you can probably knock out the third-place finisher during the same trip—Sedona, Arizona, is just about a two-hour drive away.
Grand Canyon National Park isn't the only national park on the list. Great Smoky Mountains National Park took fifth place; Yellowstone National Park came in eighth; and Acadia National Park rounded out the top 10. Though they're prime places to visit during summer, too, mild temperatures and colorful leaves make them especially enjoyable in autumn. If one state could be said to dominate the list, it would have to be California. Four of its spots made the top 20, including Big Sur, San Diego, San Francisco, and Napa Valley.
U.S. News & World Report created the list based partially on editors' scores in a number of categories, from sights, food, and nightlife to value and accessibility. But that's only half the equation; the other half comes from user votes. And if you want to weigh in on next year's rankings, you can—each place has an option to vote yes or no on whether it belongs on the list.
Scroll down to see the top 20, and cast your votes here.
Asheville, North Carolina
Grand Canyon National Park
Sedona, Arizona
Charleston, South Carolina
Great Smoky Mountains National Park
Kauai, Hawaii
Montreal, Québec, Canada
Yellowstone National Park
Telluride, Colorado
Acadia National Park
Jackson Hole, Wyoming
The Big Island, Hawaii
Big Sur, California
Santa Fe, New Mexico
Victoria & Vancouver Island, British Columbia, Canada
San Diego, California
San Francisco, California
Napa Valley, California
Vancouver, British Columbia, Canada
Prince Edward Island, Canada