11 Classic Horror Movie Locations You Can Visit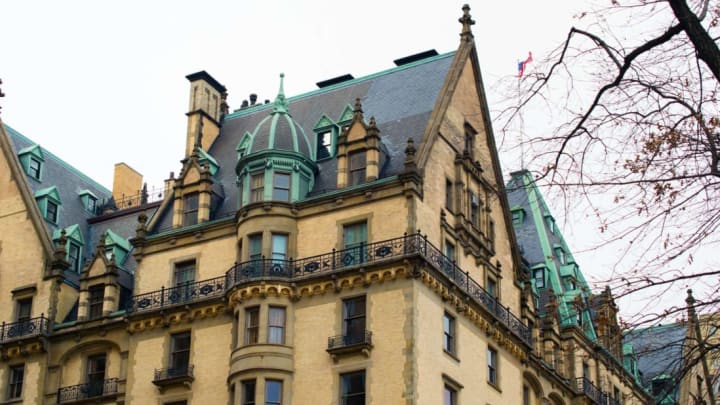 New York City's Dakota building, seen in Rosemary's Baby (1968). / Dmitro2009/iStock via Getty Images
For every movie filmed on a Hollywood studio lot, there are others that shot on location (and plenty more that used some combination of the two). Oftentimes, what was once a dilapidated residence or little-known restaurant becomes a favorite roadside attraction for film enthusiasts. From California caves to Maryland state parks, here are 11 filming sites from classic horror movies that you can visit.
1. Bronson Canyon from Invasion of the Body Snatchers (1956) // Los Angeles, California
If you're headed to Los Angeles's Griffith Park to hike to the Hollywood sign, you might as well add nearby Bronson Canyon (or Bronson Caves, as it's often called) to your itinerary. The mouth of the cave was used as the Bat Cave in the Adam West Batman TV series, and different parts of the quarry have been featured in dozens of other programs dating back to John Wayne's heyday in the 1930s. Its most notable claim to fame in the horror genre comes from 1956's Invasion of the Body Snatchers: Miles and Becky (Kevin McCarthy and Dana Wynter) use it as a hiding place (and Miles suffers an unwelcome surprise).
2. The Potter Schoolhouse from The Birds (1963) // Bodega, California
The school from which students tried (and failed) to outrun the eponymous creatures in Alfred Hitchcock's The Birds (1963) still stands today. It's in Bodega, California, a tiny one-time fishing village that served as the filming site for much of the movie. Since its construction in 1873, the schoolhouse—originally called Potter Schoolhouse—has lived many lives; it's also been a community center, a restaurant, and an inn. Now, it's a private home, so you'll have to gawk from a respectful distance.
3. The Dakota from Rosemary's Baby (1968) // New York City, New York
A lovely place to raise your baby. / stevenallan/iStock via Getty Images
When Ira Levin was jotting down notes for his 1967 novel Rosemary's Baby, he mentioned that Rosemary and Guy Woodhouse would "move into a rambling shambling apartment house like the Dakota or that one on 57th Street" (the latter being a reference to Manhattan's Alwyn Court). Then, when it came time to adapt the story for the screen, filmmakers actually used the Dakota—a Gothic behemoth of a building on the corner of West 72nd Street and Central Park West—for exterior shots of the Woodhouses' building, the fictional Bramford. The luxurious Dakota isn't only famous for its appearance in the film: It has been home to a long list of celebrity residents, from Judy Garland and Lauren Bacall to John Lennon and Yoko Ono. (Lennon's 1980 murder occurred right beyond the front gates.)
4. Evans City Cemetery from Night of the Living Dead (1968) // Evans City, Pennsylvania
As Barbara watches Johnny tussle with a zombie in the opening scene of George Romero's Night of the Living Dead, she's hanging onto the tombstone of one Nicholas Kramer, who lived from 1842 to 1917. Kramer was a real person, and his grave still sits in the Evans City Cemetery, where the scene was filmed. Now, it's a popular roadside attraction for zombie-heads passing through Butler County, Pennsylvania.
5. The "Exorcist Steps" from The Exorcist (1973) // Washington, D.C.
Father Damien Karras's (Jason Miller) fatal fall from possessed tween Regan MacNeil's (Linda Blair) window in The Exorcist birthed a chilling new landmark on Washington, D.C.'s M Street: the "Exorcist steps." They became part of nearby Georgetown University's culture before the scene was even finished filming—students purportedly charged people $5 apiece to watch the shoot from their rooftops. These days, upperclassmen are quick to point out the infamous staircase to new or prospective students, and the sports teams have also been known to run the 75 stone steps as a training exercise.
6. The Gas Station from The Texas ChainSaw Massacre (1974) // Bastrop, Texas
The gas station that spells hope—and then horror—for young Sally Hardesty (Marilyn Burns) in Tobe Hooper's The Texas Chain Saw Massacre (1974) is located in Bastrop, Texas, and called simply "The Gas Station." Still eerie from the outside, the interior is now chock-full of horror movie merchandise and boasts a pretty enticing barbecue menu (to order by phone, the number is 512-321-SAWS). Hardcore fans can even book an overnight stay in one of the nearby rustic cabins, complete with A/C, free Wi-Fi, and a TV—all luxuries Leatherface managed to do without.
7. Oakley Court from The Rocky Horror Picture Show (1975) // Windsor, UK
Long before Oakley Court—which is just a few miles from Windsor Castle—became a luxury hotel, it was a rundown Victorian mansion deemed perfect to serve as Dr. Frank-N-Furter's "Frankenstein place" in 1975's The Rocky Horror Picture Show. It's not the only time the building has appeared on the silver screen, in part because it was right by Bray Studios, where Hammer Film Productions operated for years. You can spot Oakley's Gothic facade in many older horror films, including The Man in Black (1949), The Curse of Frankenstein (1957), Dracula (1958), and The Plague of the Zombies (1966).
8. The Myers House from Halloween (1978) // South Pasadena, California
Michael Myers's childhood home in John Carpenter's Halloween needs no introduction—it's practically its own character in the film. It's also a California historical landmark, though not exactly because it helped usher in a new era of slasher flicks: The house was built in the late 1880s, making it South Pasadena's oldest known residential building. Originally located on Meridian Avenue, the abode was relocated to its current address, 1000 Mission Street, to avoid demolition in 1987. If you can't get to California, there's also a full-scale replica in Hillsborough, North Carolina.
9. Blairstown Diner from Friday the 13th (1980) // Blairstown, New Jersey
Friday the 13th's Crystal Lake Diner is actually Blairstown Diner in Blairstown, New Jersey. Built in 1949, the small-town spot is still going strong today, offering an expansive menu of typical diner fare. You can go for a normal meal—breakfast, lunch, or dinner—on a normal day, or you can time your trip to coincide with any Friday the 13th. On those days, the diner customarily celebrates its cinematic fame with visits from original cast members and a tour of local filming sites.
10. Oak Alley Plantation from Interview With the Vampire (1994) // Vacherie, Louisiana
The site of real-life horrors, too. / Tim Graham/Getty Images
In the 1994 film adaptation of Anne Rice's 1976 novel Interview With the Vampire, the oak-flanked mansion which Brad Pitt's Louis de Pointe du Lac calls home is really Oak Alley Plantation in Vacherie, Louisiana. It can also be seen in Beyoncé's 2006 music video for "Déjà Vu," a 1984 episode of Days of Our Lives, and the 1998 dramedy Primary Colors, among other programs.
The plantation, built in the late 1830s, housed an average of more than 110 enslaved people, many of whom worked in the nearby sugar cane fields. In recent years, the estate has tried to bring this part of its history to the fore by constructing accurate replicas of enslaved people's cabins on the grounds, discussing the experiences of those people during tours, and establishing an online database with records of Oak Alley's enslaved population.
11. Seneca Creek State Park from The Blair Witch Project (1999) // Gaithersburg, Maryland
Maybe save this hike for a sunny summer day. / Donna_Dangle/iStock via Getty Images
The Blair Witch Project—a found-footage movie so scary even Stephen King had trouble finishing it—is set in Black Hills Forest, a made-up location meant to be in Burkittsville, Maryland. The forest's real-life filming site was Seneca Creek State Park in nearby Gaithersburg. The park sometimes hosts guided hikes that highlight key spots from the film, but you're always welcome to explore the woods on your own. (Just make sure you trust whoever is holding the map.)