8 Products Perfect for Organizing and Protecting Your Most Important Documents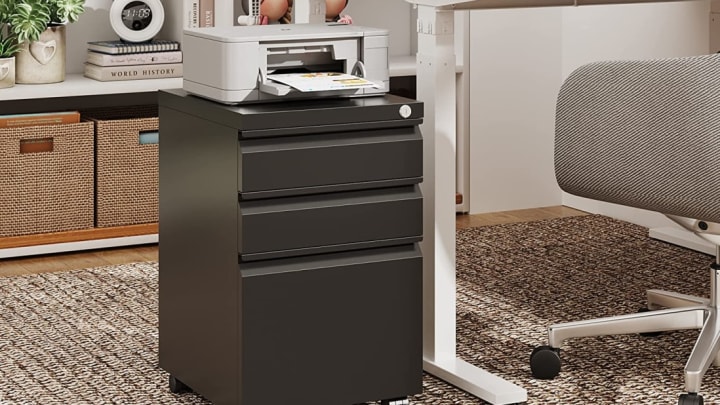 Devaise/Amazon / Devaise/Amazon
This article contains affiliate links to products selected by our editors. Mental Floss may receive a commission for purchases made through these links.
Your personal records and documents like passports and birth certificates contain essential (and perhaps even confidential) information—and that should be all the motivation you need to keep them safe and sound.
To best protect your personal records, you'll need to keep them organized and stowed away. However, it's entirely up to you whether you opt to lock them away, stash them on your desk, or hang them in your office. To help you decide which option is best for you, we've rounded up products that both protect and organize important documents. The best part of all? Each product has at least 1000 reviews and a 4.5-star average rating.
1. SentrySafe 1170 Fireproof Box with Key Lock; $43
SentrySafe/Amazon
This fireproof lockbox has garnered more than 11,500 Amazon reviews and earned itself a 4.6-star rating. It's designed to withstand temperatures up to 1550°F for up to 30 minutes, and it's roomy enough to hold 40 folders. It can easily fit in a closet or under a desk, and is an ideal spot to store tax returns, birth certificates, and important financial documents.
Buy it: Amazon
2. Book Safe with Combination Lock; $14
Ohuhu/Amazon
This mini-safe looks just like a dictionary and is perfect for stashing away things like your Social Security card, documents, and even jewelry. The safe itself uses a three-digit code that you can set up once it gets delivered, and it's made of steel, so it can withstand some jostling around. There's no information on it being fire-resistant, however, so keep that in mind when choosing what to put in there.
Buy it: Amazon
3. The Folio Expanding File Folder; $50
Savor/Amazon
With this expanding file folder, you can fill 10 envelopes with whatever documents you need to keep safe and secure at all times. The envelopes even range in size, so you can keep financial information in larger ones and smaller documents and cards in the others. This is a great option for anyone with limited space who just wants to keep all the essentials in one spot. The whole thing also closes tight with an elastic cord, allowing you to toss it in a closet or safe without worrying that it will fall apart.
Buy it: Amazon
4. KEJIH Document Organizer; $20
KEJIH/Amazon
Whether you're tight on space or you're looking for a travel-friendly option, this zip-up organizer from KEJIH is your best bet. It features a durable oxford cloth exterior and a protective nylon lining. Meanwhile, the slotted design is incredibly convenient for documents of all sizes (including large certificates and small credit cards) and wires. Choose from three colors.
Buy it: Amazon
5. COLCASE Fireproof Document Bag; $17
Colcase/Amazon
While small in size, this 4.7-star-rated fireproof pouch from COLCASE packs a powerful punch. Its double-layer construction features silicone-coated fiberglass that helps protect your belongings from scorching-hot heat (up to 2000°F, to be exact). It's also water-resistant.
Buy it: Amazon
6. ELII Sticky Tabs; $9
ELII/Amazon
Keep your documents neatly stowed away with some help from these ELII sticky tabs, which come in sets of 500. The different-sized labels are ideal for documents and belongings of all sizes, while the colors are great for organizational purposes. Each is waterproof and reusable, as well.
Buy it: Amazon
7. DEVAISE 3 Drawer Mobile File Cabinet with Lock; $160
Devaise/Amazon
Although it's pricey at $160, this file cabinet from DEVAISE is well worth your hard-earned cash. The two smaller drawers up top are great for stationery and notepads, while the large drawer underneath can be filled with important paperwork. In total, the three drawers are spacious enough to hold up to 330 pounds of files and letters, so you can finally declutter your workspace once and for all. There's also a lock and key that can help keep unwanted hands off your documents. And the best part? It comes fully assembled.
Buy it: Amazon
8. Amazon Basics Shredder; $34
Amazon Basics
Ensure your old documents stay out of the wrong hands by shredding them with this fan-favorite Amazon Basics shredder, which has amassed whopping 144,000-plus reviews (including nearly 113,000 five-star ratings!). It's powerful enough to shred paper and credit cards, and it comes equipped with an automatic shut-off feature, which helps prevent overheating. Choose from six, eight-, 12-, 15-, and 24-sheet capacities.
Buy it: Amazon
Sign Up Today: Get exclusive deals, product news, reviews, and more with the Mental Floss Smart Shopping newsletter!