12 Smart Products That Will Help Organize Your Life
For some people, getting—and staying—organized is nearly impossible to do without a little help. (We're talking from experience here.) To help you store your pots and pans without a fuss and keep your toiletries from taking over your bathroom, we've scoured the internet for products that are designed to make staying organized that much easier.
1. Revolving Spice Rack, $37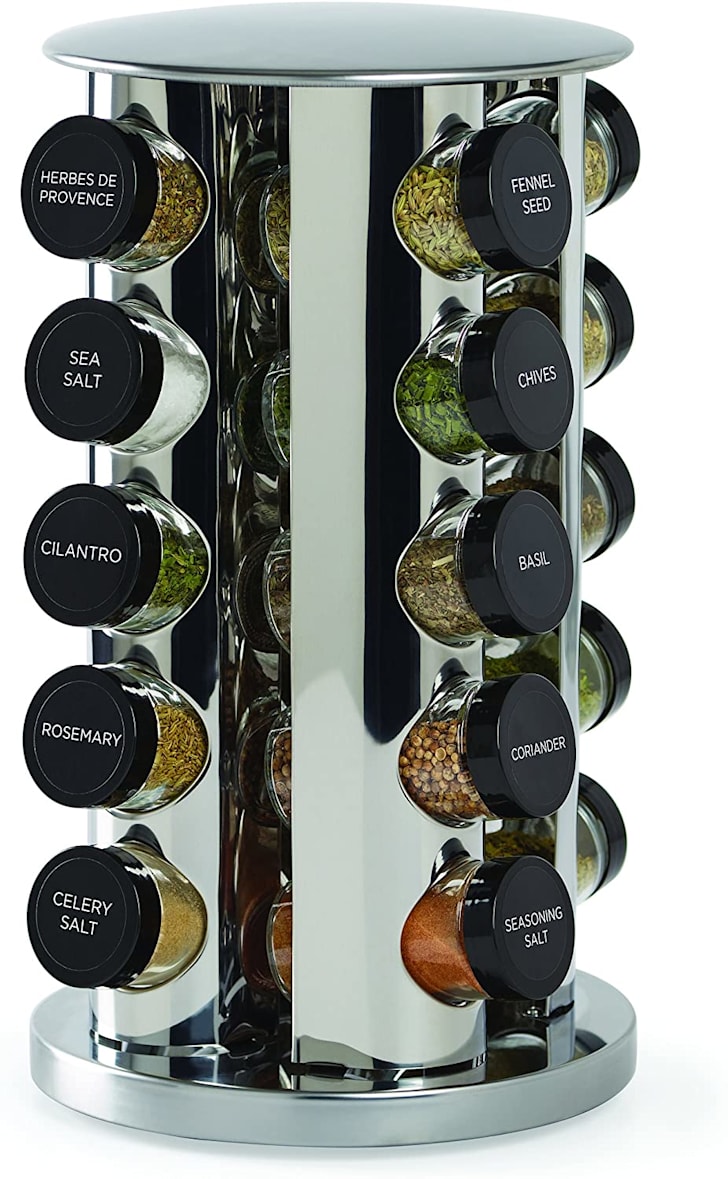 This 20-jar revolving spice rack from Kamenstein will keep all of your favorite spices organized, labeled, and, most importantly, within easy access for your culinary endeavors. Even better? It comes with all 20 spices, including rosemary, basil, and pretty anything else you can imagine. (Pizza seasoning? Yes, please.) Bonus: Customers are eligible to receive free spice refills for five years after the initial purchase. That's a lot of garlic salt.
Buy it: Amazon
2. Bar Serving Cart; $110
This rolling bar cart (which can hold up to four wine bottles and six stemmed glasses) is the ideal space-saving solution for any oenophile. The different levels can be used for snacks, wine buckets, and liquor bottles, while the top shelf can be removed and used as a food tray. Plus, its wood metal appearance means it will fit in with plenty of different decor in your home. Since it's on wheels, you can easily move the cart around your home without worrying about it scratching the floor.
Buy it: Amazon
3. 4-Piece Acrylic Canister Set, $20
Keep your cookies, candies, sweet treats, and other kitchen staples organized with these simple acrylic canisters, which come in packs of four or five. Each comes with an air-tight lid that helps keep your food fresh for longer (read: no more stale cookies). You can opt to store them right on your countertop, or stow them away in your pantry. And before you refill the canisters with a different food, you can throw them in the dishwasher for a quick clean first.
Buy it: Amazon
4. No-Drill Shower Caddy; $17
This easy-to-install, drill-free shower shelf keeps your toiletries and other bathroom essentials organized while your shower remains free of clutter. Plus, its durable hand-polished aluminum frame is scratch-resistant and designed to protect against wear and tear. You can also use the two attached hangers to store your loofah, body brush, or towel. All you have to do is wait 24 hours to use it upon installation, and voila!
Buy it: Amazon
5. Rotating Makeup Organizer; $20
Calling all beauty mavens: You need this 360-degree rotating cosmetics organizer—which can hold everything from eyeshadow to your beloved skincare products—in your life. Not only is it washable, durable, and eco-friendly, but you can also easily adjust its height to fit different sized bottles (think perfume, foundations, serums, and more). And, according to the company, it takes no more than one minute to assemble.
Buy it: Amazon
6. Bathroom Storage Corner Floor Cabinet; $36
This space-saving bathroom storage cabinet from AOJEZOR is compact enough to fit in even the tiniest of corners or crevices. Use the top area to hold a cellphone or display a houseplant, while the shelves are ideal for excess toiletries, toilet paper, hand towels, or tissues.
Buy it: Amazon
7. Desktop Organizer Storage Rack; $26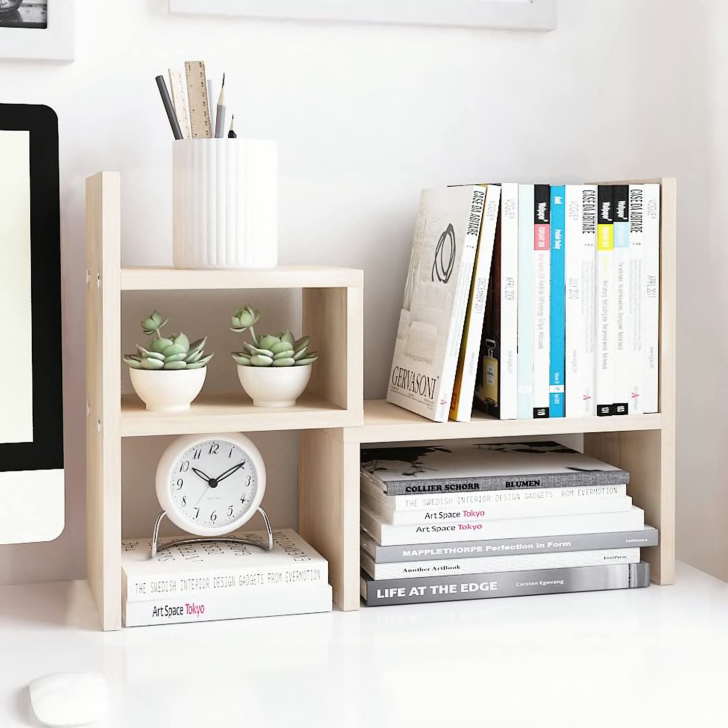 This handy adjustable desktop organizer (which also serves as a storage shelf) comes in four colors: black, white, natural wood, and white wood—making it the perfect addition to any home office. The product itself is made up of two main parts, which can be rotated to best suit your organizational needs and maximize storage space. Plus, its sturdy yet lightweight build makes it easy to move, transport, and carry.
Buy it: Amazon
8. Portable 7-Tier, Free-Standing Shoe Organizer; $28
Shoe organizers aren't just for college students living in dorms. This portable and adjustable model from UDEAR is lightweight, durable, and easy to assemble—meaning you won't have to hire a handyman or waste hours of your free time putting it together. It can also hold up to 27 pairs of shoes (think boots, sneakers, stilettos, and everything in between), and when it's time for spring cleaning, simply wipe it with a damp cloth.
Buy it: Amazon
9. K-Cup Carousel; $20
Keep your beloved K-Cups within arm's reach—and display them for all to see—with this rotating carousel, which holds up to 35 K-Cups. Besides, this all-steel model from Nifty is a lot more stylish than those bulky boxes that take up precious counter and shelf space.
Buy it: Amazon
10. 36-Peg Mug Rack; $58
Keep your coffee cup collection on display with a handy mug organizer. This one from BirdRock Home holds up to 36 mugs and adds a whimsical (and personal) touch to any kitchen. Plus, it frees up a ton of shelf space, which you can then use to store more of your favorite snacks.
Buy it: Amazon
11. Double Layer Jewelry Organizer; $16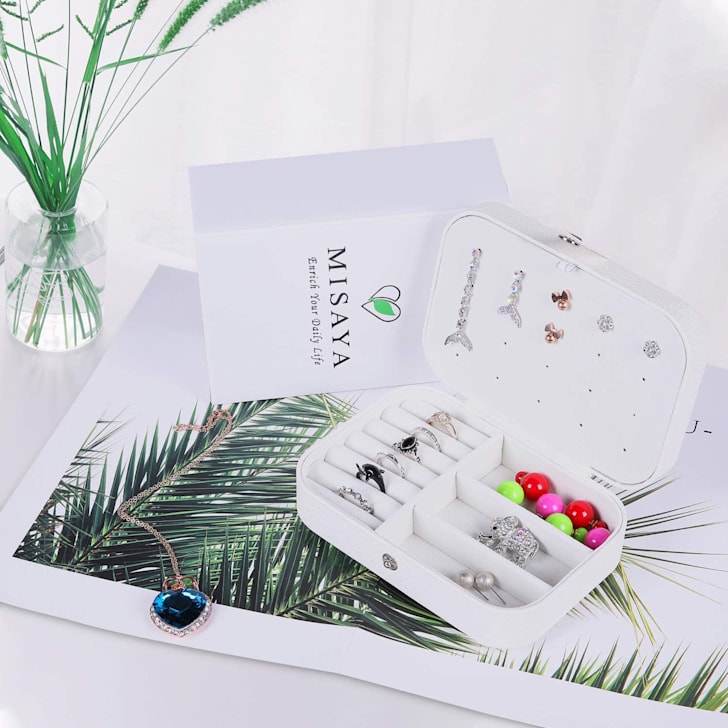 Keep your baubles organized and stowed away with this portable jewelry organizer from Misaya Jewelry. Its compact size is easy enough to store in a drawer, a suitcase, or a vanity. Besides holding necklaces, bracelets, and rings, it can also accommodate up to 10 pairs of earrings. Its soft, anti-abrasive velvet lining will prevent your jewelry from scratching, tarnishing, or other wear and tear. Choose from seven different hues.
Buy it: Amazon
12. Adjustable Pan and Pot Holder; $16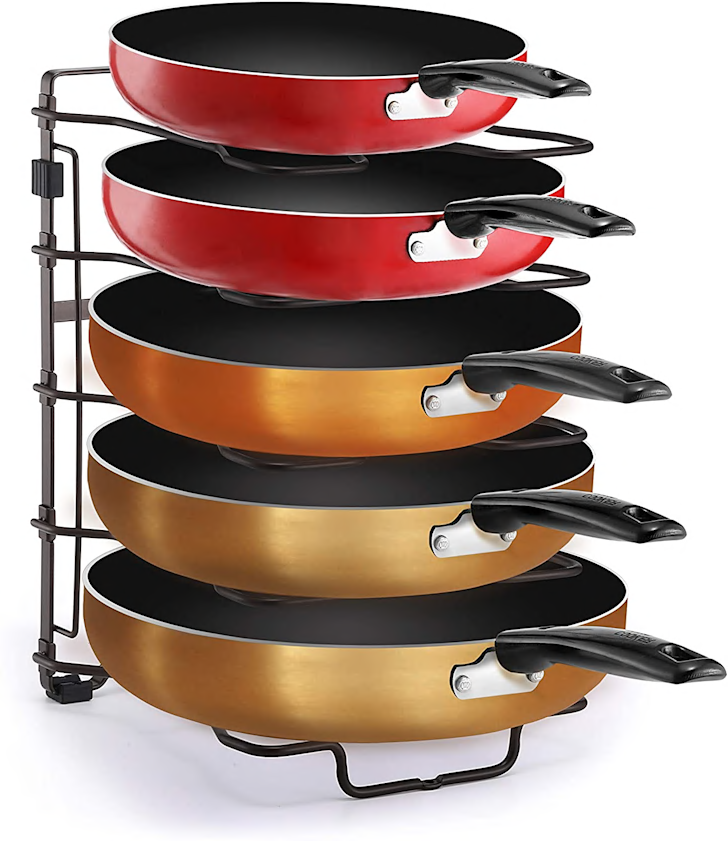 Chances are, you're guilty of shoving all of your pots and pans so tightly together that you're unable to even shut your cabinet door. (Oops.) Thankfully, this functional pot and pan rack from Simple Trending—which can hold up to five pots/pans and lids—eliminates unnecessary clutter. Its non-stick coating protects your pans and pots from scratching or sliding on each other.
Buy it: Amazon
Sign Up Today: Get exclusive deals, product news, reviews, and more with the Mental Floss Smart Shopping newsletter!