The American Christmas Tree Association Is Warning of a Christmas Tree Shortage in 2021—So Plan Ahead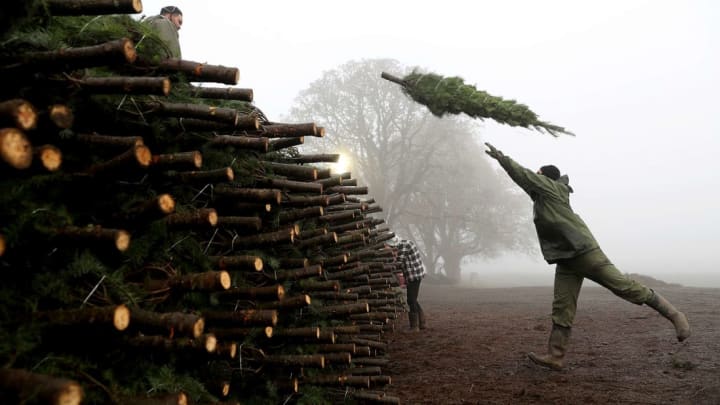 Christmas tree harvesters hard at work at Oregon's Holiday Tree Farms in November 2017. / Justin Sullivan/Getty Images
In the thick of last summer, when endless sunlight hours and lazy beach days made it difficult to imagine the onset of pumpkin spice season—let alone actual winter—Christmas tree farmers were hard at work tending to the evergreens that would land in your living room come December.
But it wasn't going well, largely due to climate change. Wildfires, drought, and heat waves rocked the Pacific Northwest, which devastated some of the region's Christmas tree farms. "The second day of the heat, it was 116[°F]. I came in the driveway that night and seen the trees were basically cooking. Burnt down to nothing," Jacob Hemphill, owner of Hemphill Tree Farm in Oregon City, Oregon, told Reuters in July. Most of his losses were seedlings, but some mature trees got knocked out, too. That same month, the U.S. Department of Agriculture released a report [PDF] showing that Christmas tree acreage in Oregon—which generates more Christmas trees than any other state—decreased by 24 percent between 2015 and 2020.
For Elizabeth Werkmeister Shafer, owner of Werkmeister Christmas Tree Farm in Shepherdsville, Kentucky, one of the main setbacks this season was pests. She predicted that these widespread agricultural complications coupled with already high demand will create a shortage—and an early one. "If you don't have a tree by Thanksgiving weekend, it'll be hard to find a fresh-cut tree," she told WHAS11.
Unfortunately, it may be harder than usual to find an artificial one this year, too. Supply chain disruptions have made countless everyday products scarce, from cars and toilet paper to ketchup packets. Artificial Christmas trees haven't escaped unscathed.
If you're waiting for some national Christmas tree organization to weigh in on the matter before you make your tree purchasing plans, the American Christmas Tree Association already has.
"The supply of real Christmas trees will be impacted by the extreme weather conditions—fires, drought, heat—that hammered growers this season. Artificial tree supplies are being impacted by the serious supply chain issues that are plaguing just about every product that is imported into the U.S.," it told WHAS11.
In short, whether you're planning to buy a fake fir or the real McCoy, you should probably do it much earlier than you typically would.
[h/t WHAS11]