25 Things You Should Know About Atlanta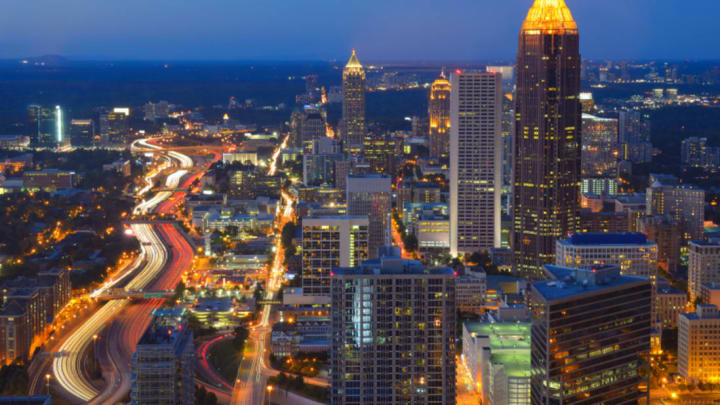 iStock / iStock
Think you know everything about the City in a Forest?
1. Atlanta was originally named Terminus and Marthasville (the latter for Governor Wilson Lumpkin's daughter.)
2. The city got its current name from railroad engineer J. Edgar Thompson. It's thought to be a shortened version of "Atlantica-Pacifica."
3. Your GPS might be confused if you punch in "Peachtree" as your destination. There are over 55 streets with the name.
iStock
4.
And it's possible none of them are named for an actual peach tree. Historians suggest they're named after the Native American village of "Standing Pitch Tree." The pronunciation corrupted over the years.
5. If you do stop to ask for directions, you may be pointed to a location "ITP" or "OTP." Those acronyms stand for "Inside" and "Outside the Perimeter," referring to Interstate 265, the 60 miles of highway that separates the city proper from the larger metropolitan area.
6. Atlanta is one of just a few cities in North America destroyed as an act of war. General Sherman burnt it to the ground.
7. Only 400 buildings survived. That's why the city's symbol is a phoenix.
Wikimedia Commons // Public Domain
8.
Lots of airports claim to be the world's busiest. But Hartsfield-Jackson Atlanta International Airport truly is the world's busiest airport.
9. Why? Because Atlanta is a perfect location. It's just a three hour flight from many major American cities.
9. The terminal is as big as 45 football fields.
10. Atlanta is Georgia's fifth capital. Savannah, Augusta, Louisville, and Milledgeville boasted the title earlier.
11. The Georgia State Capitol building is gilded with 43 ounces of locally-mined gold.
The Georgia State Capitol Building, via iStock
12.
The Continental Divide out west gets all the love, but Atlanta is home to the Eastern Continental Divide, which separates water draining into the Gulf of Mexico and the Atlantic.
13. One of the largest Hindu temples outside of India is located in the Atlanta metro area.
14. It was once illegal to put an ice cream cone in your back pocket in Atlanta.
15. Atlanta also outlawed tying a giraffe to a telephone pole.
16. Want to ride your bike to Alabama? The Silver Comet Trail starting in Smyrna will get you there.
17. In 1996, Terry Hitchcock ran from Minneapolis to Atlanta in just 75 days. He covered over 2100 miles!
18. Speaking of running, Atlanta is host to the largest 10K footrace in the world, the Peachtree Road Race. It's hosted by the Atlanta Track Club, and draws around 60,000 participants each year.
Wikimedia Commons // CC BY-SA 2.5
19.
After they cross the finish line, runners can refuel at the world's largest drive-in, The Varsity. The iconic Atlanta eatery can host 600 cars outside, and 800 diners inside.
20. Atlanta had some tough competition when it nabbed the 1996 Olympics hosting duty. The city beat out Athens, Toronto, Melbourne, Manchester, and Belgrade for the spot.
21. The fastest baseball game in history happened in Atlanta, when the Mobile Sea Gulls beat the Atlanta Crackers 2-1 in just 32 minutes.
22. Atlanta also played host to the greatest rout in football history—a 1916 contest in which Georgia Tech blew out tiny Cumberland College 222-0.
23. When pro football moved to Atlanta, the owners considered over 500 names. A schoolteacher came up with the Falcons nickname, a bird she endorsed because it was "proud and dignified, with great courage and fight."
iStock
24.
 Why did Atlanta resident Margaret Mitchell write Gone with the Wind? Because an ankle injury kept her from walking and she was really, really bored.