Succession's "Summer Palace" in the Hamptons Just Sold for $105 Million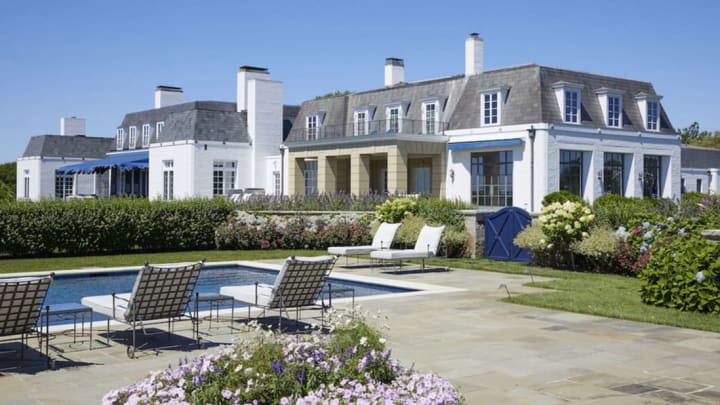 You can practically smell the sibling rivalry. / Bespoke Real Estate
For some people, the 42-acre Hamptons estate established for Henry Ford's grandson, Henry Ford II, in the 1960s is known as Jule Pond—named after one of its abutting ponds. But for fans of HBO's Succession, it's the Roy family's "Summer Palace," a place forever associated with the stench of rotting raccoons, the image of a decadent seafood feast dumped in the trash, and a billion-dollar (or more) question: Who will get a kiss from Daddy?
In Succession's season 2 premiere, titled "The Summer Palace" and partly filmed on the property, the answer was probably Siobhan Roy. But that didn't last long, nor did the palace's stint as a setting for the show.
Sarah Snook and Brian Cox in the season 2 premiere of Succession. / Peter Kramer/HBO
Now, as TopTenRealEstateDeals.com reports, it's passed into new ownership (in real life) to the tune of $105 million. Though far below its 2017 asking price of $175 million, the figure still dwarfs that of another Succession home that recently made real estate headlines: Rava Roy's Tribeca apartment, currently on the market for $23 million.
The Roys' Southampton mansion may not be able to rival Rava's sky-high views of Manhattan, but it does come with almost a quarter mile of private beach along the Atlantic Ocean, as well as access to three ponds and a bay. It also boasts 12 bedrooms, 12 bathrooms, a 48-foot living room, a 60-foot swimming pool, a spa, two full kitchens (indoor and outdoor), a tennis court, a basketball court, and a three-bedroom carriage house—not to mention an office ideal for summoning your children, one by one, and making hush-hush deals regarding the future of your media conglomerate.