The World's 10 Best Beaches, According to Tripadvisor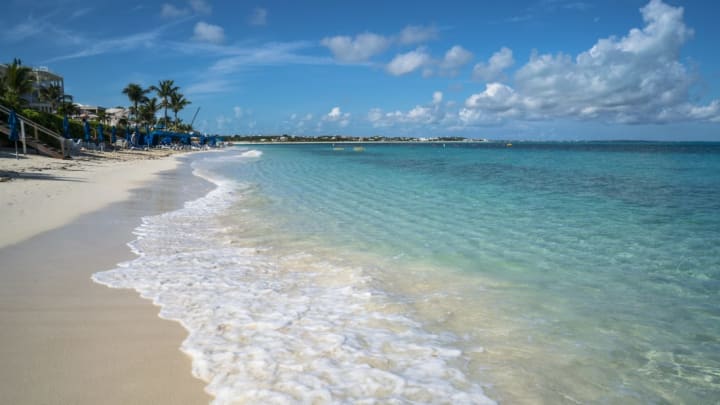 Grace Bay Beach in Turks and Caicos. / nadiasphoto/iStock via Getty Images
Temperatures are still chilly throughout much of the Northern Hemisphere, but warmer weather is coming up. If you're already dreaming of your first summer getaway of the year, this list of the best beach destinations around the world may give you some inspiration.
Tripadvisor recently announced the winners of its annual Travelers' Choice Awards for 2022. The online travel platform looked at popular vacation spots in a number of categories, including beaches across the globe. Based on the quantity and quality of user reviews, a handful of seaside spots stand above the rest.
Grace Bay Beach in Turks and Caicos comes in at No.1 on Tripadvisor's list of the world's best beaches. It boasts more than 7200 reviews, 90 percent of which give the destination a five out of five rating. Pristine white sand and clear blue waters make this location one of the most beloved beaches in the Caribbean.
Next on the list is Varadero Beach in Varadero, Cuba. Australia's Turquoise Bay and Brazil's Quarta Praia are the two most popular beaches outside the Caribbean, claiming the third and fourth sports, respectively. There are no American states in the top 10, but Trunk Bay Beach in the U.S. Virgin Islands ranks eighth on the list.
You can view the full list of the best beaches according to Tripadvisor users below. Don't forget to pack these essential summer products on your next beach trip.
Grace Bay Beach // Grace Bay, Turks and Caicos
Varadero Beach // Varadero, Cuba
Turquoise Bay // Exmouth, Australia
Quarta Praia // Morro de Sao Paulo, Brazil
Eagle Beach // Oranjestad, Aruba
Radhanagar Beach // Havelock Island, India
Baia do Sancho // Fernando de Noronha, Brazil
Trunk Bay Beach // Virgin Islands National Park, U.S. Virgin Islands
Baia dos Golfinhos // Praia da Pipa, Brazil
Spiaggia dei Conigli // Lampedusa, Italy