17 Quotes From Betty White That Will Make You Love Her Even More
At 95, Betty White is busier, sassier, spunkier, and better than ever. The beloved actress and comedian has appeared on The Mary Tyler Moore Show, The Golden Girls, Hot In Cleveland, and on countless talk shows during her incredible 60-some years on television. Known for using language to masterful (and often surprising) effect, it's only right that we pay proper tribute to some of her best wise words and one-liners.
1. ON THE ART OF A DIRTY JOKE.
"Well, I mean, if a joke or humor is bawdy, it's got to be funny enough to warrant it. You can't just have it bawdy or dirty just for the sake of being that—it's got to be funny."
—From a 2012 interview with The Huffington Post
2. ON HER REGRETS.
"I have no regrets at all. None. I consider myself to be the luckiest old broad on two feet."
—From a 2013 interview with Guinness World Records
3. ON WHETHER SHE'S EVER MADE SOMEONE ANGRY. (SEEMS IMPOSSIBLE, RIGHT?)
"I have two ex-husbands."
—From a 2012 interview with Momtastic
4. ON LIKING OLDER MEN.
"I've always liked older men. They're just more attractive to me. Of course, at my age there aren't that many left!"
—From a 2010 interview with Parade Magazine
5. ON HER CULINARY SKILLS.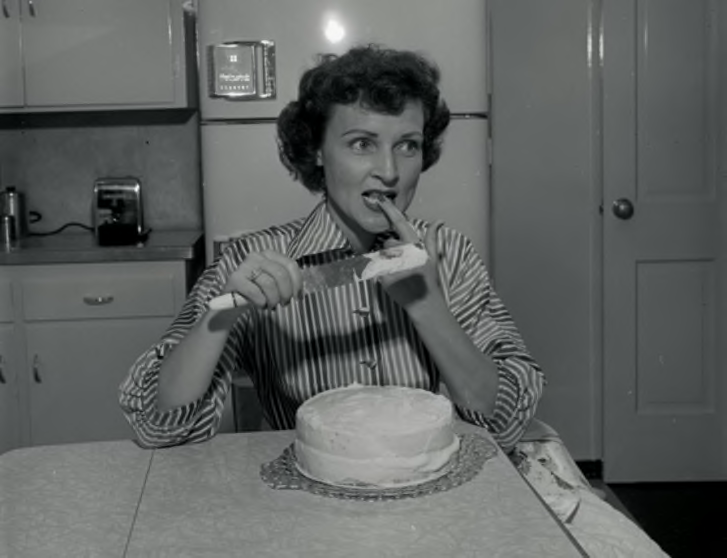 "I'm not a big cook. I only go in the kitchen to feed my dog."
—From a 2014 column in Bon Appetit
6. ON HER COLLEAGUES.
"I am still to this day star struck. I look out at this audience and I see so many famous faces, but what really boggles my mind is that I actually know many of you. And I've worked with quite a few … maybe had a couple … and you know who you are."
—From her 2009 Screen Actors Guild Lifetime Achievement Award acceptance speech
7. ON HANDLING GRIEF.
"There's no formula. Keep busy with your work and your life. You can't become a professional mourner. It doesn't help you or others. Keep the person in your heart all the time. Replay the good times. Be grateful for the years you had."
—From a 2011 interview with Time Goes By
8. ON STARRING IN A SUPER BOWL COMMERCIAL FOR SNICKERS.
"Well I love Snickers and I thought, sure that'd be fun, why not? So I got over there early one morning and didn't know I was going to be in the … ice cold muddy water, but all I had to do was just lie down in it. This poor stunt woman took the dive, she went in. And it was a great stunt that she did, and I got the laugh. Now, really, that's unfair when that happens. She's probably sticking pins in a little Betty White doll."
—From a 2010 interview with Ellen DeGeneres
9. ON HER ACCOMPLISHMENTS OUTSIDE OF SHOW BUSINESS.
Happy #NationalPuppyDay! Today is all about celebrating puppies and encouraging adoption. pic.twitter.com/D27j889PUO

— Betty White (@BettyMWhite) March 23, 2015
"I've worked with the Morris Animal Foundation for over 50 years, I've worked with the Los Angeles Zoo for over 50 years. The Morris Animal Foundation is an animal health organization, and we fund humane studies into specific health problems—dogs, cats, horses and zoo and wildlife. And at one point, I said nobody was addressing pain in animals … I said, okay, I'll start it. And so, bless their hearts, they sent out these brochures about anybody wanting to research that and study it. And now, there's not a scientific study that Morris Animal Foundation funds—and they fund hundreds—that doesn't have pain medication built into the research. And I think I'm happiest about that."
—From a 2012 interview with Momtastic
10. ON HOW IT FEELS TO BE CALLED "LEGENDARY."
"I just laugh. Have I got them fooled."
—From a 2010 interview on CNN with Joy Behar
11. ON HOW SHE STAYS HEALTHY.
"I'm a health nut. My favorite food is hot dogs with French fries. And my exercise: I have a two-story house and a very bad memory, so I'm up and down those stairs."
—From a 2012 interview with The New York Times.
12. ON THE VIRAL FACEBOOK PETITION THAT GOT HER TO HOST SNL.
"Well I didn't know what Facebook was, that's how dumb I was. And I had turned [hosting SNL] down about three times years and years ago, because I was so afraid it was so New York and I'm so west coast, I thought it'd be like a fish out of water. Which I probably was, but I was too dumb to know it!"
—From a 2010 interview on The View
13. ON CHIVALRY.
"If you're walking with your lady on the sidewalk, I still like to see a man walking street-side, to protect the lady from traffic. I grew up with that, and I hate to see something like that get lost. I still like to see that a man opens the door. I like those touches of chivalry that are fast disappearing. If I sound old-fashioned, it's because I'm as old as I am! But it's just polite."
—From a 2011 Q&A with The Chicago Tribune
14. ON HARRY HOUDINI.
"I not only knew Houdini, but we had a very lovely relationship … I really thought we had something going, and then the son of a gun disappeared."
—Joking in a 2014 interview with Craig Ferguson (Note: She was 4 years old when Houdini died in 1926.)
15. ON PLASTIC SURGERY IN HOLLYWOOD.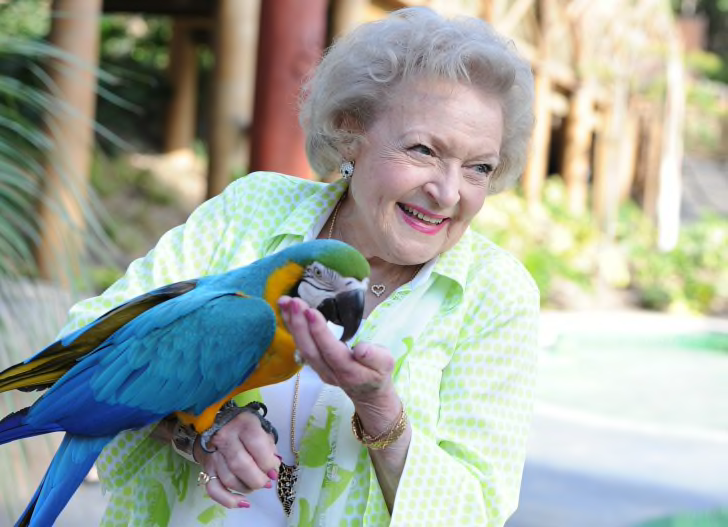 "Gravity has taken over. So there's not much I can do about it … My problem with [plastic surgery] is you'll go to a women's press conference or something like that, and old friends will come up and I kind of don't recognize them. I recognize the voice, but I don't—all of a sudden, there's this whole new face that I don't know who that is."
—From a 2010 interview on CNN with Joy Behar
16. ON HER GOLDEN GIRLS CO-STAR BEA ARTHUR.
"Bea and I are the two almost reclusive, unsocial types … And Bea is very shy. I'm shy, but you'd never know it, and with Bea, she seems so strong, and she's a bowl of Jell-O come show night."
—From a 1986 interview with Barbara Walters
17. ON HER CAREER LONGEVITY.
"I had no idea that I would still be around at this point for one thing, but that I'd still be privileged enough to still be in this business. And it is such a privilege. And the bottom line I think to the television business is that unless you're a real bad egg, it is such fun. It really is. Thank you, thank you from the bottom of my heart."
—From her 2015 Lifetime Achievement Award acceptance speech at the Emmy Awards