15 Very Nice Facts About Borat
There was a lot of controversy and confusion surrounding the 2006 film Borat: Cultural Learnings of America for Make Benefit Glorious Nation of Kazakhstan. Sacha Baron Cohen played the sexist, anti-Semitic Kazakh journalist Borat Sagdiyev, who traveled throughout the United States testing the patience of unsuspecting Americans from New York City to Los Angeles. With the movie's sequel, Borat Subsequent Moviefilm: Delivery of Prodigious Bribe to American Regime for Make Benefit Once Glorious Nation of Kazakhstan, getting ready to drop on Amazon's Prime Video on October 23rd, here are some facts about the ultimate cringe comedy.
1. Sacha Baron Cohen's inspiration for Borat came from a Jewish doctor.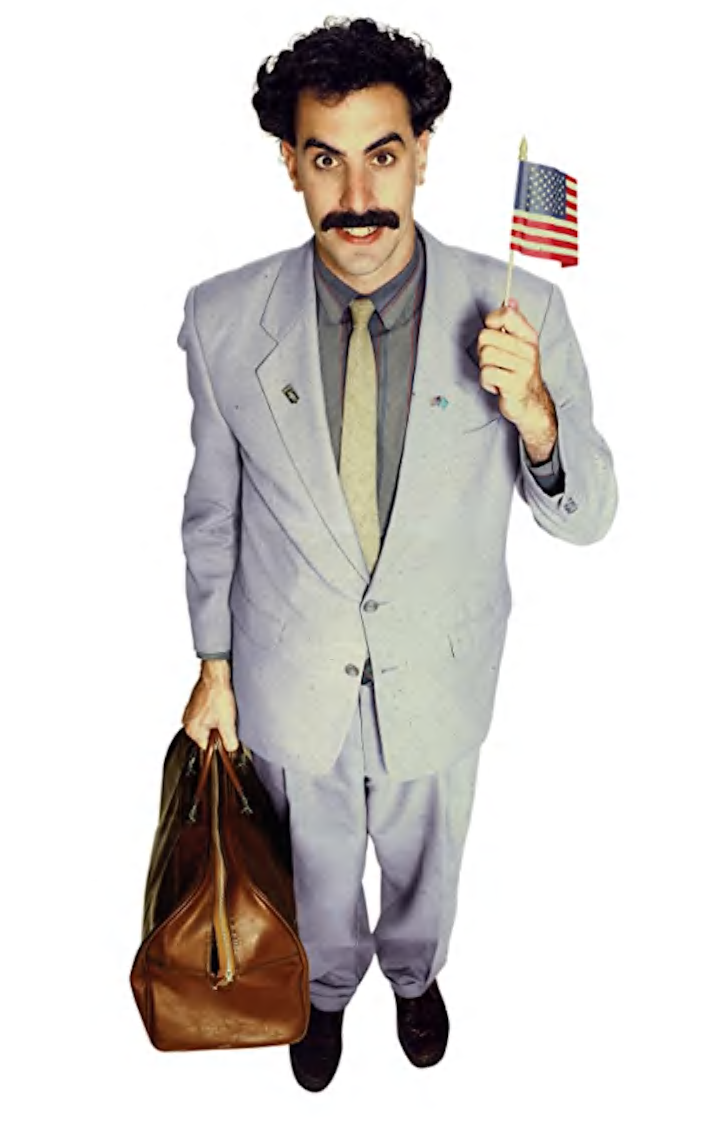 While vacationing in Astrakhan in southern Russia, Sacha Baron Cohen met a doctor who he thought was hilarious, and was similar to what Borat would become—minus the racism, misogyny, and/or anti-Semitism. Initially, the comedic actor turned that doctor into a character named Alexi Krickler, a reporter from Moldova who had trouble understanding British culture. Cohen got his first big television gig by showing producers of the British late night satirical program The 11 O'Clock Show footage of Krickler at a pro fox-hunting rally. From there he developed his characters Ali G, Borat, and Brüno, who all appeared on Da Ali G Show. Once England became too familiar with his characters, Baron Cohen was forced to move them to America.
2. Seth Rogen and Patton Oswalt were uncredited writers on Borat.
Baron Cohen, Anthony Hines, Peter Baynham, and Dan Mazer were the credited screenwriters on Borat, while Seth Rogen and Patton Oswalt worked on the script in an uncredited capacity. Originally in 20th Century Fox's official production notes, it was claimed that the movie wasn't scripted at all; Baron Cohen later said 80 percent of Borat featured scenes they "set out to accomplish." The writers took the time to guess the different ways the real people in the film would respond to Borat's questions, and some reactions changed the story. A 60-page outline was written, but the studio was only given a five-page outline. The writers were nominated for an Oscar for Best Adapted Screenplay.
3. A fake film company was set up to represent Borat, and even had its own website.
A representative from One America Productions contacted people to say a foreign correspondent was making a film about American life. One America even had its own website. On the day of the interviews, a release form would suddenly be produced, as well as financial compensation. Whenever a person or group like the Veteran Feminists of America would kick Borat out of a venue, one of the producers would politely ask them to give him another chance because he was from another country and did not know any better.
4. Borat featured only five actors—including Sacha Baron Cohen.
Ken Davitian got the part of Azamat by deceiving Baron Cohen and director Larry Charles in his audition, where he pretended to be an immigrant who didn't speak English. Luenell Campbell is a comedian and actress who had appeared in So I Married an Axe Murderer (1993) and It's Always Sunny in Philadelphia. Borat's son was played by Adrian Cortez, a.k.a. Stonie, a 25-year-old porn star. The fourth actor, Pamela Anderson, was also in on the joke.
5. Sacha Baron Cohen was nearly killed because of Borat's rodeo appearance.
Once Baron Cohen angered the crowd at Virginia's Salem Civic Center, he and his crew got out of there quickly. An attendee said she thought he would have been shot if he stayed just one minute longer. The rodeo's producer confirmed the crowd was very angry, and was quoted as saying there would have been a riot, and that the crew would have gotten killed had they not left when they did. The producer allowed Borat to perform in the first place because he was fooled by the fake production company and journalist story, and because he had not listened to the demo CD he asked them for to hear Borat's voice in order to sing the national anthem ... which was blank.
6. Todd Phillips was Borat's original director, but he quit after the rodeo incident.
Todd Phillips, director of Old School, The Hangover, and The Joker, received death threats, which scared him off the project. Officially though, Phillips left due to "creative differences."
7. Borat's Kazakhstan scenes were shot in Glod, Romania.
The village's 1000 residents were told they were being filmed for a documentary about their hardships. Once the townspeople, such as the one-armed man who was told the rubber sex toy he was given was a prosthetic, discovered the truth, they filed a lawsuit.
8. The real Kazakhstan was also upset about Borat.
The Foreign Ministry of Kazakhstan placed a four-page insert in The New York Times speaking of its positive attributes to combat the perceived negative publicity the Borat character was giving their country. When the president of Kazakhstan visited the White House a little over one month before Borat was released in theaters, Baron Cohen—in character as Borat—held a press conference in front of the Kazakh embassy refuting The New York Times insert and claiming the president was in the U.S. to promote Borat.
9. Sacha Baron Cohen spent the entire day in character while filming Borat.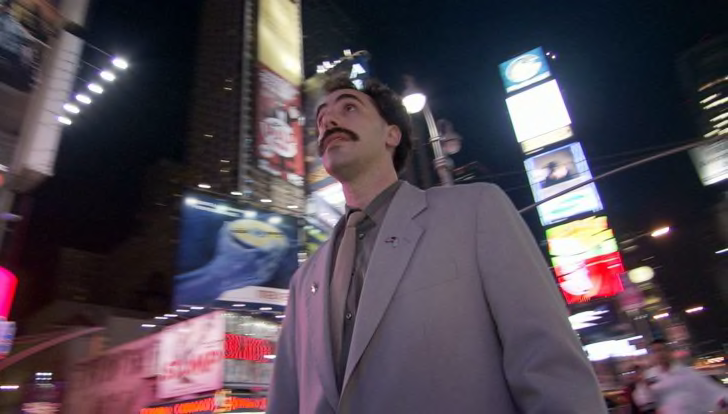 He even stayed in character as Borat when he was at one point being questioned by the Secret Service.
10. A warrant was issued for Sacha Baron Cohen's arrest in New York.
He was advised to leave the state after attempting to secure a hotel room with his underwear over his pants. Two crew members were arrested for taking a phone, an alarm clock, and a comforter from a hotel (intending to return them later) and spent a night in a New York jail. A lawyer was kept on retainer throughout filming.
11. The bed and breakfast Borat stayed in was actually in Newton, Massachusetts.
The producers asked Mariam and Joseph Behar to bring food to Borat's room, even though the B&B didn't provide that service. The Behars later called Baron Cohen's performance "genius."
12. The Mississippi news producer who accidentally booked Borat was fired.
WAPT-TV let Dharma Arthur go early from her contract as a result of the incident. Arthur wrote a letter to Newsweek saying it took her three months to find a new job and that she was in debt. She said Baron Cohen being hailed as a comedic genius was "upsetting" to her.
13. The humor teacher figured out it was all a gag halfway through his session with Borat.
Pat Haggerty continued his lesson anyway, because he had been compensated beforehand, and figured it could help his career.
14. Two of the South Carolina fraternity brothers featured in Borat sued.
The third University of South Carolina Chi Psi brother, David Corcoran, said the producers paid for himself and his two frat brothers to drink at a bar before having them pick Borat up in an RV. The two college students who sued claimed they were told the movie wouldn't appear in the United States and that they suffered from "humiliation, mental anguish, and emotional and physical distress, loss of reputation, goodwill and standing in the community." One of the two unidentified students left the university. The lawsuit was eventually thrown out.
15. The "Kazakh" language spoken by Borat was a mixture of Hebrew and Israeli slang.
Because of this, the movie was a huge hit in Israel. Baron Cohen told NPR he is proud of his Jewish identity, but doesn't call himself religious. Already, it's clear that the sequel will bring back some of Borat's most famous catchphrases. Very nice!
This story has been updated for 2020.