10 Intricate Adult Coloring Books to Help You De-Stress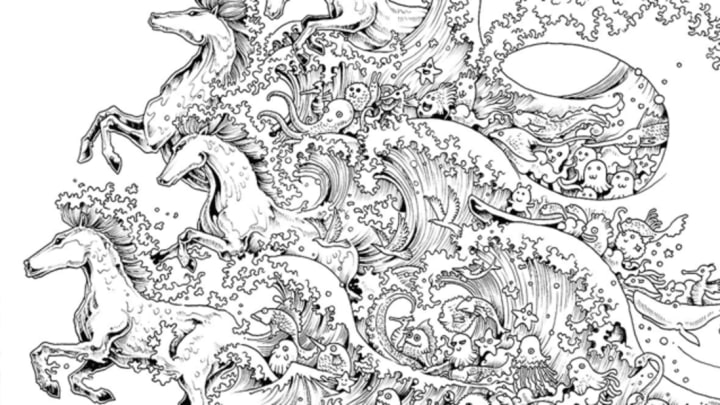 ANIMORPHIA, Amazon / ANIMORPHIA, Amazon
Though coloring is usually a pastime associated with kids, there are plenty of adult coloring books on the market—and there might be benefits for adults who color, too. Some suggest coloring can be used as a relaxation technique, and according to one study published in a 2011 issue of the journal Art Therapy, coloring intricate patterns can reduce anxiety. Researchers from Knox College had 84 college students think about an anxiety-producing situation, then asked them to color either a mandala, a plaid pattern, or a blank piece of paper. The study found that students who were coloring the mandalas and plaid patterns "experienced more reduction in anxiety than did the unstructured coloring group," which suggested that "structured coloring of a reasonably complex geometric pattern may induce a meditative state that benefits individuals suffering from anxiety." (It's worth noting that the students didn't have anxiety disorders, so coloring is probably best for minor anxiety, and not necessarily for clinical anxiety.) Here are a few hyper-detailed coloring books that you can use to help you chill out.
1. LOST OCEAN
This nautical coloring book by Johanna Basford is sure to tickle any seafarer's fancy.
2. TROPICAL WORLD
You'll probably want to break out your brightest colored pencils and pens to make the tropical animals of this book really pop.
3. TIME CHAMBER 
Follow a small fairy as she enters the human world and sees everything from a new viewpoint. Color in the ornate objects that the tiny magical being encounters on her journey.
4. COLOR THERAPY 
This book was specially made with stress in mind. Each section utilizes a different hue, so users can pick the color that matches their mood.
5. COLOR ME CALM
Therapist Lacy Mucklow and artist Angela Porter worked together to create 100 different designs to color when you're feeling stressed out.
6. SPLENDID CITIES 
This delightful coloring book features a number of different real-life cities like London and Moscow—and some imaginary ones as well.
7. ANIMORPHIA 
Kerby Rosanes' animals explode into astounding detail that demands to be colored with as many different colors as you have.
8. CREATURES GREAT AND SMALL
This coloring book is both relaxing and educational, providing the owner with valuable information about the subjects on each page.
9. THE ANCIENT ALCHEMY COLORING BOOK
Color in sacred symbols and designs like celtic knots, mandalas, and more.
10. COLOR YOUR OWN VAN GOGH
Ever see a painting in a museum and think you could have picked out a better color scheme? Now is your chance!