10 Towns That Seem Straight Out of a Storybook
While the world's biggest cities have spent centuries competing over the tallest towers and grandest innovations, these lovely towns have held on to their quaint houses and curious designs. Check out 10 destinations fit for a storybook.
1. MITTENWALD, GERMANY
Featuring gables carved with character, house fronts in bold colors, and splendid murals, Mittenwald has been called "the most beautiful town in the Bavarian Alps." Though the town offers walking paths and ski slopes, it was the medieval town's architecture that led 18th century German poet Johann Wolfgang von Goethe to declare it "a picture book come alive." Residents have preserved Mittenwald's heritage by keeping all main roads outside of the area. They also restored the stream that once bubbled through the area's market square.
2. CORINALDO, ITALY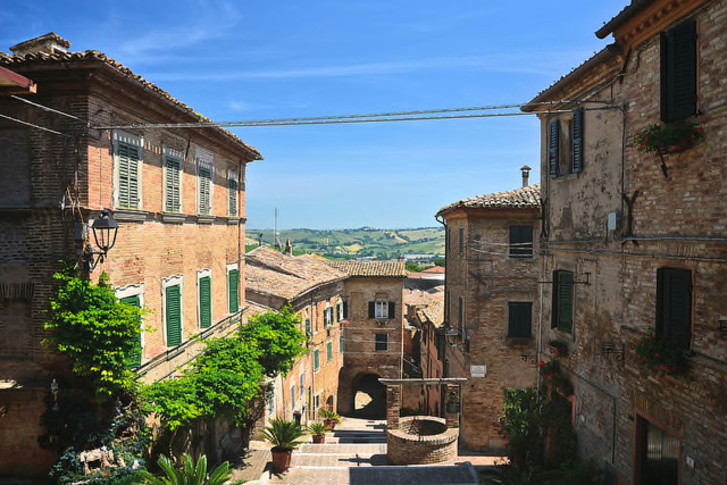 Corinaldo abounds in neoclassical- and Renaissance-style buildings, with fortifications dating back to the 14th century; the area's ramparts, towers, and alleys boast a medieval flare. One particularly picturesque pathway called Piaggia leads tourists down a wide series of 109 stairs, lined with old buildings, and to a well, a perfect location for pondering, taking pictures, or making a wish. Once a year, this stretch is flooded with locals in medieval costume, jugglers, jousters, and acrobats for the lively re-enactment of the Contesa del Pozzo della Polenta, the tale of a peasant who accidentally dropped a bag of corn flour into the well, went in after it, and failed to return. According to legend, the peasant was feasting on the boundless quantities of polenta that he had in the well.
3. GRUYERES, SWITZERLAND
This cheese-loving village at the foot of the Alps dates back to the Middle Ages. With the magnificent mountains as a backdrop, its cobblestone streets, and collection of charming, old-fashioned buildings, Gruyeres is a place of natural and man-made majesty. It also has a castle, which now welcomes visitors as a museum, and there are plenty of attractions that center on the region's world-famous cheese and chocolate.
4. ESSAOUIRA, MOROCCO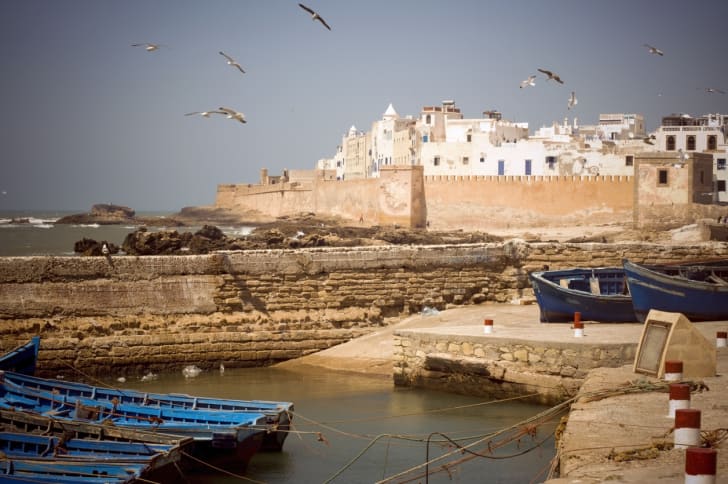 This 18th century port town and UNESCO World Heritage Site is iconic for its fortified red walls, narrow alleyways, and doors painted in traditional and vibrant blues. The area has been known by many names over the years, including Mogador (based on the Phoenician world for "small fortress"), the Port of Timbuktu, and Wind City of Africa for its unfriendly winds. But to fans of HBO's Game of Thrones, this coastal wonder is Astapor, the Red City, where Daenerys Targaryen released the Unsullied warriors from their enslavement.
5. ČESKÝ KRUMLOV, CZECH REPUBLIC

This UNESCO World Heritage Site can be spotted even from distance, thanks to its signature red roofs and distinctively colorful castle. In fact, the State Castle is the second largest in the Czech Republic behind the Prague Castle. The old world cobblestone passageways are idyllic for a peaceful stroll. But for more of a rush, you could ride the popular rapids of the Vltava River, just a little upstream of this otherwise antique town.
6. BRUGES, BELGIUM
Because of the picturesque beauty it offers at every turn, this medieval town is frequently flush with tourists. Cobblestone streets wind past canals, towering churches, centuries-old pubs, a historic market, and a courtyard carpeted in daffodils each spring. To really indulge, take a horse drawn carriage or a canal tour. And don't miss seeing Bonifaciusbrug, a bridge so enchanting you might think it's bewitched!
7. SHIRAKAWA-GO, JAPAN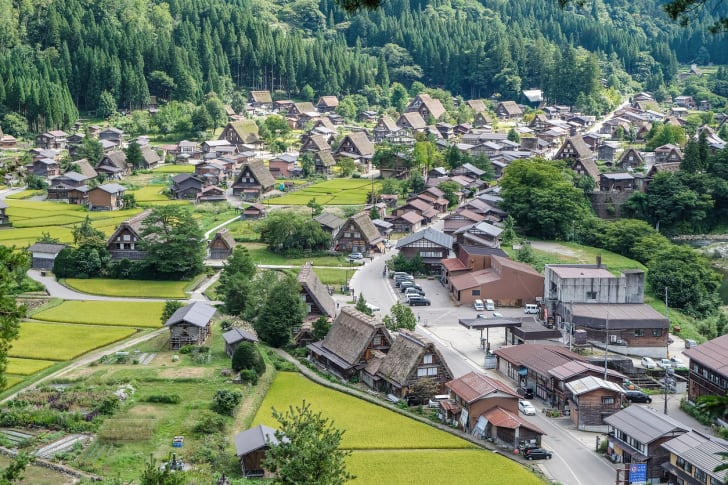 This mountain village has been deemed a UNESCO World Heritage Site because of its collection of 114 gassho-zukuri farmhouses, distinguishable by architecture that resembles "palms placed together and fingers pointing upward in prayer." The structures' thatched roofs are crucial for keeping out the heavy snowfalls for which the area is known. Though no nails or metal were used in their construction, the exemplary craftsmanship has ensured that some of these structures are still standing more than 250 years later. Walking through these streets or taking in these buildings from the Ogimachi-Jyoshi (observation platform) is like strolling into Japan's vibrant past and heritage.
8. COLMAR, FRANCE
With tall buildings side-by-side with ornate carvings and facades painted in candy colors, it's no wonder that 
Colmar is one of the most popular tourist destinations of the Alsace region. One of the more curious details of the town's homes is how they build up and out, which originates from a clever way of getting around tax laws that based rates on property's square footage at street level. This town was considered such a treasure during World War II that Allied forces were careful not to bomb its 15th and 16th century wonders while attempting to oust the Germans from France.
9. POTES, SPAIN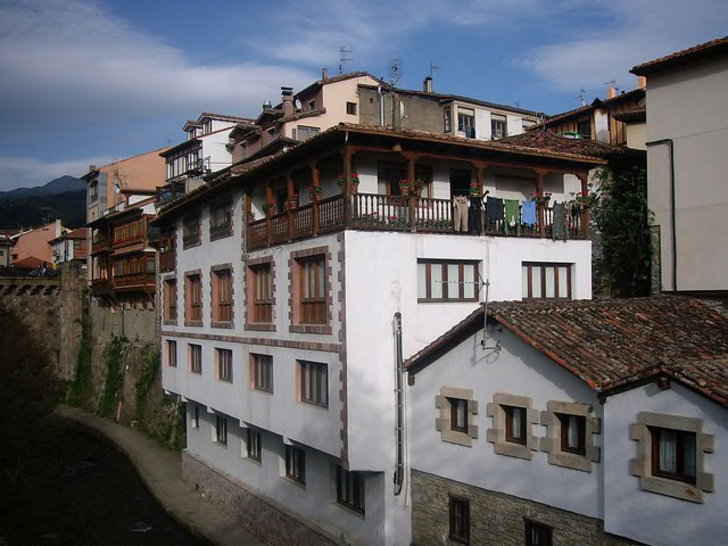 This town along the Quiviesa and Deva Rivers looks like a page from an ambitious pop-up book. The walls and bridges that have defined the city's structure and sightseeing were a matter of necessity as Potes is placed on the joining of four valleys, amid an mountainous area and streaked with rivers. Its origins date back to the 8th century, though most of its acclaimed architecture comes from the 13th to 18th centuries. These include a labyrinth of alleyways and stairs, the gothic church of San Vicente, stately ancestral homes, the Bridge of San Cayetano, and its hermitage.
10. GÖREME, TURKEY
This Turkish town, which dates back to the 4th century, owes its surreal and signature look to the natural landforms of the Cappadocia region and master carving. Originally, the land was studded with "fairy chimney" rock formations, which appeared to jut out from the earth in crude towers. Eventually, Göreme's founders chiseled those structures into homes and churches. The unique architecture is what led UNESCO World Heritage to dub the area "one of the world's most striking and largest cave-dwelling complexes." But calling the chapels—which boast breathtaking post-iconoclastic Byzantine art—caves is underselling the unique constructions that have fascinated visitors for centuries.