45 Amazing Facts About Game of Thrones
Those who have been missing Game of Thrones's unique blend of sex, blood, and dragons still have a couple of weeks to wait for the show's highly anticipated—and final—return. To help the time pass, here are 45 facts about the bona fide cultural phenomenon. Valar morghulis.
*Spoiler alert for all aired episodes.*
1. There's an unaired pilot.
The first pilot, directed by Spotlight writer-director Tom McCarthy, was so terrible that it had to be shelved and reshot. "We got everything wrong on a very basic level with the writing of it," show co-creator David Benioff told Variety. One of the biggest problems? None of the friends he and Weiss invited to watch the pilot "realized that Jaime and Cersei were brother and sister, which is a major, major plot point that we had somehow failed to establish." Earlier this year, a copy of the script was unearthed, which revealed a few other saucy details.
2. Catelyn Stark and Daenerys Targaryen were originally played by other actors.
In the original pilot, Catelyn Stark and Daenerys Targaryen were played by Jennifer Ehle and Tamzin Merchant, respectively; by the time the show aired, they had been replaced by Michelle Fairley and Emilia Clarke.
3. George R.R. Martin had a cameo in the original episode.
Charley Gallay, Getty Images for Playboy
George R.R. Martin had a cameo in the original pilot as a guest at Daenerys and Khal Drogo's wedding. When the role of Daenerys was recast, the scene had to be scrapped.
4. There were a bunch of other casting close calls.
Ehle and Merchant weren't Game of Thrones's only could-have-beens. Gillian Anderson turned down an unspecified role on the show, as did The Wire's Dominic West. (Judging by the fact that, per West, the role would have involved shooting "in Reykjavik for six months," it was probably Mance Rayder, a role that eventually went to Ciarán Hinds.) The Hunger Games franchise's Sam Claflin auditioned for Jon Snow and Viserys Targaryen, and Outlander star Sam Heughan auditioned for a variety of roles, including Renly Baratheon and Loras Tyrell, seven times.
5. Peter Dinklage almost turned down the role of Tryion Lannister.
In a Reddit AMA, Peter Dinklage shared the reason why he wasn't immediately sold on Game of Thrones.
"I had one hesitation, because of the fantasy genre, I told [showrunner David Benioff] I didn't want a really long beard and pointy shoes," Dinklage said. "[Benioff and D.B. Weiss] assured me this character and this world wasn't that. They told me about his complexity, the fact that he wasn't a hero or a villain, that he was a womanizer and a drinker, and they painted a flawed and beautiful portrait of him, so I signed on."
6. Kit Harington showed up to his audition with a black eye.
The night before his Game of Thrones audition, Kit Harington ended up in a McDonald's late at night with a woman he was dating. Because it was crowded, they grabbed a seat at a table with another couple, whom they didn't know. Shortly thereafter, the man across from them began making rude comments to Harington's date. Unfortunately, it was only after Harington stood up and challenged the stranger that realized just how tall his would-be opponent was. "I got battered," Harington admitted, and ended up with a fresh shiner. On the bright side, he thinks that his damaged face is part of what landed him the role. "I think that man who punched me in the face may have helped me get the job," he said. "So if you're watching, thank you."
7. The show's nudity wasn't easy for Emilia Clarke.
Though Daenerys Targaryen turned out to be a career-changing role for Clarke, she admitted that it wasn't always easy. Between all of the nudity required of her character, and an infamous rape scene, Clarke's early days on the series could be trying. "Once, I had to take a little time out," she told Esquire of filming the first season. "I said I needed a cup of tea, had a bit of a cry, and was ready for the next scene."
8. Sophie Turner adopted Sansa Stark's direwolf.
Sophie Turner, who plays Sansa Stark, adopted Zunni, the Northern Inuit dog that played her pet direwolf on the series' first season. "Growing up I always wanted a dog, but my parents never wanted one," Turner told Coventry Telegraph in 2013. "We kind of fell in love with my character's direwolf, Lady, on set. We knew Lady died and they wanted to re-home her. My mum persuaded them to let us adopt her." Sadly, Zunnie passed away in 2017.
9. The internet spoiled Robb Stark's fate for Richard Madden.
While readers of George R.R. Martin's A Song of Ice and Fire series knew that Robb Stark's days were probably numbered on Game of Thrones, Richard Madden—the actor who played him—decided to keep himself in the dark about the books as part of his preparation for the television role. But that didn't stop fans, or the internet, from telling the Golden Globe-winning actor that his reign as King in the North would be short-lived.
"A thousand people spoiled it for me before I had a chance to pick up the third book," Madden told Entertainment Weekly. "I read [the books] season-by-season. I don't want to preempt where Robb is going and that's what I've done since the show started. I also made the fatal flaw of Googling. So that kind of reinforced what people were hinting—saying that something terrible was going to happen and giggling."
10. Dothraki is a real language.
In 2014, Living Language released a conversational language course that will have you speaking like Khal Drogo in no time. The course was crafted by linguist David J. Peterson, who worked with HBO to create the Dothraki heard on the show. (If you want to impress your fellow Game of Thrones friends, try learning a few key phrases for that premiere watch party you'll be hosting.)
11. You can learn High Valryian via an app.
In addition to the "real" languages it teaches, Duolingo offers a class in High Valyrian to enhance your Game of Thrones-watching experience.
12. Peter Dinklage thought the show had been canceled.
After the pilot was picked up, David Benioff pranked Peter Dinklage by calling him and telling him the show had been canceled. It was six hours before Dinklage learned the truth.
13. Several characters have changed actors.
A handful of characters have been played by more than one actor over the course of the show, notably Daario Naharis (Ed Skrein in season three, Michiel Huisman in seasons four, five, and six), Tommen Baratheon (Callum Wharry in seasons one and two, Dean-Charles Chapman in seasons three through six), and his sister Myrcella (Aimee Richardson in seasons one and two, Nell Tiger Free in season five), and Gregor "The Mountain" Clegane (Conan Stevens in season one, Ian Whyte in season two, Hafþór Júlíus Björnsson in seasons four, five, and six.)
14. A lot of dead characters are alive in the books.
More than a handful of characters are alive in Martin's books, but dead on the show. These include: Shireen and Stannis Baratheon, Night's Watchmen Pyp and Grenn, Barristan Selmy, Myrcella Baratheon, and Mance Rayder.
15. Ser Pounce, King Tommen's beloved cat, is dead.
Ser Pounce—King Tommen's royal cat—was introduced in season four, and proved to be an excellent prop for Margaery Tyrell (Natalie Dormer) to win the heart of yet another king, the very young and very sweet Tommen Baratheon (Dean-Charles Chapman). It only took a single scene for the little fuzzball to find his way into the hearts of viewers and, for a little while, Ser Pounce become a bit of an internet sensation. But after Tommen's suicide, the cat disappeared.
If the timing seemed suspicious, you've clearly been paying attention. "Cersei hated the name 'Ser Pounce' so much she could not allow him to survive," Benioff told Entertainment Weekly of the feline's untimely demise. "So she came up with her most diabolical [execution]. Ser Pounce's death was so horrible we couldn't even put it on the air."
16. There's more than one Monty Python and the Holy Grail connection.
Part of Game of Thrones's pilot was shot in one of the castles used for Monty Python and the Holy Grail. Three seasons later, in "Breaker of Chains," an unnamed Meereenese warrior shouts a series of taunts at Daenerys that include "Your mother was a hamster," "Go and boil your bottoms, sons of a silly person," and "I blow my nose at you" … in Low Valyrian, of course.
17. Daenerys Targaryen originally had violet eyes.
In the books, the Targaryen family members are notable for their silver hair and violet eyes. During shooting, Daenerys and Viserys (Harry Lloyd) Targaryen originally wore violet contact lenses, but Benioff and Weiss decided they negatively impacted the actors' ability to portray emotion.
18. The time period between seasons 5 and 6 was Kit Harington's "darkest period."
"My darkest period was when the show seemed to become so much about Jon, when he died and came back," Kit Harington told with Variety about his years on the show. "I really didn't like the focus of the whole show coming onto Jon—even though it was invalidating my problem about being the weak link because things were about Jon."
Even though Jon was dead in the show, Harington had been spotted on the set—and was still sporting his famous Jon Snow locks, which led fans to wonder whether he was really dead at all.
"It wasn't a very good time in my life," Harington said. "I felt I had to feel that I was the most fortunate person in the world, when actually, I felt very vulnerable. I had a shaky time in my life around there—like I think a lot of people do in their 20s. That was a time when I started therapy, and started talking to people. I had felt very unsafe, and I wasn't talking to anyone. I had to feel very grateful for what I have, but I felt incredibly concerned about whether I could even f***ing act."
19. But that "dark" time did get Harington out of a speeding ticket.
After being sworn to secrecy about his fate in the sixth season, Harington was forced to give up the answer after being pulled over for speeding. The officer, a fan of the show, gave him two options: either deal with the punishment for speeding or tell him whether Jon Snow would live or die in the next season. Harington initially thought the man was joking, but after a second look he told him: "I am alive next season." To which the officer responded, "On your way, Lord Commander."
20. Shooting the horse heart scene was an unpleasant experience for Emilia Clarke.
The horse heart Daenerys had to eat in season one was essentially a giant gummy candy—one that, per Clarke, tasted a little bit like bleach. To make the proceedings even grosser, all the fake blood made Clarke so sticky that she got stuck to a toilet.
21. Peter Dinklage won a Golden Globe for Game of Thrones in 2012, but his mom was betting on Guy Pearce.
Before Dinklage won the Golden Globe for Game of Thrones in 2012, he spoke with his mom back in New Jersey, who told him, "Have fun, but have you seen Mildred Pierce? Guy Pearce is so good. He's gonna win." He wryly noted how moms keep us all humble.
22. You've probably been mispronouncing Khaleesi.
While being interviewed for The Allusionist podcast, David Peterson—the linguist who creates the series' fictional languages—described the rampant mispronunciation of Khaleesi as "a real thorn in my side." So just how should we be saying the Dothraki word?
"I wanted to make sure if something was spelled differently, it was pronounced differently," Peterson explained of his process of transforming the handful of Dothraki words George R.R. Martin had created into a full language. "That worked pretty well for everything except the word Khaleesi ... There's no way it should be pronounced 'ka-LEE-see' based on the spelling. So I had to decide, 'Am I going to respell this thing because I know how people are going to pronounce this, or am I going to honor that spelling and pronounce it differently?' I made the latter decision and I think it was the wrong decision."
(That said, in his book Living Language Dothraki, Peterson writes that "many Dothraki words have multiple pronunciation variants, often depending on whether the speaker is native or non-native. Khaleesi, for example, has three separate pronunciations: khal-eh-si, khal-ee-si, and kal-ee-si," which at a later point in the book spelled is "ka-lee-si.")
23. Real people are naming their kids after Game of Thrones characters.
In the year 2014, per the Social Security Administration, "Khaleesi" was the United States's 755th most popular baby name for girls, up from 1021th place in 2013. In England, Khaleesi, Arya, Tyrion, Brienne, Sansa, Bran, Sandor, and Theon also saw a rise in popularity after Game of Thrones began airing. (What, no Dagmer Cleftjaw?)
24. A lot of pets have been given Game of Thrones-related names, too.
Pat parents have not been immune to the Game of Thrones naming trend. Banfield Pet Hospital, the largest general veterinary practice in the U.S., analyzed its records database and found that Khaleesi and Arya have been popular pet names, too, but Lady and Ghost top the list in terms of popularity.
25. The Stark kids are different ages in the show than in the books.
When A Game of Thrones-the-book starts off, the Stark children are much younger than their on-screen counterparts. Bran was supposed to be seven, while the actor who played him (Isaac Hempstead Wright) was 12; Arya (played by Maisie Williams) went from nine to 13, while Sansa (Sophie Turner) went from 11 to 15 and Rickon (Art Parkinson) from three to six. In perhaps the most, ahem, stark difference, if Game of Thrones had stayed completely true to its source material, Robb Stark (Richard Madden) and Jon Snow (Kit Harington) would have been only 15 and 14 years old, respectively.
26. Starring in Game of Thrones has made it impossible for Isaac Hempstead Wright to be a "normal" college student.
When he's not playing Bran Stark, 19-year-old Isaac Hempstead Wright is a student at Birmingham University. But he's admitted that balancing his roles as co-ed and star of one of television's most popular series hasn't been easy. "I couldn't walk out of my halls without having to take a selfie," the actor told Esquire UK. "I had the nicest flatmates," he added, "But it made it quite difficult to make friends. I don't think I'll ever be able to have a normal university experience, which is kind of sad. I couldn't relax and go out and have a drink or get drunk or whatever, because if I did someone would be like: 'I saw Bran and he was all f***ed up.'"
27. Both Emilia Clarke and Lena Headey have played The Terminator's Sarah Connor.
Clarke starred alongside Arnold Schwarzenegger in Terminator Genisys, playing the role of Sarah Connor. The part was previously played by Cersei Lannister herself, Lena Headey, in the short-lived TV series, Terminator: The Sarah Connor Chronicles.
28. The trees lining the Kingsroad might not be around much longer.
Of the 100 or so beech trees originally planted 240 years ago, around 60 remain @PatrickDCregg of the Woodland Trust told me.#pensionertrees #GoT
Game of Thrones: Dark Hedges tree falls in high winds https://t.co/7NZGTjuesp

— Ann-Marie Foster (@AnnMarieCFoster) January 27, 2019
People have long flocked to Northern Ireland to explore the enchanting Dark Hedges, but the scenic location's appearance in season 2 of Game of Thrones really put the tourist attraction on the map. Visitors who walk down the "Kingsroad" this week may notice something amiss, though. According to The Independent, powerful winds uprooted one of Ballymoney's famous beech trees, which have been a prominent feature of the town since the 18th century. There were once 150 beech trees at the site, but only 60 to 90 trees are still standing today, according to different estimates. Some fell victim to past storms, while others suffer from rot.
29. George R.R. Martin made the showrunners guess who Jon Snow's mother was.
Before he'd bestow his blessing on D.B. Weiss and David Benioff, George R.R. Martin asked the two wannabe showrunners the question that previoulsy spurred thousands upon thousands of words of fan speculation: "Who is Jon Snow's real mother?" "It was very much like a test question," Benioff told Vanity Fair in 2014. "Basically, it was like: 'Guess. I want your guess to be intelligent and I want it to be based in the facts of the world,'" Weiss added. "We had already discussed it. We'd had like a two-hour conversation about it. It was pretty well-trammeled territory for us."
30. Sean Bean never learned who Jon Snow's parents were.
Although Sean Bean knew from the beginning that his character, Ned Stark, would die early on, he wasn't told many other plot points—not even the fact that Jon Snow wasn't actually Ned's bastard.
When asked if he knew of Jon's true parentage, the 59-year-old actor admitted, "No. Like with everything with Game of Thrones, it was kept very dark and secret ... I think that's the kind of magic and the glory of Game of Thrones—that's why it's so stunning and breathtaking when these secrets are revealed."
31. One actor has played four characters.
Welsh actor and stunt performer Ian Whyte has played a grand total of four roles on Game of Thrones. In seasons one and two he was a White Walker; also in season two, he played Gregor Clegane (one of three actors to play the role); season three saw him as an unnamed giant; in season five he played the Wildling giant Wun Wun.
32. Ramsay Bolton almost played Jon Snow.
Iwan Rheon was the runner-up to play Jon Snow. The role went to Kit Harington, and Rheon went on to play Roose Bolton's sadistic bastard son, Ramsay, instead.
33. Kit Harington needed a safe word while filming "The Battle of the Bastards."
In a behind-the-scenes featurette, longtime Game of Thrones camera operator Sean Savage shared that his very favorite scene to film over eight seasons was the moment during the Battle of the Bastards "when Jon Snow is forced to the ground and then trampled. And this seemingly immortal hero of ours looks like he's close to the end."
The scene wasn't entirely scripted, so when Harington fell to the ground, Savage stood over him and filmed from above as tons of stuntmen piled on top of the actor. In order to ensure that Harington wouldn't be injured, "we had a sort of safe word [so] that we could call it off at any point," Savage said.
34. It was the most pirated tv show for six consecutive years.
According to TorrentFreak, Game of Thrones was the most pirated show for six consecutive years—from 2012 to 2017. In 2015 it had more than twice the illegal downloads of the second most pirated show, The Walking Dead. In 2018, The Walking Dead finally took over the top spot ... but only because Game of Thrones hasn't released a new episode since 2017.
35. It has an official rap companion album.
In 2014, HBO put out an official Game of Thrones-themed rap album called "Catch the Throne," which they released for free via SoundCloud. They did it again in 2015, before the show's fifth season (though volume two contained some heavy metal tracks). Contributors include Method Man ("The Oath"), Snoop Dogg ("Lannister's Anthem"), Big Boi ("Mother of Dragons"), Talib Kweli ("Lord of the Light"), and Anthrax ("Soror Irrumator").
36. Sean Bean had some fun with his own decapitated head.
In a Reddit AMA, Sean Bean recalled that, while on-set, he kicked the model of Ned Stark's decapitated head around "like a football."
37. The showrunners know how the books will end.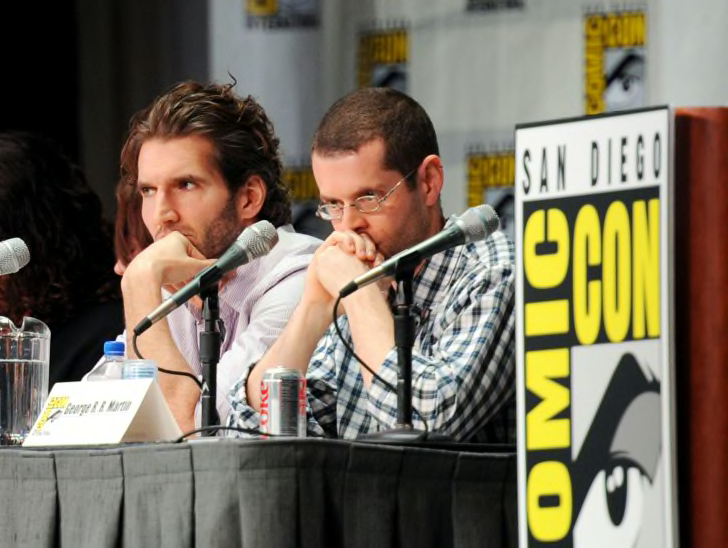 Frazer Harrison, Getty Images
George R.R. Martin has told D.B. Weiss and David Benioff the "broad strokes" of how the series will end. "Last year we went out to Santa Fe for a week to sit down with [Martin] and just talk through where things are going, because we don't know if we are going to catch up and where exactly that would be," Benioff told Vanity Fair in 2014. "If you know the ending, then you can lay the groundwork for it. And so we want to know how everything ends. We want to be able to set things up. So we just sat down with him and literally went through every character."
38. The series will end differently than the books will.
So that the show doesn't give everything away, George R.R. Martin recently announced that he will be making a few tweaks to the final titles in his A Song of Ice and Fire book series.
"I've been so slow with these books," Martin told Rolling Stone. "The major points of the ending will be things I told [Benioff and Weiss] five or six years ago. But there may also be changes, and there'll be a lot added."
39. The final season will feature several callbacks to season 1.
For anyone who needs a refresher course on all things Game of Thrones before the upcoming final chapter kicks off, all you need to do is rewatch season 1, according to Maisie Williams. In an interview with Entertainment Weekly, the Arya Stark actress revealed that after she knew the ending to season 8, she had to go back and rewatch the first season.
"After reading the scripts I went back and watched season 1 again, because so much of it refers back to that season," Williams shared. "There are so many scenes that will look similar. And also I watched just to remind myself of the arc I've taken already. I wanted Arya to go full circle and try for some kind of normalcy like when she was younger."
40. Hafþór Júlíus Björnsson, who plays The Mountain, needed a stunt double for the first time ever in season 8.
There's no question that Game of Thrones's final season will be action-packed. But Iceland native Hafþór Júlíus Björnsson, who plays Gregor "The Mountain" Clegane in the TV series, recently confirmed just how much more hardcore the upcoming episodes will be.
In a recent interview with Mashable, the 30-year-old strongman, the final season was "the hardest season I've filmed for Game Of Thrones." Filming got so complicated that, for the first time in his four seasons on the show, Björnsson needed a stunt double to play The Mountain.
"All the seasons prior to this season that we just finished filming, I never had stunt doubles. I always did everything myself," Björnsson said. "But the last season I filmed, the season that hasn't been shown on television, I had a stunt double there."
41. Scientists have calculated the odds to try and predict who will survive season 8.
Reidar Lystad and Benjamin Brown—injury epidemiologists at Sydney's Macquarie University—watched all 67 current episodes of Game of Thrones with an eye toward mortality trends and believe that they have determined some key factors in who is most likely to live or die in season eight, statistically-speaking. And the news is not great for low-born males with a high level of loyalty, who are the most likely to be killed.
On the plus side, the study found that upper-class women have a better survival rate. In addition, switching allegiances seems to lengthen a character's lifespan. Using these criteria, and further expounding on their findings in the media, the research suggests that Sansa and Arya Stark have the best statistical chance of surviving the series as they have changed allegiances. While Daenerys Targaryen and Cersei Lannister have the high-born factor working in their favor, the fact that they've both remained fiercely loyal to their initial goals may not bode well for their ultimate survival. Not far behind the Stark sisters in terms of survival probability are Jon Snow and Tyrion Lannister, who Lystad told HuffPost are both "very much still in the running."
42. More than half of the series' major characters have already been killed.
Lystad and Brown's study, which was published in the journal Injury Epidemiology, also found that more than half of the major characters in Game of Thrones had been killed off by the end of season seven. Interestingly, the study also concluded that characters have a 14 percent chance of dying within the first hour of first being introduced in the show.
43. Injuries—especially open neck wounds—and fire are the most common ways to be killed.
Injuries—specifically an open neck wound (we're assuming this would include having one's head chopped off) or injury to an unspecified part of the body (what happens in battle stays in battle)—are the most likely cause of death on the series, while burning (a.k.a. the only way to kill a White Walker, and a punishment Daenerys's dragons are very skilled at inflicting) is the second most common way to be knocked off.
44. George R.R. Martin regrets that he didn't finish Winds of Winter sooner.
"It's been an incredible ride," George R.R. Martin said of the Game of Thrones experience. "And almost all of it has been great. Obviously, I wished I finished these books sooner so the show hadn't gotten ahead of me. I never anticipated that." The reason the television show's narrative has gone ahead of Martin is because he has been working on The Winds of Winter, the sixth book in the series, for the past eight years—and it still doesn't have a release date in sight. On top of that, there is also supposed to be a seventh book called A Dream of Spring to follow.
45. The series has led to some marital disagreements.
Christopher Polk, Getty Images for Turner
Like so many Game of Thrones fans, the friends and family of the people who create the show have a serious investment in the series' characters and storylines. In 2015, while appearing on Jimmy Kimmel Live!, Amanda Peet admitted that she threatened to divorce David Benioff if anything happened to Jon Snow.
"I said, 'I've heard all this stuff … [Kit Harington] got a haircut, I don't want to divorce you, what's happening?'" Peet said. Benioff assured his wife that Jon wasn't going to die, but obviously that wasn't true—or at least not at the time. "I don't love you anymore," Peet (jokingly) told her husband. "I said, 'If you kill him, that's it.'"
But not even Parris McBride, George R.R. Martin's wife, is immune to petitioning (read: threatening) her husband when it comes to advocating for which characters she wants to see still standing when the series concludes. "[George's] wife did actually say that if he ever kills off Arya or Sansa, she's going to leave him," Maisie Williams revealed in 2015. "I'll just keep smiling, and say 'If you want to stay with your wife, you've got to keep me alive!'"