25 Things You Should Know About Reykjavik
The flight to Iceland is less than six hours from New York City, but as soon as you touch ground, it's apparent you're in a different world. The roads are almost always clear, with breathtaking views stretching in every direction. And it's common to wander for blocks in the island's capital city of Reykjavik before seeing another human being. Once you grow accustomed to the serenity on the surface, the beauty of the culture—shaped by its storied history and natural wonders—emerges. Chisel your way through 25 facts about Iceland's waterfront metropolis.
1. Just two degrees south of the Arctic Circle at a latitude of 64 degrees and 8 minutes north, Reykjavik is the northernmost capital on the planet.
2. The Icelandic city's proximity to the North Pole means that it gets as little as four hours of sunlight in the winter and as much as 21 hours of daylight in the summer (making the summer months the perfect time to revel in the midnight sun).
3. A fugitive from Norway, Ingólfur Arnarson became the first Icelander when he settled on the island in the 870s, around where Reykjavik is now. Just how official is he? He's listed in Landnamabok, a medieval book of settlements.
The steam rising from the area's hot springs gave Reykjavik its name, which literally translates to "Cove of Smokes," or more eloquently, "Smoky Bay."
5. Iceland holds the honor of having the world's oldest parliament, which was formed in 930 in Thingvellir. Although it was discontinued for a period in the early 1800s, the national parliament, Althingi, was reestablished in 1844 in Reykjavik, where it's still housed next to Austurvöllur Square.
6. Towering over the Reykjavik skyline is Hallgrimskirkja, a 240-foot tall Evangelical Lutheran church. Resembling volcanic basalt lava columns, the structure, which opened in 1986, took 41 years to build and is the tallest building in the city—as well as the second tallest in the entire country. The church is home to a 25-ton, 5275-pipe organ, installed in 1992.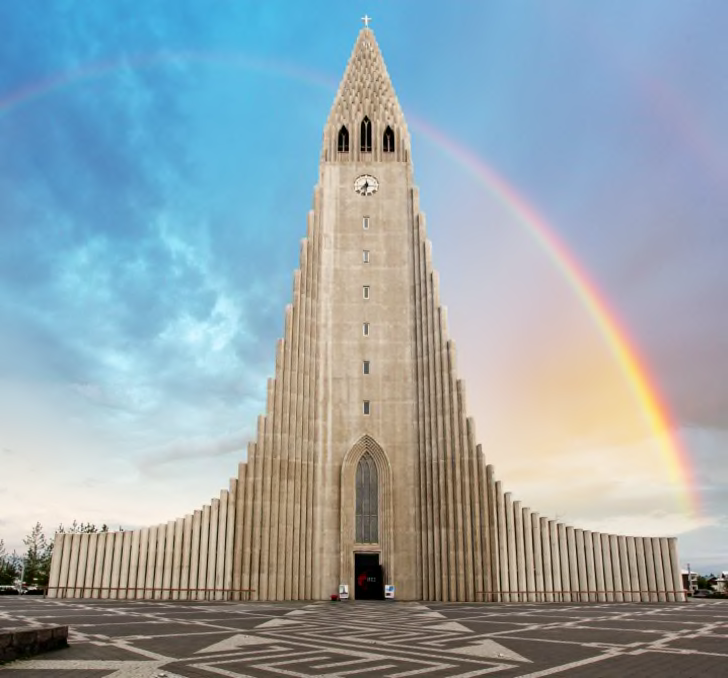 7. One of the most popular foods in Iceland? Believe it or not, hot dogs! And there's no better spot to get the wieners than Bæjarins Beztu Pylsur, a local stand. The kiosk has been in the Reykjavik harbor since 1937, but President Bill Clinton's 2004 visit solidified its constant long line of locals and tourists waiting for the lamb-based frank doused in ketchup, mustard, remoulade (mayonnaise-based sauce with sweet relish), and both raw and fried onions, which give it just a bit of a crunch.
8. Of Iceland's 332,750 residents, 64 percent, or 213,760, live in the Reykjavik region—with 37 percent, or 122,550, within the capital's city limits.
9. Perched atop the Öskjuhlíð hill is Perlan, or The Pearl—a dome sitting atop six water tanks each holding more than a million gallons of water at a temperature of 185°F. While the tanks provide the water for the greater Reykjavik area, the dome above it, featuring 1176 window panes, holds a rotating restaurant revealing a sky-high panoramic view of the capital. And hear this: The Winter Garden performance space inside the structure won the Golden Ear award in 1993 for its sound design.
10. The Saga Museum, which features 17 exhibits tracing Icelandic history from the Norwegian exodus to the Black Death, used to be in the Perlan as well, but in April 2014, reopened in a larger space in a historic home on the Reykjavik harbor.
11. Dionne Warwick, Cyndi Lauper and Tony Bennett's concerts join Shakespeare's Globe Theatre's Hamlet and St. Petersburg Festival Ballet's Swan Lake as some of the most notable performances to take place in Harpa Reykjavik Concert Hall and Conference Centre. The venue has welcomed more than 5 million guests since it opened on May 4, 2011. The waterfront home to the Icelandic Symphony Orchestra and the Icelandic Opera was designed by Olafur Eliasson, Henning Larsen Architects, and Batteríið Architects and racked up numerous architectural accolades, including the Mies van der Rohe honors in 2013.

12. The country's biggest flea market is Kolaportið, located near the Reykjavik Harbor. From vintage records to shark meat, the indoor stalls, which started selling their wares in 1989, are open on weekends from 11 a.m. to 5 p.m.
13. On what would have been John Lennon's 67th birthday on October 8, 2007, Yoko Ono revealed an outdoor beam of light called the Imagine Peace Tower on the city's Viðey Island in honor of her late husband. "I hope the Imagine Peace Tower will give light to the strong wishes of World Peace from all corners of the planet. And give encouragement, inspiration and a sense of solidarity in a world now filled with fear and confusion. Let us come together to realise a peaceful world," Ono said. Now it is lit annually from October 9 to December 8, December 21 to December 31, February 18, and March 20 to 27.
14. Prohibition in Iceland started in 1915, but red wine was legalized less than 10 years later, and spirits followed suit in the 1930s. However, beer was illegal in the country until March 1, 1989—on a day when the high was only 23°F. Now the landmark date is celebrated annually in Reykjavik as Bjordagur, or Beer Day.
15. Raise a glass ... or three? Perhaps because they were deprived for so long, beer now accounts for 62 percent of the alcohol consumption in the country. That even tops brewski-loving Germany with 54 percent and the United Kingdom with 37 percent, according to the World Health Organization [PDF]. Most of the city's nightlife is centered around the main shopping street, Laugavegur, where the bar scene really kicks in after 1 a.m. Closing time at most pubs is around 5 a.m.
16. Spot a seemingly-abandoned baby napping outside? Don't panic! For generations, Icelanders have believed in letting infants sleep in the fresh air—even in cold temperatures—and routinely leave their precious cargo in their strollers while they run errands.
Babies in Iceland are routinely left outside, alone, in below freezing temperatures to take a nap. pic.twitter.com/Rau7C4QUb4

— World Class Facts (@WorldClassFacts) December 20, 2015
17.
There aren't any McDonald's restaurants in the country, but there is a burger from the fast food chain in Reykjavik. The day before the last Golden Arches closed in Iceland on October 30, 2009, Hjörtur Smárason bought a cheeseburger and fries, which is currently being left to rot live on webcam at the Bus Hostel.
18. Singer-actress Bjork was born and raised in the Icelandic capital. "I used to walk outside on the outskirts of Reykjavik—it was a 40-minute walk to school through winter in the dark, and in blizzards sometimes. This is where I started writing my melodies," she has said. "This is where I come from, what I'm made of."
19. Although the manmade Blue Lagoon is known as one of Reykjavik's most popular attractions, it's actually 31 miles away from the city, closer to Keflavik Airport—the country's international hub.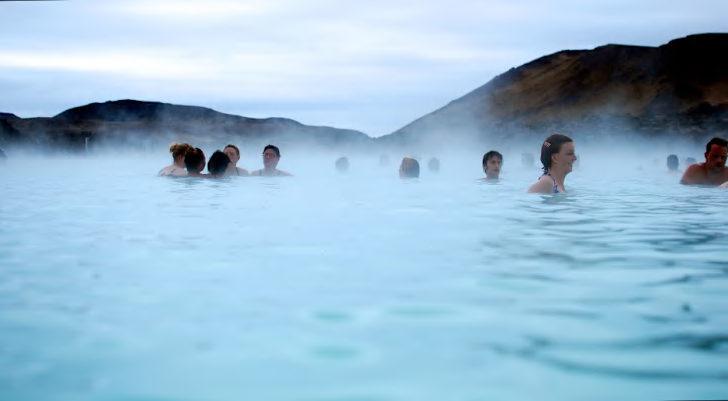 20. As an alternative, visit the lesser-known geothermal bathing beach, Nauthólsvík, right in Reykjavik, which opened in 2000. In the winter, the facilities are only open from 11 a.m. to 1 p.m. on weekdays and 11 a.m. to 3 p.m. on Saturdays for less than $5, but in the summer, it's open every day from 10 a.m. to 7 p.m. … and admission is free!
21. In 2011, Reykjavik was the fifth city named a City of Literature by UNESCO, thanks to its "invaluable heritage of ancient medieval literature" and "the central role literature plays within the modern urban landscape."
22. More than 40 species of birds—including graylags, eiders, and arctic terns—spread their wings at the lake Tjörnin, which means "The Pond," right in the middle of town.
23. Festivals galore! The Icelandic city has become a hub for annual events, including the Winter Lights Festival, the International Festival of Children's Literature, the Reykjavik International Film Festival, the Reykjavik Fashion Festival, Design March, and Ingólfshátíð Viking Festival—where Vikings from around the globe gather to celebrate their heritage.
24. The Swedish whitebeam tree standing in a raised flower bed on Aðalstræti street is the oldest tree in Reykjavik, planted by a Danish doctor Georg Hans Schierbeck in 1884 [PDF].
25. Although artist Jon Gunnar Arnason's stainless steel structure, Solfar Sun Voyager, resembles a Viking ship (especially because of its waterfront location on the Reykjavik shoreline), his intention was for it to serve as an "ode to the sun."
All images courtesy of iStock unless otherwise noted