10 Things You Might Not Know About Helen Keller
Even if you've watched The Miracle Worker a handful of times, you probably still have a sizable gap in knowledge about Helen Keller's life. As history's most famous deaf-blind person, she was an inspiring author and activist, but she was also a vaudeville performer, a close friend of Mark Twain, and a world traveler investigated by the FBI for her political views. In honor of her birthday, here are 10 things you might not know about Helen Keller.
1. HER DAD WAS A CAPTAIN IN THE CONFEDERATE ARMY.
Keller was born in Tuscumbia, Alabama on June 27, 1880. Her father, Arthur Keller, had worked as a lawyer in Alabama before enlisting in the Confederate Army. During the Civil War, he served as a private, quartermaster-sergeant, and paymaster. After the war, he bought and became editor of The North Alabamian, a weekly local newspaper.
2. SHE WAS GOOD FRIENDS WITH MARK TWAIN…
In 1895, as a teenager, Keller met Mark Twain at a lunch in New York. Later, she wrote that he "treated me not as a freak, but as a handicapped woman seeking a way to circumvent extraordinary difficulties." Twain had a daughter the same age as Keller, and eventually the two bonded over their political views and mutual admiration for each other. She recognized the author by his scent, as he often reeked of tobacco. Twain convinced the industrialist Henry Huttleston Rogers to help pay for Keller's education, and Twain was also the first person to call Anne Sullivan, Keller's teacher and companion, a miracle worker. Twain even gave Keller a blurb for her 1903 autobiography, which she wrote at age 22.
3. …AS WELL AS ALEXANDER GRAHAM BELL.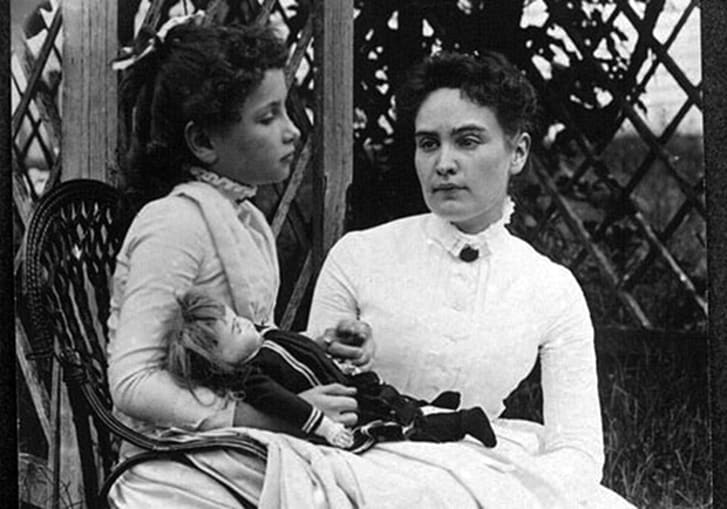 When Keller was 6 years old, her parents took her to Julian John Chisolm, Professor of Diseases of the Eye and Ear at the University of Maryland, a renowned physician who recommended that she see Alexander Graham Bell. Because Bell's wife was deaf, the inventor founded schools for the deaf (as well as their teachers) and was involved with teaching deaf children. Due to Bell's suggestion, Keller's parents enrolled her at the Perkins Institution for the Blind, through which she met Sullivan. Bell mentored Sullivan and was friends with both her and Keller until his death in 1922.
4. SHE FELL IN LOVE WITH HER (MALE) SECRETARY.
In 1916, at 36 years old, she fell in love with Peter Fagan, a former newspaper reporter in his late twenties. Fagan was working as Keller's temporary secretary while Sullivan was sick. The couple secretly got engaged and even took out a marriage license before Keller's family found out and forbade the marriage due to her disabilities. She regretted that she never married, reportedly remarking, "If I could see, I would marry first of all."
5. SHE WAS A MEMBER OF THE SOCIALIST PARTY.
Keller focused a big part of her life on politics. She belonged to the Socialist Party, helped to found the American Civil Liberties Union (ACLU), and was investigated by the FBI thanks to her far-left views. She also supported industrial workers' rights, women's suffrage, and birth control, and she wrote essays about her socialist views and admiration of Vladimir Lenin.
6. SHE WAS A VAUDEVILLIAN "EIGHTH WONDER OF THE WORLD."
Keller and Sullivan were well known, but they weren't earning enough income from Keller's writing and lectures. So for four years in the 1920s, they hit the vaudeville circuit. Keller would speak about her life, Sullivan would translate, and audiences could ask questions as part of a Q&A. They traveled from town to town, and Keller was billed as "the brightest star of happiness and optimism" and "the eighth wonder of the world."
7. HER IMAGE (WITH BRAILLE) IS ON OUR CURRENCY.
Keller's image is on the Alabama state quarter (part of the 50 state quarters program). She appears as an old woman sitting in a rocking chair, holding a book (Keller died at age 87 in 1968). Introduced in March 2003, the words "Helen Keller" are on the quarter in the Latin alphabet and in braille.
8. SHE TRAVELED THE WORLD TO ADVOCATE FOR THE DISABLED.
Keller was a major globetrotter. Traveling to 39 countries from the UK to Japan to Syria, she met with presidents, prime ministers, and other government leaders to advocate for educating blind, deaf, and disabled people. In 1952, during her visit to the Middle East, she gave lectures at medical schools, visited schools for the disabled, and met with organizations that helped the blind.
She wrote about her experiences in Egypt, Israel, Jordan, Lebanon, and Syria, emphasizing the kindness of the locals and the majesty of the places. As she wrote: "It was more wonderful than I had dreamed for us to travel through semi-legendary lands… I could still feel something of the old picturesqueness, the poetry, the oriental atmosphere and the spirit of prophecy, and I was fascinated by the power of the Moslem religion."
9. SHE INTRODUCED THE AKITA DOG TO THE U.S.
In the 1930s, Keller toured Japan to give speeches and visit schools, and was met with incredible warmth and reverence. A Japanese police officer gave her an Akita dog named Kamikaze-Go as a present, and she fell in love with him. After the dog's death shortly after her return to the States, Japan's government gifted another Akita from the same litter to Keller, making her the first person to bring the dog breed to the U.S. In 1948, a few years after World War II ended, Keller visited Japan again to inspire the war's disabled veterans in military hospitals.
10. HER LIFE STORY GOT THE BOLLYWOOD TREATMENT.
Released in 2005, the Bollywood film Black is about a young deaf-blind girl named Michelle, her relationship with her teacher, and how she deals with her inability to hear and see. Inspired by Keller's life, Black's director, Sanjay Leela Bhansali, read her autobiography and visited The Helen Keller Institute for the Deaf and Blind before writing and directing the film. It premiered at Cannes, and won both lead actors Indian Filmfare awards.