10 of the World's Most Entertaining New Year's Customs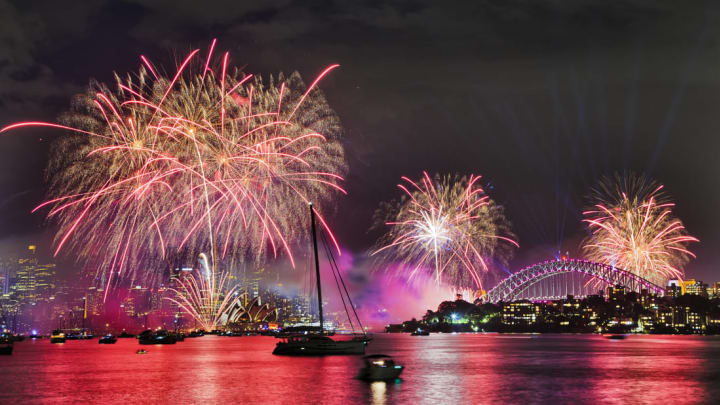 zetter/iStock via Getty Images / zetter/iStock via Getty Images
Watching the ball drop in Times Square, raising a toast, and sealing the night with a smooch may be the most quintessentially American way to celebrate New Year's Eve, but around the world, revelers and party-goers give those traditions a run for their money. From a cemetery sleepover in Chile to a water gun fight in the streets of Thailand, here are 10 of the world's most entertaining ways to ring in the new year.
1. Underwear Attire // Brazil
While some of us don our most shimmery dresses for New Year's Eve parties—or our comfiest pajamas to celebrate with a low-key night in—Brazilians take a much simpler, minimalistic approach to celebrating New Year's: The dress code is for all-white attire, but the color of your underwear is thought to determine your arena of luck in the upcoming year. Want to find love? Pick the pink panties. Financial security may be attained by wearing yellow undergarments, and green is for good health.
2. Shattering Dishes // Denmark
To mark the new year, the Danish smash dishes. / Scott O'Neill/iStock via Getty Images
The Danish get a jump on cleaning out their cupboards by taking any chipped or unused crockery and shattering it against their friends' and families' doors to ring in the new year. The more plate pieces piled at your doorstep, the more popular your family is … which may or may not make the next day's hungover cleanup more manageable.
3. A Mouth Full of Grapes // Spain
The Spanish don't just celebrate New Year's Eve with drink in hand—they ring it in with a mouthful of grapes. If you can fit 12 grapes into your mouth at midnight, you're believed to have great luck in the coming year.
4. Lake Diving With a "New Year Tree" // Siberia
A typical ball-and-gown party doesn't cut it in Siberia; they're all about the thrill—and chill. To celebrate the beginning of a new year, some revelers participate in the annual "jump into a frozen lake and plant a Christmas tree at the bottom" tradition—sort of like a more extreme Polar Plunge. The divers then pass the champagne and dance around the tree before coming back up to the surface. After the holidays, the divers retrieve the tree and warm up before doing it all again the next year.
5. Cemetery Sleepover // Chile
In the town of Talca, Chile, locals add extra spirit to New Year's Eve by celebrating the holiday in a cemetery, surrounded by all of their deceased loved ones. Legend has it this tradition started with a little breaking and entering, but it's now a welcomed celebration that draws locals in by the thousands.
6. Eating Seven Times on New Year's Day // Estonia
Estonia knows how to kick off the new year right. Instead of resolving to diet and exercise, they eat—a lot. Like so many cultures, Estonians believe that the number seven has some luck behind it, and that by eating seven times on New Year's Day, they could gain the strength of seven people. The tradition is also tied to a belief that an abundance of food going into the new year means a family's dinner table will never be empty throughout the year.
7. Water Fight // Thailand
A celebration of Songkran, Thailand's New Year celebration, which is held every April. / Lauren DeCicca/Getty Images
While the Thai New Year isn't until April 13, their celebratory festival, called Songkran, is just too good to pass up: a water fight. Yes, a full-on water fight where major roads are blocked off and Thai locals—and, as you'd imagine, loads of visitors—use buckets, fire hoses, water guns, and even elephants to throw water at each other. Inner child, rejoice—and purchase Songkran plane tickets immediately.
8. Burning Effigies // Ecuador
Ecuador literally lights up on New Year's Eve. Locals make large, paper-filled effigies that can resemble anyone from beloved pop culture figures like Homer Simpson to maligned politicians, and they set them on fire when the clock strikes midnight. As the tale goes, this burning ritual lets Ecuadorians forget the past and focus on a fresh start.
9. Sydney Fireworks Display // Australia
A fireworks display on New Year's Eve in Sydney, Australia. / James D. Morgan/Getty Images
As one of the first countries to celebrate New Year's Eve, Australians kick off the festivities with a major bang—to the tune of seven firework-filled barges. The annual 12-minute show—one of the world's largest fireworks displays—dazzles more than 1 million spectators who gather along the waterfront, with the beautiful Sydney Opera House as its backdrop. They even host an earlier fireworks show, at 9 p.m., for any little Aussies whose bedtime is long before the main event.
10. Throwing Household Items Out the Window // South Africa
To end things on a slightly absurd (and rather unsafe) note, we have Johannesburg, South Africa, where locals ring in the new year by throwing old household items out the window—a quite literal "out with the old" type of symbolism. The tradition has gotten a bit out of hand in recent years, as residents in high-rise buildings have taken to tossing furniture, appliances, bottles and, well, just about anything out the windows. As you'd expect, this tradition comes with its set of annual injuries, but local government is doing its part to keep the New Year's Eve celebrations safe—even if it's accompanied by the age-old warning, "Watch out below!"