Jonathan Searle Named Police Chief on Martha's Vineyard 50 Years After Acting in 'Jaws'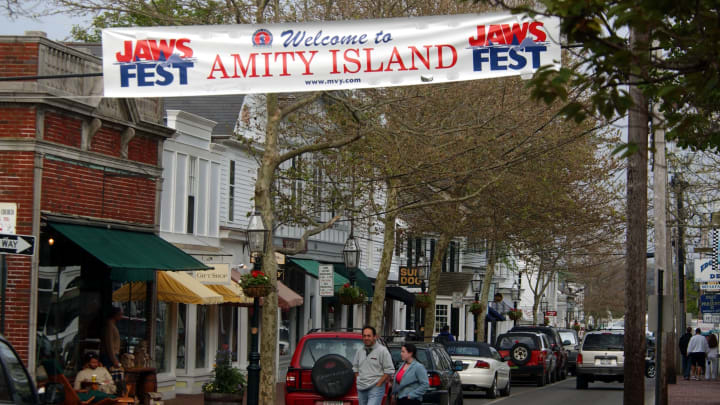 A banner welcomes people to fictional "Amity Island" in Martha's Vineyard, Massachusetts. / Darren McCollester/Stringer/Getty Images
Amity Island may be fictional, but the New England destination where Jaws (1975) was shot is very real. For decades, Martha's Vineyard has embraced its place in film history with tours and festivals, and now the Massachusetts community has another connection to Steven Spielberg's classic shark tale. As Mass Live reports, Jonathan Searle has been named the police chief of a Martha's Vineyard town nearly 50 years after acting in Jaws as a child.
Many Martha's Vineyard natives were recruited to work on the movie both in front of the camera and behind the scenes. Searle, who grew up on the island, appears in the film's fake shark scene with his real-life brother, Steven. After tricking frazzled beachgoers with a cardboard fin, Jonathan Searle's character points at his brother and blames him for the prank. The sequence comes moments before the movie's real shark attacks a group of swimmers.
Instead of pursuing a career in Hollywood, Searle has remained in Martha's Vineyard his whole life. He followed in the footsteps of his former Edgartown police chief father and joined the town's police force in 1986. Now, the local select board in Oak Bluffs has voted him to become the beach town's chief of police at the end of June, just ahead of the Fourth of July. Here's hoping the 56-year-old finds the job to be easier than Chief Brody did.
Though Jaws is a work of fiction, great whites aren't an uncommon sight off Cape Cod. Appearances of the massive predators have increased in recent years, as have their encounters with humans. Fortunately for Searle, his work will focus on cases inland.