The Real-Life Story Behind Queen Charlotte
The real Queen Charlotte was just as complicated as the 'Bridgerton' character.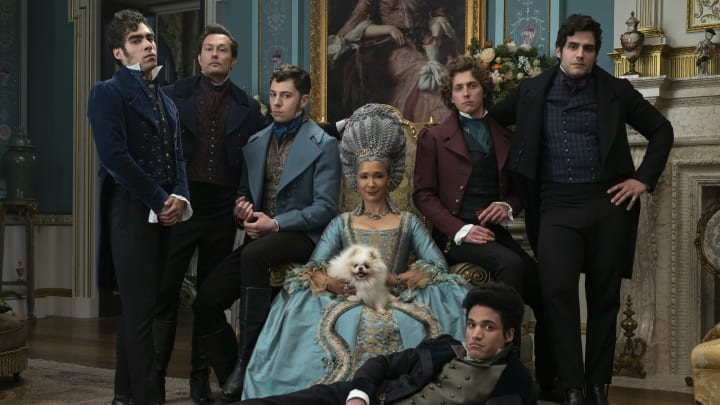 Golda Rosheuvel stars as Netflix's 'Queen Charlotte.' / Liam Daniel/Netflix © 2023
After following a set of extremely eligible siblings for two seasons, Netflix spun off its buzzy Regency romance Bridgerton into the prequel series Queen Charlotte: A Bridgerton Story. Like its predecessor, the Shonda Rhimes show takes several steamy liberties with the historical record, but there was a real Queen Charlotte—and she was just as complicated as the TV version.
Charlotte of Mecklenburg-Strelitz was a German princess who became queen of Great Britain when she married King George III in 1761. She reigned until her death in 1818 at the age of 74. On Queen Charlotte, she is played by India Ria Amarteifio in the early years of her marriage; Golda Rosheuvel, a fixture of Bridgerton since its 2020 debut, plays her as a frustrated matriarch, goading her many children to provide a (legitimate) heir to the throne.
Queen Charlotte's saga, both on Netflix and in the history books, began in the small lakeside town of Mirow in 18th-century Germany. Here's how it all started.
A Royal Match
Charlotte was born in the three-story "lower" castle of Mirow in 1744, the youngest daughter in a large royal family. Her father, who presided over the duchy of Mirow, died when she was still a child, leaving her fate in the hands of her older brother, who rubber stamped her marriage to George III when the princess was just 17 years old.
Charlotte and George married in London just hours after meeting for the first time. The following year, she gave birth to their first son, the future George IV. A whopping 14 pregnancies followed, with all but two children surviving into adulthood; the couple's two youngest sons, Octavius and Alfred, died when they were still toddlers.
The royal couple shared a love of music, attending many concerts and even playing together—the queen left Germany with two harpsichords in tow. Famously, she also invited an 8-year-old prodigy named Wolfgang Amadeus Mozart to England for a year-long stay, during which he dedicated several sonatas to her.
Historians believe Charlotte and George had a happy marriage for many years, but their relationship turned rocky as the king's health worsened.
"Mad" King George
Medical records indicate that George was sick for most of his life, suffering a depressive episode just four years into his marriage to Queen Charlotte. But it wasn't until 1788 that the situation grew untenable for his family. During this bout of illness, which stretched into the following year, the king was moved from the family's castle in Windsor to their estate in Kew, where he was isolated from his wife and children as doctors attempted to control his bouts of mania. As these episodes continued, Queen Charlotte began avoiding her husband entirely and increasingly withdrawing from court life.
There is some debate about King George's illness. One theory is that George suffered from bipolar disorder, a mental illness characterized by depressive lows and manic highs, which would explain his seemingly erratic behavior. In 1969, psychiatrists Ida Macalpine and Richard Hunter published a book suggesting that the king actually had acute porphyria, a rare condition involving the build-up of natural pigments used to create proteins in the blood. Symptoms include various pains and breathing problems, as well as seizures, anxiety, and hallucinations. 
Macalpine and Hunter, however, have attracted vocal critics over the years, who argue the theory is backed by scant, cherry-picked evidence.
"Conspicuously African" 
Charlotte herself became the subject of historical debate in 1997, when African historian Mario de Valdes y Cocom presented his theory that the queen descended from "a Black branch of the Portuguese royal house." Charlotte, he argued, was biracial, and so were her descendants—including Queen Victoria and Queen Elizabeth II.
Valdes y Cocom argued that Charlotte's "conspicuously African" features are apparent in her portraits, and pointed to a slogan muttered in America, which earned its independence under George's rule: "the Queen of England was a Negro woman."
This theory also has several detractors. Desmond Shawe-Taylor, the official surveyor of the queen's pictures from 2005 through 2020, expressed skepticism over the claim, arguing that any rumor about the queen's Black ancestry would've made it into contemporary caricatures. "None of them shows her as African, and you'd suspect they would if she was visibly of African descent," he told The Guardian. "You'd expect they would have a field day if she was."
Netflix and Rhimes revived the theory in 2020 with Bridgerton, which, from the beginning, has depicted Queen Charlotte as a Black woman. The new Queen Charlotte series likewise features a heated discussion about her "Moor" blood just hours before the scheduled wedding to King George. His mother, played by Game of Thrones' Michelle Fairley, ultimately dismisses the issue.
"We are the Palace," she says in the series pilot. "A problem is only a problem if we say it is a problem."