Watch a Century of New Year's Eve Ball Drops in Times Square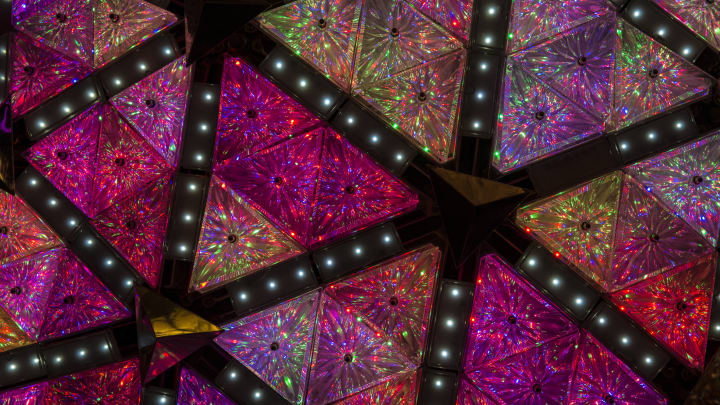 Should auld acquaintance be forgot, and never brought to mind? / clsgraphics/iStock via Getty Images Plus
In 1904, the same year The New York Times building opened at the intersection of 42nd Street, 43rd Street, and Seventh Avenue in Manhattan, the first New Year's Eve bash was held in Times Square. The event was meant to mark the paper's transition to its new headquarters, but it has since morphed into something much more significant. To watch the evolution of New Year's Eve in Times Square over the past century, check out the video below.
This compilation from Mitchel Ryan Mallee on YouTube starts with newspaper coverage and still photographs of the earliest celebrations before transitioning to footage from the 1930s. By then, the iconic ball drop had become a central component of the party. It was introduced as a compromise in 1907, after the city banned the fireworks displays used to signal midnight during previous events. The New York Times publisher Adolph S. Ochs commissioned Russian immigrant Jacob Starr to design an electric alternative. When the 700-pound ball and its 100 25-watt bulbs were lowered on January 1, 1908, it was easy to forget the missing fireworks.
In the 1970s, footage of New Year's Eve in Times Square upgraded from black-and-white to color. This decade also saw some celebrities join the fun, including George Carlin, Billy Preston, and of course, long-time host Dick Clark.
One constant throughout the decades has been the massive crowds that gather to watch the ball descend. On December 31, 1939, roughly half a million people packed into Times Square. Even with social distancing measures in place for last year's celebration, the square still fit 15,000 pedestrians. After watching more than a century of New Year's Eve history above, read these facts about the holiday.