5 Things You Didn't Know About Quincy Jones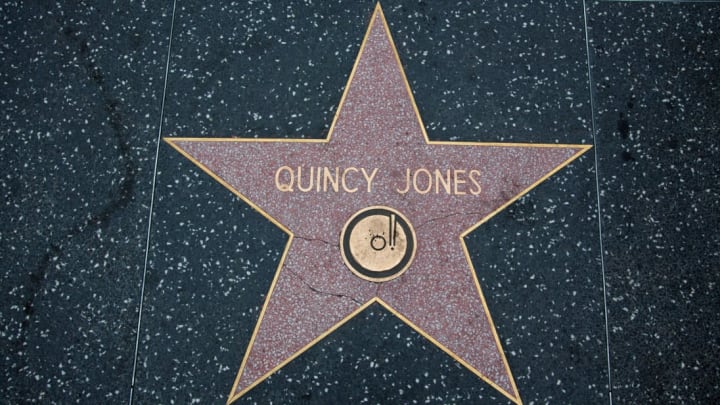 iStock/GreenPimp / iStock/GreenPimp
Quincy Jones has certainly had an interesting career. He's done everything from conducting Frank Sinatra's band to producing films to fathering TV and movie star Rashida Jones. Along the way he's picked up a record 76 Grammy nominations "" 26 of which he won "" and sold millions of records. Here are a few things you might not know about the multitalented star.
1. He Attended His Own Memorial Service
In 1974 Jones had a pair of brain aneurysms, and the prognosis was pretty grim. Since it looked like he might not have much time left, his family and friends started planning a memorial service. Although Jones was in poor health, he talked his neurologist into letting him attend the service, which was held at the Shrine in Los Angeles. The doctor was worried that Jones' health would suffer if he got too worked up during the service, so he sat next to Jones throughout the ceremony. Jones later told Newsweek that staying calm "was hard to do with Richard Pryor, Marvin Gaye, Sarah Vaughn and Sidney Poitier singing your praises."
2. He Didn't Love Michael Jackson's Menagerie
Jones' collaborations with Michael Jackson may have yielded such beloved records as Off the Wall and Thriller, but at least one thing about the King of Pop irritated Jones: Jackson's collection of animals.
Last year Jones told Details that Jackson would often bring his boa constrictor, Muscles, into the studio and let the snake wrap itself around the producer's leg and slither across his console. As Jones succinctly put it, "I was never comfortable with that." Here's a great video of Jones looking a bit uneasy around Muscles:
Jones' relationship with Jackson's famous chimp, Bubbles, was even worse. In the same interview with Details, Jones revealed that Bubbles once bit his daughter Rashida in the hand.
3. He Had Some Interesting TV Credits
You may know that Jones composed quite possibly the greatest TV theme song of all time for Sanford and Son, but he had some other fun TV credits, too. Jones' other theme song credits include In the Heat of the Night and Ironside. He also wrote the music for the theme song for The Fresh Prince of Bel-Air, a show for which he also served as executive producer. 
4. Picasso Taught Him How to Pay a Bill
In his autobiography Q, Jones writes about Pablo Picasso, who was his neighbor while Jones was living in Cannes. Jones tells a story of being in a restaurant one day when Picasso, his wife, and a friend walked in. Picasso's party joined Jones, and they enjoyed the restaurant's sole meuniere. According to Jones, when Picasso was done with his fish, he pushed the plate of bones into a window to dry for a bit, then carefully arranged them on his plate and drew on them with markers. The end result was a neat little Picasso design.
When the check for the meal came, Picasso gave the waiter the plate of decorated fish bones instead of any cash. According to Jones, the bones were on the restaurant's wall by the next day, which prompted him to say that Picasso was "who I want to be when I grow up."
5. He Helped Oprah Hit it Big (Because He Liked Her Name)
After working on the film The Wiz, Jones decided to try his hand at producing movies. He obtained the rights to Alice Walker's The Color Purple and miraculously convinced Steve Spielberg to direct the adaptation while working for scale. He ran into a bit of trouble casting the picture, though, when he couldn't find the perfect actress to play the part of Sophia.
Then, on a trip to Chicago he saw a young reporter named Oprah Winfrey who seemed like a great fit for the part. As Jones later wrote, "I had never heard a name like that. Oprah spelled backward is Harpo, and we needed to cast Sophia, who was married to Harpo in The Color Purple. It had to happen." That logic may seem a bit circuitous, but the casting worked out so well that Oprah earned an Oscar nomination for Best Supporting Actress, one of 11 nominations the film received (though the film did not win any).
'5 Things You Didn't Know About...' appears every Friday. If there's someone you'd like to see covered, leave us a comment. You can read the previous installments here.
twitterbanner.jpg /