11 Defunct Drugstore Chains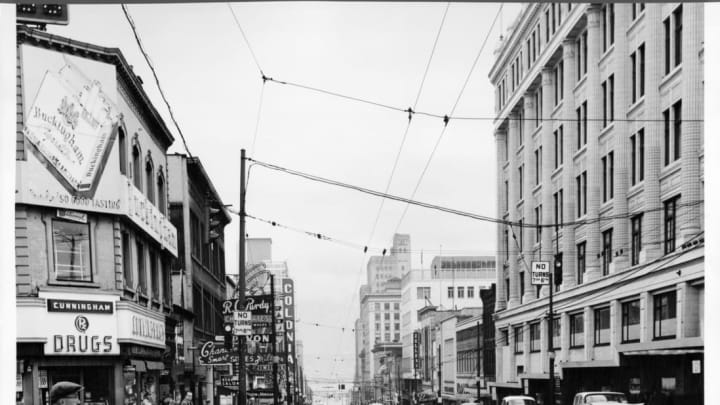 What was your neighborhood corner drugstore Back In The Day, and is it still around?
1. Cunningham Drugs
Cunningham Drugs opened in Detroit, Michigan, in 1889 and eventually became the state's largest drug store chain. They expanded into a few other states as well, but hard times befell the chain, and the last remaining Cunningham's—all located in Florida—were shuttered in 1991.
2. Perry Drug Stores
Perry opened its first store in 1957 in Pontiac, Michigan, and in fact bought the struggling Cunningham's chain in 1985. Perry branched out into the auto parts business and eventually opened 200 Auto Works stores in eight Midwestern states. Perry was bought out by Rite Aid in 1995.
3. Arbor Drugs
Yet another Michigan behemoth, Arbor was at one time the eighth largest drugstore chain in the US. In 1979 it became one of the first pharmacies to computerize its records and link all the stores together electronically. They even had Patty Duke's TV dad, William Schallert, as their avuncular spokesperson. Scandal erupted in 1993 when Arbor was accused of overcharging Blue Cross to the tune of $17 million. The case was eventually settled out of court and CVS bought the chain five years later.
4. Big V Drugstore
Big V originated in Windsor but soon became one of the largest chains in Ontario, Canada. Several innovations helped spur their popularity: their stores were located in neighborhoods, not exclusively in shopping malls (like rival Shoppers Drug Mart, which finally usurped them); the aisles were carpeted which made for a quiet, more "professional" atmosphere; and they were open on Sundays, unlike most retail outlets in Ontario.
5. Phar-Mor
Based in Youngstown, Ohio, Phar-Mor had just over 300 stores at its peak in the early 1990s. No less a sales giant than Sam Walton once stated that Mickey Monus, Phar-Mor's founder, was the only retailer he feared. Unfortunately, Monus' momentum came to a screeching halt in 1992 when he was charged with embezzlement and ultimately convicted on 107 federal counts of fraud.
6. Revco Discount Drug Stores
At one time Revco (the name stood for Registered Vitamin Company) operated 2,500 stores nationwide. But in 1983 the company faltered when its store brand vitamins were blamed for causing the deaths of a number of premature infants. Then management invested heavily in non-core merchandise, such as TV sets and furniture, which proved to be a sales dud and major financial setback. CVS purchased the chain in 1997.
7. Rexall Drugs
In 1902, a businessman named Louis Liggett purchased 40 independent drug stores and formed the United Drug Stores cooperative, which sold products under the name Rexall (a play on the Rx abbreviation used for prescriptions). After World War II, he turned Rexall into a franchise arrangement, where independent retail outlets could pay a fee and use the Rexall name and sell its products. By 1958 Rexall had 11,158 stores in the US, making it the nation's largest drug store franchise. Rexall was the victim of a hostile takeover in 1985 and the company slid into an immediate and severe decline.
8. Fay's Drugs
The first Fay's Drugs opened in Fairmount, New York, in 1958. The store was named after founder Henry Panasci's wife, Faye, but he left the "e" off of her name to save money on the sign. By 1995 Fay's was the largest "super drug store" chain in the Northeast. From the beginning, Fay's suburban locations offered adjacent paved, lighted parking, which was something of a "perk" at that time. JC Penney bought Fay's in 1996.
9. Happy Harry's Discount Drugs
When Harry Levin opened his first store in Wilmington, Delaware, in 1962 it was called Discount Center. His smiling visage and friendly service caused his regular customers to nickname him "Happy Harry," so when he opened his third store in 1965 he re-christened his fledgling chain. At the time of Harry's passing in 1987 he had 75 stores spread across Delaware, Pennsylvania, Maryland, and New Jersey. The chain was purchased by Walgreens in 2006.
10. K & B
Gustave Katz and Sydney J. Besthoff founded their pharmacy empire in New Orleans, and many residents of the Big Easy still describe anything colored a particular shade of violet as "K & B purple," due to the iconic color of the chain's signs, employee uniforms, cash registers, etc. Rite Aid bought the Gulf Coast chain in 1997.
11. Eckerd
Despite a name that sounds like something being dislodged from deep in your throat, Eckerd was once the fourth largest drugstore chain in the US. In 2004 the publicly traded company was broken up into many smaller pieces and was either sold to or merged with everyone from JC Penney to Brooks Pharmacy to Rite Aid to Walgreens.